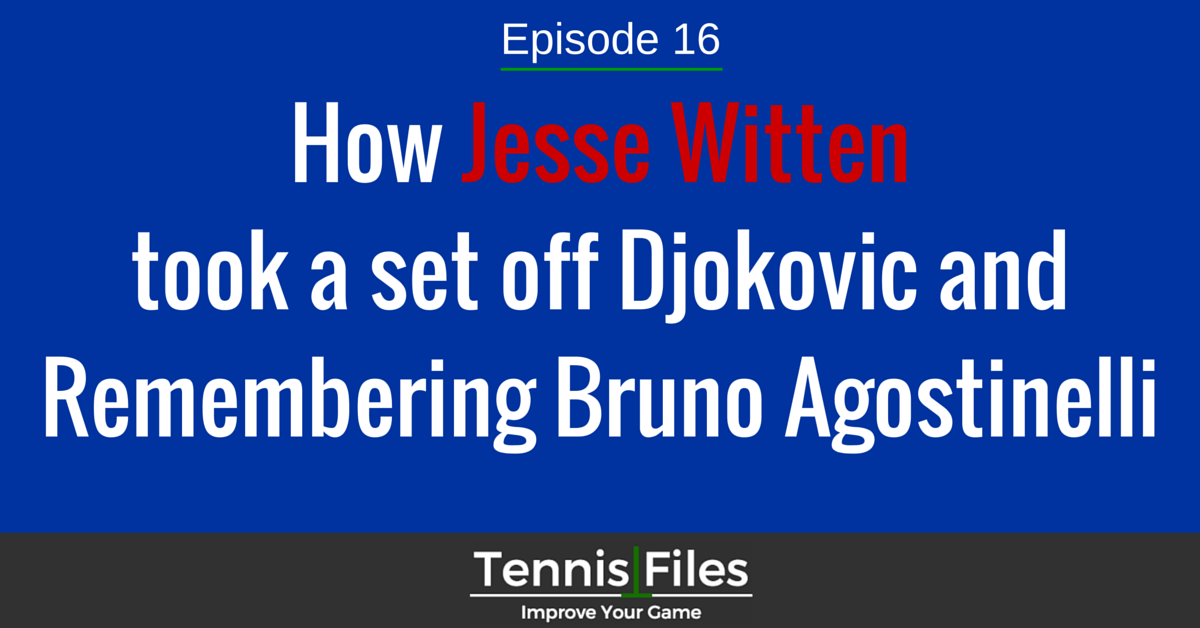 My guest today is ATP Pro Jesse Witten. Jesse has been ranked as high as #163 in the world and reached the 3rd round of the 2009 US Open, where he took a set off tennis superpower Novak Djokovic. Jesse has also played in the main draws of the French Open and Wimbledon. He reached the final of the NCAA Division I Championships as a freshman at the University of Kentucky and was its first 5-time ITA All-American (4 singles, 1 doubles).
I first noticed Jesse back in the juniors when he played and won a Super National Clay Court tournament in Maryland in 1999.  It was my first time watching the best juniors in the country play against each other, and I witnessed him dominate the entire field. I was fortunate enough to play in this event two years later, but Jesse's performance always stuck in my mind as the best I had ever seen by a junior tennis player.
I was fortunate enough to speak to Jesse about his career, from reaching the top ranks of the juniors, to how he developed into an elite tennis professional. He also discussed his time playing tennis at The University of Kentucky, and the impact that it had on his tennis game.
We also paid tribute to Bruno Agostinelli, a former University of Kentucky tennis player who tragically passed away recently. Bruno was a great teammate and tennis player, but an even better person. He reached #2 in the NCAA rankings, and famously clinched a 5-set victory in the deciding Davis Cup match for Canada in 2009. A Gofundme page has been set up for Bruno's family, and they would definitely appreciate it if you could donate to the fund.
On this episode, you will learn:
The mindset that propelled Jesse to the elite levels of tennis
Why a strong support system is critical to a successful tennis career
How Jesse was able to dominate the juniors
How playing college tennis helped develop Jesse's tennis game
What made Bruno Agostinelli an amazing human being
A typical day of training on the ATP Tour
How Jesse was able to take a set off Novak Djokovic
The most difficult aspect of being a professional tennis player
Jesse's thoughts on being a tennis coach
and more.
Thanks to Jesse for being a fantastic guest on The Tennis Files Podcast. And shout out to Elliott Datlow, a fellow Kentucky Wildcat Tennis alumni, for putting me in touch with Jesse.
Subscribe to automatically download new episodes

Click this icon, click the blue "View in iTunes" button, then hit "Subscribe."
Or hit the subscribe button in your favorite podcast app!
Links Mentioned in This Episode
Bruno Agostinelli's GoFundMe Page
If you enjoyed my interview with Jesse, share this episode with a friend using the share buttons above or below this post!
The Building Blocks of Tennis Success eBook
Subscribe to get my free eBook and learn about goal setting, training smart, proper technique, mental fortitude, the importance of competition, health and fitness, and more!
Thanks for being a valued Tennis Files subscriber! I am proud to serve you 🙂