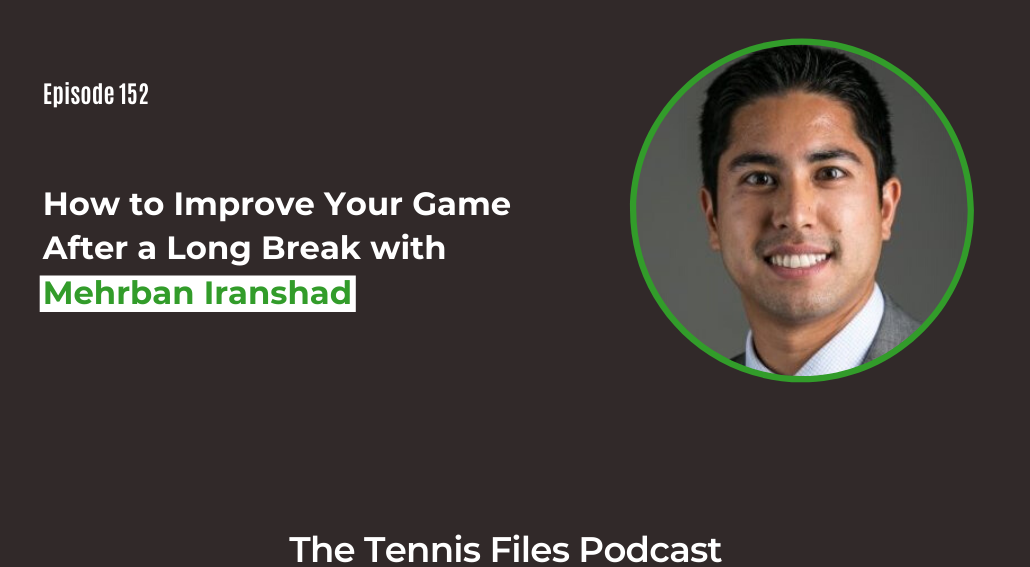 On Episode 152 of The Tennis Files Podcast, Mehrban is going to present his five-step process for how to get back on the court and start improving your game again.
Many of you have been unable to play for many weeks or months and are just starting or soon will be getting back onto the tennis courts. But without the proper approach (pun intended 🙂 ), you are way more likely to get frustrated, or worse, injured.
On the show, you'll learn how to regain and exceed your level of play before your long break from the courts, how to make goals and plan your training, the importance of taking care of your health and fitness while off court, how to be safe while playing, and much more!
I hope you enjoy this episode! Let me know what you think about this episode in the comments below!
And be sure to subscribe to Tennis Files to receive the latest tennis content to improve your game straight to your inbox!
Subscribe to automatically download new episodes!

Click the icon above, click the blue "View in iTunes" button, then hit "Subscribe."

Or hit the subscribe button in your favorite podcast app!
Right Click Here to Download the MP3
Links Mentioned in the Show
Resources:
The Building Blocks of Tennis Success eBook
Tennis Files Membership - email me at mehrban@tennisfiles.com
Tennis Safety:
USTA Safety for COVID19 - Player Tips and Recommendations
ITF Return to Tennis Guidelines
USTA Tennis Safety for Facilities and Programming
Podcasts:
Check Out All My Podcasts Here!
Check Out All My Podcasts on Apple Podcasts!
My Youtube Channel!
Tennis Files Youtube Channel - Subscribe! You know you want to 😉
Note: Some of the links above are affiliate links, so if you make a purchase after clicking, I'll make a small commission that will help support the podcast. Thanks either way!
If you enjoyed this episode, subscribe to The Tennis Files Podcast in iTunes or your favorite podcast app!
For more tips on how to improve your tennis fitness, subscribe to my newsletter and download a free copy of my free eBook, The Building Blocks of Tennis Success below! Thanks for listening!
The Building Blocks of Tennis Success eBook
Subscribe to get my free eBook and learn about goal setting, training smart, proper technique, mental fortitude, the importance of competition, health and fitness, and more!
Thanks for being a valued Tennis Files subscriber! I am proud to serve you 🙂