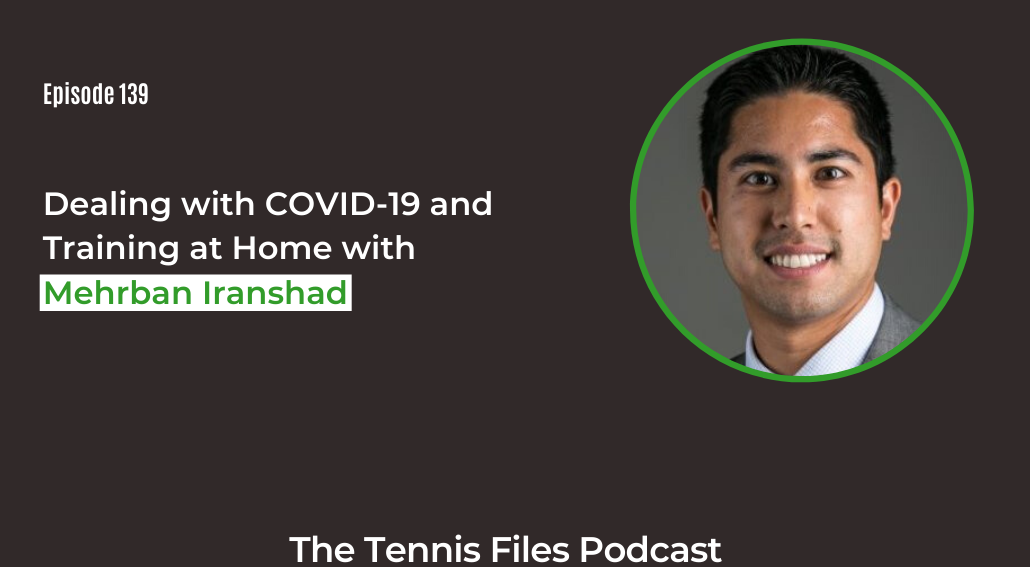 On Episode 139 of The Tennis Files Podcast, I discuss the huge impact that the coronavirus (COVID-19) has had on the tennis world, and how we can still improve our tennis games while isolated at home.
On the show, you'll learn exercises you can do at home to stay in tennis shape, how COVID-19 has affected USTA Leagues, the ATP and WTA tours, how to have a great workout with no equipment, why you don't need a tennis ball (or even a racquet) to keep improving, a sneak peek about an awesome online tennis conference that you should look out for in a few weeks, and much more!
I really hope you enjoy this episode! If you found it helpful, let me know in the comments below!
And be sure to subscribe to Tennis Files to receive the latest tennis content to improve your game straight to your inbox!
Subscribe to automatically download new episodes!

Click the icon above, click the blue "View in iTunes" button, then hit "Subscribe."

Or hit the subscribe button in your favorite podcast app!
Right Click Here to Download the MP3
Links Mentioned in the Show
Exercises
Madison Keys Workout on Instagram
Books
Complete Conditioning for Tennis
Equipment
Podcasts
Check Out All My Podcasts Here!
Check Out All My Podcasts on Apple Podcasts!
My Youtube Channel!
Tennis Files Youtube Channel - Subscribe! You know you want to 😉
Note: Some of the links above are affiliate links, so if you make a purchase after clicking, I'll make a small commission that will help support the podcast. Thanks either way!
If you enjoyed this episode, subscribe to The Tennis Files Podcast in iTunes or your favorite podcast app!
For more tips on how to improve your tennis fitness, subscribe to my newsletter and download a free copy of my free eBook, The Building Blocks of Tennis Success below! Thanks for listening!
The Building Blocks of Tennis Success eBook
Subscribe to get my free eBook and learn about goal setting, training smart, proper technique, mental fortitude, the importance of competition, health and fitness, and more!
Thanks for being a valued Tennis Files subscriber! I am proud to serve you 🙂