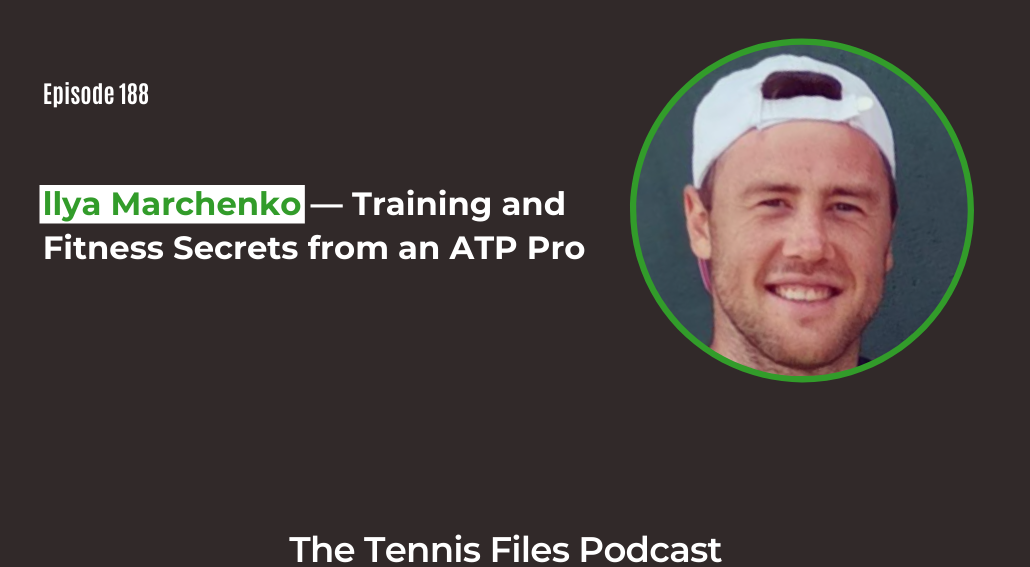 On Episode 188 of The Tennis Files Podcast, I spoke with ATP Pro Illya Marchenko about his training routines, fitness workouts, and what it takes to be an elite tennis player.
Illya Marchenko has been ranked as high as #49 in singles and #268 in doubles on the ATP Tour. He has won 8 ATP Challenger titles, including one just a couple weeks ago where he defeated Andy Murray in the final. Illya also reached the 4th round of the US Open in 2016 (defeating Nick Kyrgios along the way), and has battled top players like Stan Wawrinka, Fabio Fognini, Jo-Wilfried Tsonga, and David Ferrer. And Illya's has a fantastic YouTube channel with a great mix of tour life, tennis advice, and hilarious humor.
On the show, you'll learn how Illya achieved his dream of becoming a professional tennis player, a typical day of training and fitness for pro tour players, tips to level up your backhand, the mental attitude you need to succeed on the court, how to deal with nerves and getting tight like the pros, Illya's awesome YouTube channel, how he defeated Andy Murray to win his most recent title, how to come back from serious injuries, and much more!
I hope you enjoy my interview with Illya! Let us know what you think about this episode in the comments below!
And be sure to subscribe to Tennis Files to receive the latest tennis content to improve your game straight into your inbox!
Subscribe to automatically download new episodes!

Click the icon above, click the blue "View in iTunes" button, then hit "Subscribe."

Or hit the subscribe button in your favorite podcast app!
Right Click Here to Download the MP3
Links Mentioned in the Show
Illya's Isolation Stretching and Mobilization Workout Video
Podcasts:
Check Out All My Podcasts Here!
Check Out All My Podcasts on Apple Podcasts!
My Youtube Channel!
Tennis Files Youtube Channel - Subscribe! You know you want to 😉
Note: Some of the links above are affiliate links, so if you make a purchase after clicking, I'll make a small commission that will help support the podcast. Thanks either way!
If you enjoyed this episode, subscribe to The Tennis Files Podcast in iTunes or your favorite podcast app!
For more tips on how to improve your tennis fitness, subscribe to my newsletter and download a free copy of my free eBook, The Building Blocks of Tennis Success below! Thanks for listening!