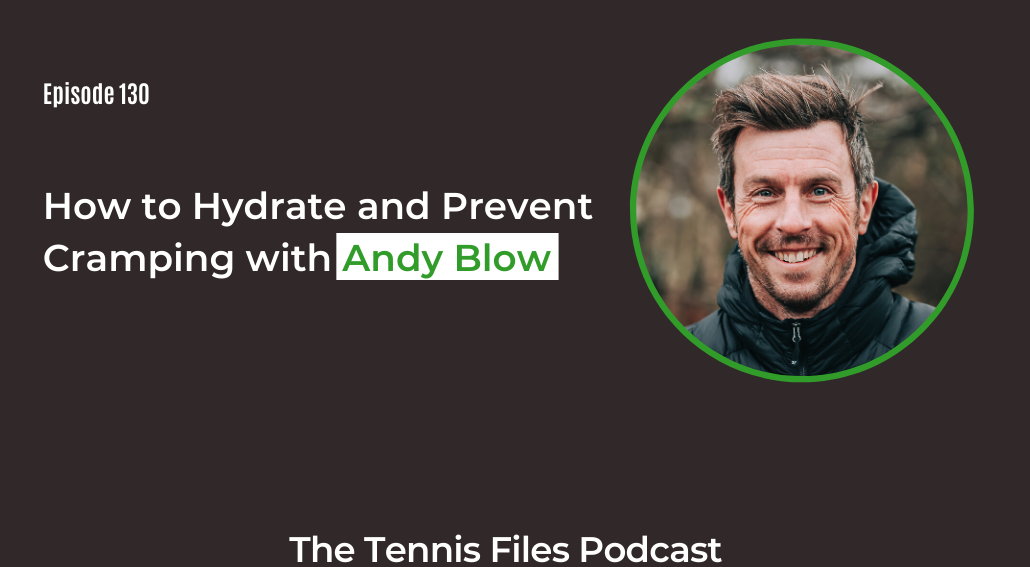 On Episode 130 of The Tennis Files Podcast, I spoke with sports-scientist Andy Blow about how to properly hydrate and prevent cramping.
Andy graduated with a degree in Sports and Exercise Science at the University of Bath and he is currently the CEO and co-founder of Precision Hydration. He was an elite level triathlete and experienced his own struggles with cramps and hydration that led him to specialize in electrolyte replenishment and eventually co-found Precision Hydration. He is also an adviser to the Porsche Human Performance Centre.
On the show, you'll learn how far in advance you need to start hydrating, how much water and electrolytes you need before competition, what to do to recover from cramps as quickly as possible, the actual effectiveness of several common cramping solutions (think pickle juice and mustard packets), how different climates affect your hydration needs, and much more!
I hope you enjoy my interview with Andy! Let us know what you think about the episode in the comments below!
And be sure to subscribe to Tennis Files to receive the latest tennis content to improve your game straight to your inbox!
Subscribe to automatically download new episodes!

Click the icon above, click the blue "View in iTunes" button, then hit "Subscribe."

Or hit the subscribe button in your favorite podcast app!
Right Click Here to Download the MP3
Links Mentioned in the Show
Get 15% off Precision Hydration Products - use code: TENNISFILES
Get 50% TrainingPeaks University course - use code: SWEAT-H6YF
How to start hydrated and why that's so important
How to estimate the salt level in your sweat
Social Media Sites
Tennis Summit Links
Tennis Summit 2019 - Register for FREE today!
Podcasts
Check Out All My Podcasts Here!
Check Out All My Podcasts on Apple Podcasts!
My Youtube Channel!
Tennis Files Youtube Channel - Subscribe! You know you want to 😉
Note: Some of the links above are affiliate links, so if you make a purchase after clicking, I'll make a small commission that will help support the podcast. Thanks either way!
If you enjoyed this episode, subscribe to The Tennis Files Podcast in iTunes or your favorite podcast app!
For more tips on how to improve your tennis fitness, subscribe to my newsletter and download a free copy of my free eBook, The Building Blocks of Tennis Success below! Thanks for listening!
The Building Blocks of Tennis Success eBook
Subscribe to get my free eBook and learn about goal setting, training smart, proper technique, mental fortitude, the importance of competition, health and fitness, and more!
Thanks for being a valued Tennis Files subscriber! I am proud to serve you 🙂