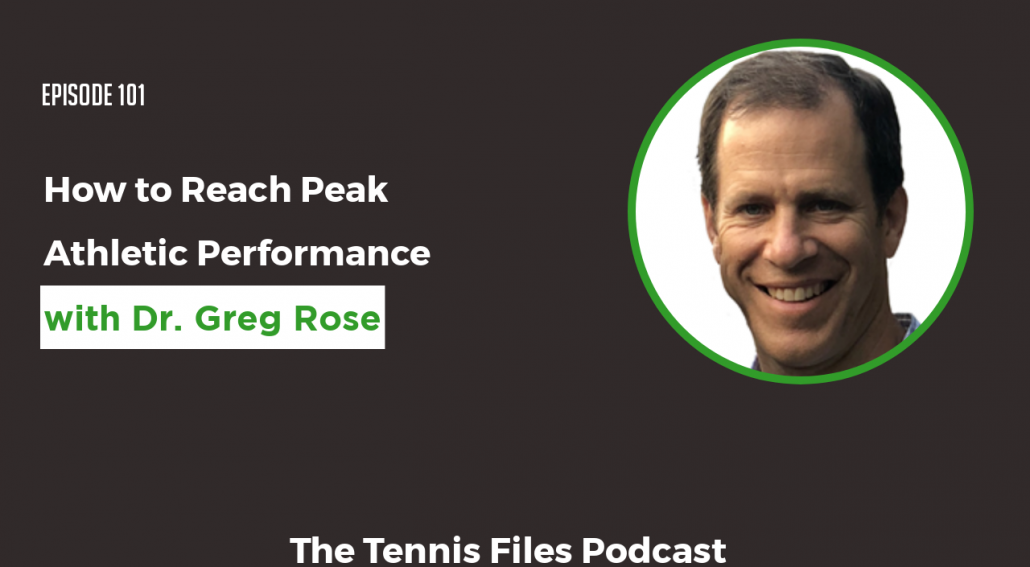 On Episode 101 of The Tennis Files Podcast, I spoke with Dr. Greg Rose, the co-founder of The Titliest Performance Institute and founder of RacquetFit, about how we can reach peak athletic performance.
Greg specializes in assessing and treating athletes, 3-dimensional biomechanics, strength and conditioning, manual therapy, rehabilitation and therapeutic exercises. Throughout the past 23+ years, Greg has helped thousands of athletes of all skill levels greatly improve their flexibility, mobility, strength, speed, power, and athletic prowess.
Greg is a Board certified Doctor of Chiropractic and holds an engineering degree from the University of Maryland (go Maryland!). He has combined an engineering background with an expertise on the human body to help pioneer the field of analyzing 3-dimensional motion capture models of the golf swing. Then Greg brought what he learned over to the tennis world through RacquetFit. Pretty impressive stuff!
He has worked with countless amateurs and professional athletes in golf (ever heard of Rory McIlroy?), tennis, football, and many other sports and I am really grateful that Greg spent his time educating us about how we can improve our tennis games by becoming better athletes on the podcast.
On this episode, you'll learn the difference between flexibility and mobility, why it is crucial to understand your body's physical abilities and limitations when working on your strokes, advice on creating the right fitness routine for you, and much more!
I hope you enjoy this podcast interview episode with Greg! Let us know what you think about it in the comments below!
Subscribe to automatically download new episodes!

Click the icon above, click the blue "View in iTunes" button, then hit "Subscribe."

Or hit the subscribe button in your favorite podcast app!
Right Click Here to Download the MP3
Links Mentioned in the Show
Resources
Titliest Performance Institute
Books
Complete Conditioning for Tennis (2nd edition) - Dr. Mark Kovacs
Tennis Summit Links
Tennis Summit 2019 - Register for FREE today!
Related Podcasts
TFP 082: Dr. Sean Drake — RacquetFit and the Body-Tennis Connection
TFP 074: Jeff Salzenstein — How to Change Your Mindset and Achieve Your Potential
TFP 090: 5 of My Favorite Doubles Plays to Take Control of Matches
TFP 080: Q&A 4.5+ Edition — Re-tooling Your Strokes, Backhand Tips, Serve Consistency, Returning, Advanced Drills and More!
TFP 075: Q&A Edition — Anticipation, Fitness, Consistency, Technique and More!
Check Out All My Podcasts Here! - Podcasts Homepage
Check Out All My Podcasts on iTunes! - iTunes Tennis Files Podcast Page
My Youtube Channel!
Tennis Files Youtube Channel - Subscribe! You know you want to 😉
Note: Some of the links above are affiliate links, so if you make a purchase after clicking, I'll make a small commission that will help support the podcast. Thanks either way!
If you enjoyed this episode, subscribe to The Tennis Files Podcast in iTunes or your favorite podcast app!
For more tips on how to improve your tennis fitness, subscribe to my newsletter and download a free copy of my free eBook, The Building Blocks of Tennis Success below! Thanks for listening!
The Building Blocks of Tennis Success eBook
Subscribe to get my free eBook and learn about goal setting, training smart, proper technique, mental fortitude, the importance of competition, health and fitness, and more!
Thanks for being a valued Tennis Files subscriber! I am proud to serve you 🙂