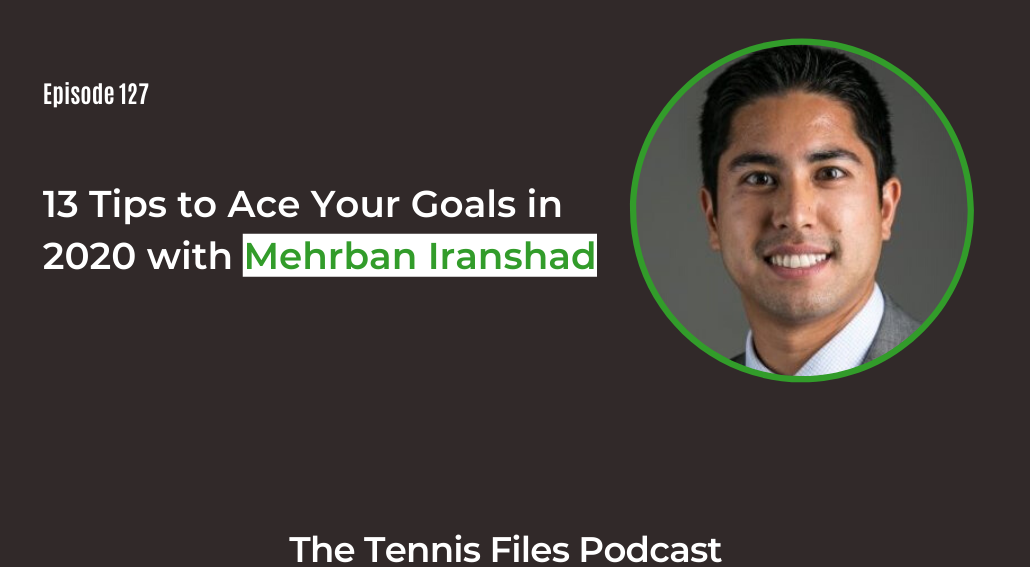 On Episode 127 of The Tennis Files Podcast, you'll learn 13 tips to achieve your tennis goals in 2020. With the new year upon us comes excitement for great successes and achievements ahead.
But without the proper planning, preparation, and the right habits in place, we don't stand a chance at achieving our goals, especially with all the distractions in today's society.
That's why I put together this episode, based on my successes, failures, and principles learned from my podcast guests, to give you the strategies you need to ensure your consistency, motivation, and attitude stays at the level you need to conquer your goals.
What are your goals for 2020? Are you planning to improve your forehand, backhand, footwork, serve, mental game, or fitness? Do you want to become a professional tennis player? Or maybe you want to increase your NTRP or UTR rating, or start a coaching career. This episode will help you achieve any goals you desire for 2020 and beyond.
I really hope you enjoy this episode! If you learned something useful from it, let me know in the comments below.
And be sure to subscribe to Tennis Files to receive the latest tennis content to improve your game straight to your inbox.
I also want to wish you a very Happy New Year! May this year be filled with prosperity and a fantastic year of tennis! 🙂
Subscribe to automatically download new episodes!

Click the icon above, click the blue "View in iTunes" button, then hit "Subscribe."

Or hit the subscribe button in your favorite podcast app!
Right Click Here to Download the MP3
Links Mentioned in the Show
Tools
Mindmeister - Mind Map your goals (tennisfiles.com/mindmap)
Books
Articles
Tennis Summit Links
Tennis Summit 2019 - Register for FREE today!
Related Podcasts
Check Out All My Podcasts Here! ​
Check Out All My Podcasts on Apple Podcasts!
My Youtube Channel!
Tennis Files Youtube Channel - Subscribe! You know you want to 😉
Note: Some of the links above are affiliate links, so if you make a purchase after clicking, I'll make a small commission that will help support the podcast. Thanks either way!
If you enjoyed this episode, subscribe to The Tennis Files Podcast in iTunes or your favorite podcast app!
For more tips on how to improve your tennis fitness, subscribe to my newsletter and download a free copy of my free eBook, The Building Blocks of Tennis Success below! Thanks for listening!
The Building Blocks of Tennis Success eBook
Subscribe to get my free eBook and learn about goal setting, training smart, proper technique, mental fortitude, the importance of competition, health and fitness, and more!
Thanks for being a valued Tennis Files subscriber! I am proud to serve you 🙂