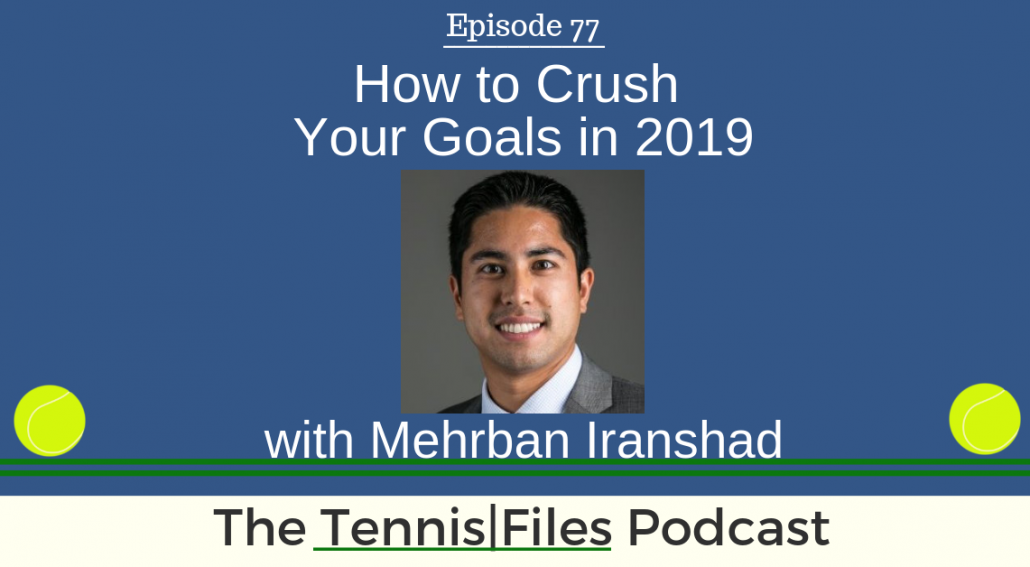 On today's episode of The Tennis Files Podcast, I walk you through the steps you must take to reach your goals in 2019. Many of us get excited when the new year starts and we create goals for ourselves. However, 80% of new year's resolutions fail by February. That's why on Episode 77 of TFP, I walk you through a full-proof method, that if you follow, will push you past inevitable roadblocks so that you can achieve your goals and have amazing success in 2019.
We have all struggled to follow through on our goals and kick bad habits, which is why I have been reading a lot about self-improvement and how we can give ourselves the best chance of accomplishing what we set out to do. On the show, I talk about evaluating your 2018, setting goals for 2019, strategies for creating and sticking with good habits, consistency, my favorite tools for helping you achieve your goals, and more!
I really hope you enjoy this episode! If you like this how-to format, let me know in the comments below so that I can record more episodes like this one in the future!
And be sure to subscribe to Tennis Files below to receive the latest tennis content to improve your game straight to your inbox!
Show Notes
Evaluating how your 2018 went
How to set new goals
Writing your goals down
Planning a consistent schedule
Attaching accountability to your goal
How to track your progress
Seeking coaching, help, and problem solving
Attaching a reward to sticking to your goals/habits
Keeping in mind the "why" to stay motivated
Tackling your priorities in the morning
Tools and Books (see links below)
Subscribe to automatically download new episodes!

Click the icon above, click the blue "View in iTunes" button, then hit "Subscribe."

Or hit the subscribe button in your favorite podcast app!
​If you enjoyed this episode, subscribe to The Tennis Files Podcast in iTunes or your favorite podcast app!
For more tips on how to improve your game, subscribe to my newsletter and download a free copy of my eBook, The Building Blocks of Tennis Success below! Thanks for listening!