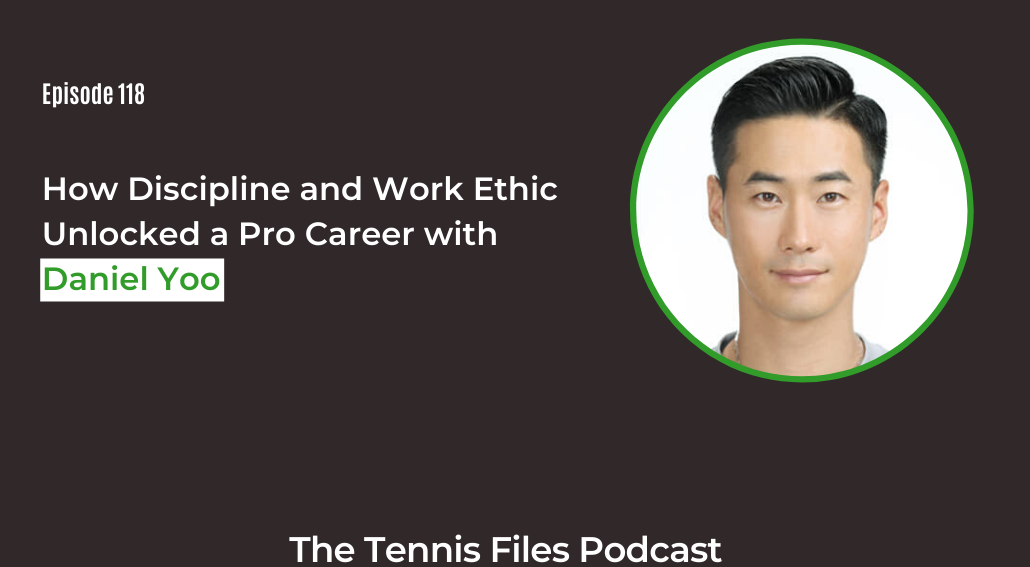 On Episode 118 of The Tennis Files Podcast, I spoke with South Korea's Daniel Yoo, a former ATP Pro, about how his commitment to discipline and work ethic unlocked his dreams of becoming a professional tennis player.
Daniel achieved career highs of 326 in singles and 425 in doubles in 2011. He was coached by Pierre Arnold, one of the top developmental coaches in the world. Daniel has won numerous pro titles and played against many of the game's elite players on tour.
On the show, you'll learn about Daniel's extreme dedication to tennis at a young age in Korea, his supernational tournament win as a junior, his experiences as a tennis pro, how he ended up practicing with Roger Federer for two weeks in Dubai, how entering the army affected his tennis career, and much more!
I hope you enjoy my interview with Daniel! Let us know what you think about the episode in the comments below!
Subscribe to automatically download new episodes!

Click the icon above, click the blue "View in iTunes" button, then hit "Subscribe."

Or hit the subscribe button in your favorite podcast app!
Right Click Here to Download the MP3
Links Mentioned in the Show
Social Media Links
Tennis Summit Links
Tennis Summit 2019 - Register for FREE today!
Related Podcasts
Episode 113 with Nick Bollettieri
Check Out All My Podcasts Here! ​
Check Out All My Podcasts on Apple Podcasts!
My Youtube Channel!
Tennis Files Youtube Channel - Subscribe! You know you want to 😉
Note: Some of the links above are affiliate links, so if you make a purchase after clicking, I'll make a small commission that will help support the podcast. Thanks either way!
If you enjoyed this episode, subscribe to The Tennis Files Podcast in iTunes or your favorite podcast app!
For more tips on how to improve your tennis fitness, subscribe to my newsletter and download a free copy of my free eBook, The Building Blocks of Tennis Success below! Thanks for listening!
The Building Blocks of Tennis Success eBook
Subscribe to get my free eBook and learn about goal setting, training smart, proper technique, mental fortitude, the importance of competition, health and fitness, and more!
Thanks for being a valued Tennis Files subscriber! I am proud to serve you 🙂