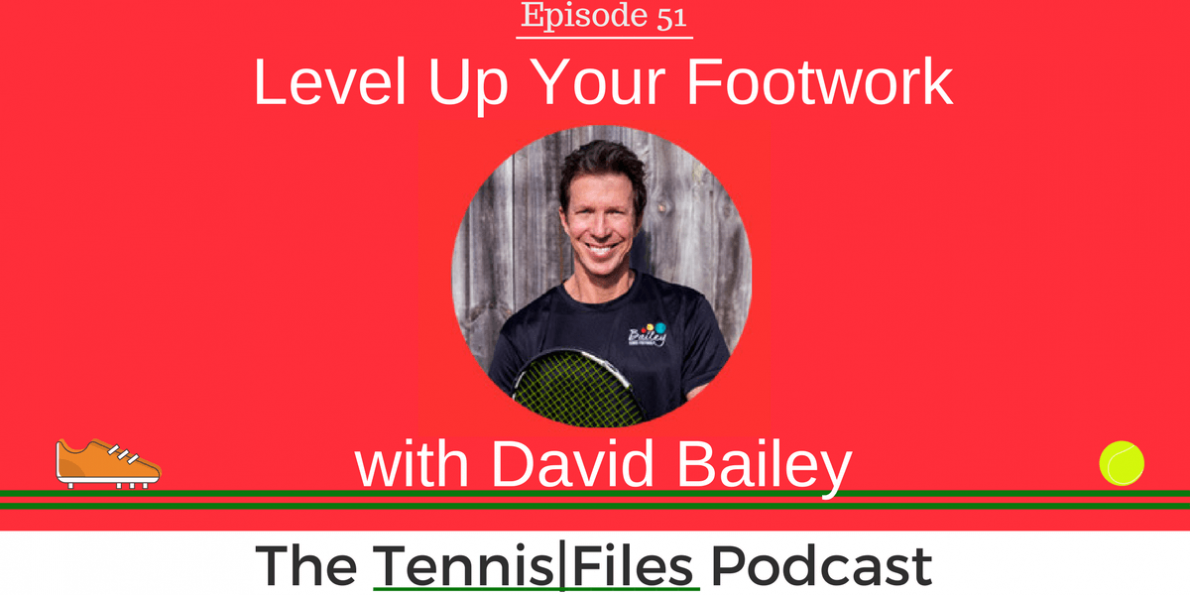 On today's show, I spoke with footwork expert Dave Bailey about how we can improve our movement on the court. Dave is the creator of the Bailey Tennis Footwork Method, used by top professionals all the way down to the amateur level.  Dave has worked with over 21 Grand Slam Players, including Monica Seles, Jarmilla Gajdosova, Zang Shaui, Jelena Dokic, Bethanie Mattek, Anne Kethavong, Misaki Doe, Irina Falconi, and Vince Spadea.
Dave has spent over 30 years studying and researching the steps and movements of the top tennis professionals.  Clearly, he really knows his stuff about footwork.  After his intensive study of the best players in the world, Dave created the Bailey Tennis Footwork Method, which is arguably the most advanced and comprehensive tennis footwork training program in the world today.
Dave was a real pleasure to speak with, and I hope to someday take him up on his offer of doing scissor kick smashes in the sand dunes of Sydney, Australia.  I'll try not to puke though 🙂
Many thanks to Dave for the fantastic tips and information on how we can all level up our tennis footwork.  And if you can only remember one thing that Dave said (originally from Nick Bollettieri), remember this: "it's footwork, not footwalk."
I hope you enjoy this episode and let us know what you think in the comments below!
Time-Stamped Show Notes
[2:03] What caused Dave to become so passionate about tennis footwork
[2:50]

Dave's competitive and educational background

[4:02]

How Bruce Lee was one of Dave's biggest influencers in studying tennis and footwork

[5:38]

3 things most of the world doesn't know about Dave Bailey

[6:20] Why improving our footwork is critical if we want to reach the next level in our tennis careers
[7:21]

Why tennis footwork is often under-appreciated in favor of other aspects of tennis like technique or strategy

[8:42]

Why so many players develop inefficient footwork mechanics

[10:44]

How different types of players tend to have different movement patterns

[12:36]

The biggest mistakes amateurs make with their footwork

[13:41] What is the Bailey Tennis Footwork Method?
[14:52]

What are the basic tenets of the Bailey Tennis Footwork Method?

[17:08]

Which of the 5 R's are players the most deficient in and how can we improve it?

[18:21]

Contact and Balance Moves

[21:49]

How to prevent information overwhelm when learning the different moves in footwork

[23:36] W

alk through of a typical footwork training session that Dave would give to a 4.0 or 4.5-rated adult tennis player

[26:32]

How long does it normally take for students on the Bailey Tennis Footwork Method to see improvements in their footwork?

[27:56] Types of training equipment do you use to help players improve their footwork?
[30:47]

Would you recommend the jumprope to players who want to improve their footwork?

[31:45]

What is the key to eliminating bad footwork patterns and developing efficient patterns?

[33:34] Are there any muscles that are routinely undertrained or ignored which contribute to bad footwork?
[35:19]

What's the first thing you have an athlete you are coaching do when you want to improve that person's footwork technique

[37:06]

What is one drill that tennis players can do right now that will help them improve their footwork?

[40:00]

How heavy of a medicine ball should we use?

[41:01] How can we improve our footspeed/footwork intensity?
[43:03]

What mistakes do players make in their training that actually slows them down instead of making them quicker on the court?

[45:34]

What role does the mind play in whether a player has efficient or inefficient footwork?

[47:34] Using

 visualization to help athletes' footwork

[49:16]

What type of mindset should we have to help us improve our footwork?

[51:02] Tips for players that get tight and end up not moving their feet in matches
[53:24]

What role does flexibility play in our footwork technique?

[54:30]

What warm up or cool down routines do you have your players do after a footwork training sessions?

[57:50] The benefit of stretch bands and Proprioceptive Neuromuscular Facilitation (PnF) stretching
[58:50]

What is one myth that many tennis players believe about footwork?

[1:00:41]

If Dave had to pick one player's footwork to emulate from the pro tour, who would it be (the Bruce Lee philosophy)

[1:02:27]

Dave's favorite player of all time to work with: Jelena Dokic

[1:03:45]

3 books Dave would gift to the audience to help them improve their tennis footwork and overall tennis game?

[1:05:31]

Dave's involvement in the tennis world and plans to license his footwork method

[1:07:30]

Where we can follow Dave online

[1:08:38]

Where Dave trains students in person

[1:09:50]

Dave recounts students puking from training with him :O]

[1:11:36] O

ne key piece of advice to help us improve our tennis footwork
Subscribe to automatically download new episodes!

Click this icon, click the blue "View in iTunes" button, then hit "Subscribe."

Or hit the subscribe button in your favorite podcast app!
Right Click Here to Download the MP3
Links Mentioned in the Show
Relax and Win – Bud Winter and Jimson Lee
Zen in the Martial Arts – Joe Hyams
Tennisplayer.net – John Yandell
Tennis dance – Awesome video showing Dave's students perform many of the BTFM steps
International Tennis Performance Association 
Complete Conditioning for Tennis

TFP 033: Dr. Mark Kovacs – Strength and Conditioning for Tennis Players
Note: Some of the links above are affiliate links, so if you make a purchase after clicking them, I make Eleventy-Billion dollars a small commission that helps support the podcast. Thanks either way! 🙂
If you enjoyed my interview with Dave, subscribe to The Tennis Files Podcast in iTunes or your favorite podcast app!
For more tips on how to improve your game, download a free copy of my eBook, The Building Blocks of Tennis Success below! Thanks for listening!