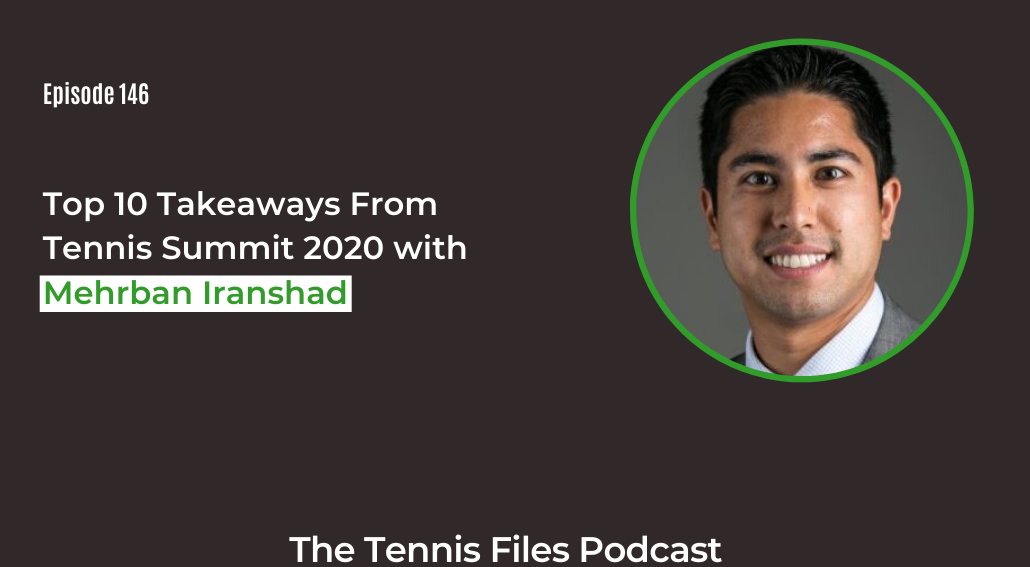 On Episode 146 of The Tennis Files Podcast, I reveal my top 10 strategy, technique, mental, and fitness takeaways from Tennis Summit 2020 with my good friend Peter Freeman from Crunch Time Coaching. We recorded this live episode at the end of my annual online tennis conference, which was a smashing success with 13,778 registrants!
On the show, you'll learn why you should use more of your back leg during the loading stage of the serve, the importance of practicing serves under pressure, how to improve your serve returns, the three main elements of watching the ball, how to prepare optimally before your matches, and much more!
I hope you enjoy this episode! Let us know what you think about this episode in the comments below!
And be sure to subscribe to Tennis Files to receive the latest tennis content to improve your game straight to your inbox!
Subscribe to automatically download new episodes!

Click the icon above, click the blue "View in iTunes" button, then hit "Subscribe."

Or hit the subscribe button in your favorite podcast app!
Right Click Here to Download the MP3
Links Mentioned in the Show
Social Media:
Crunch Time Coaching Instagram
Podcasts:
Check Out All My Podcasts Here!
Check Out All My Podcasts on Apple Podcasts!
My Youtube Channel!
Tennis Files Youtube Channel - Subscribe! You know you want to 😉
Note: Some of the links above are affiliate links, so if you make a purchase after clicking, I'll make a small commission that will help support the podcast. Thanks either way!
If you enjoyed this episode, subscribe to The Tennis Files Podcast in iTunes or your favorite podcast app!
For more tips on how to improve your tennis fitness, subscribe to my newsletter and download a free copy of my free eBook, The Building Blocks of Tennis Success below! Thanks for listening!
The Building Blocks of Tennis Success eBook
Subscribe to get my free eBook and learn about goal setting, training smart, proper technique, mental fortitude, the importance of competition, health and fitness, and more!
Thanks for being a valued Tennis Files subscriber! I am proud to serve you 🙂