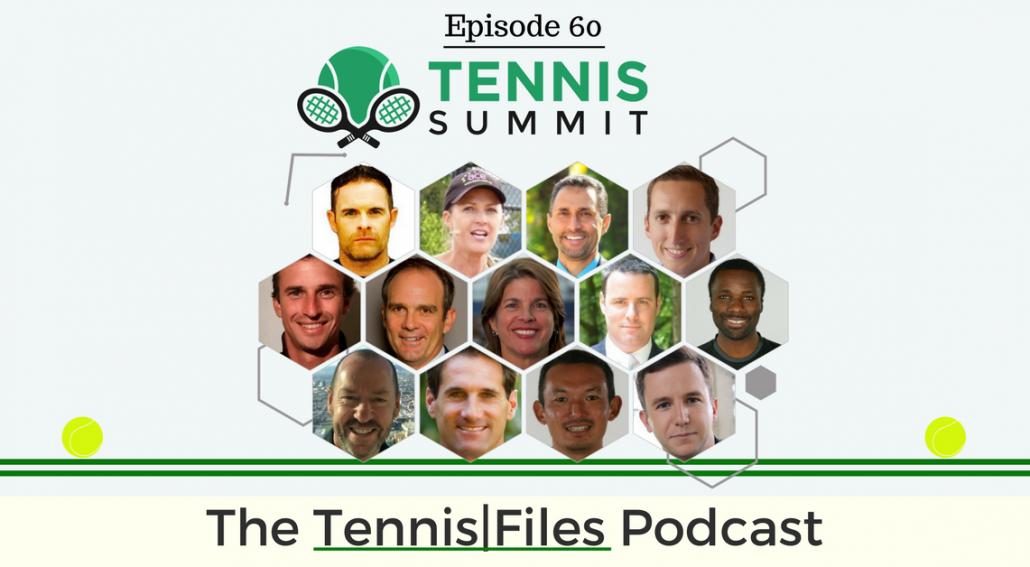 After nearly 4 months of hard work, I'm proud to announce that I'll be hosting the world's biggest online tennis conference: Tennis Summit 2018!
From April 25-30, you'll be able to watch presentations and interviews from 30+ world-class coaches on your computer and smartphone. And you can get a free ticket to watch all the sessions!
On today's episode of TFP, I put together a preview of Tennis Summit 2018.  You'll get to listen to five ten-minute clips of some of the best sessions on the summit.  These sessions include presentations and interviews from Paul Annacone (coach of Roger Federer, Pete Sampras, and Tim Henman), 17-time grand slam champion Gigi Fernandez, sports performance expert and iTPA/Kovacs Institute founder Dr. Mark Kovacs, performance consultant and founder of the McCaw Method, Allistair McCaw, and registered Dietician Jeff Rothtschild, who has worked with the Brian Brothers and other famous athletes from multiple sports.
I hope you enjoy this preview episode of Tennis Summit 2018, and be sure to get your free ticket to the summit here!
Time-Stamped Show Notes
[2:38] Paul Annacone – The Secrets of Federer, Sampras, and Henman
[14:16] Gigi Fernandez – Optimal Doubles Strategy From a 17-Time Grand Slam Champion
[26:01] Dr. Mark Kovacs – Mastering Your On-Court Movement
[37:39] Allistair McCaw – How to Become Champion Minded
[50:10] Jeff Rothschild – Carbohydrates, Sports Drinks, and the Heat
Subscribe to automatically download new episodes!

Click this icon, click the blue "View in iTunes" button, then hit "Subscribe."

Or hit the subscribe button in your favorite podcast app!
Right Click Here to Download the MP3
Links Mentioned in the Show
Join me at the world's biggest online tennis conference, Tennis Summit 2018, by signing up for free below!!
Get Your Free Ticket to Tennis Summit 2018!
Join 30+ world-class experts from April 25-30. Register Now!