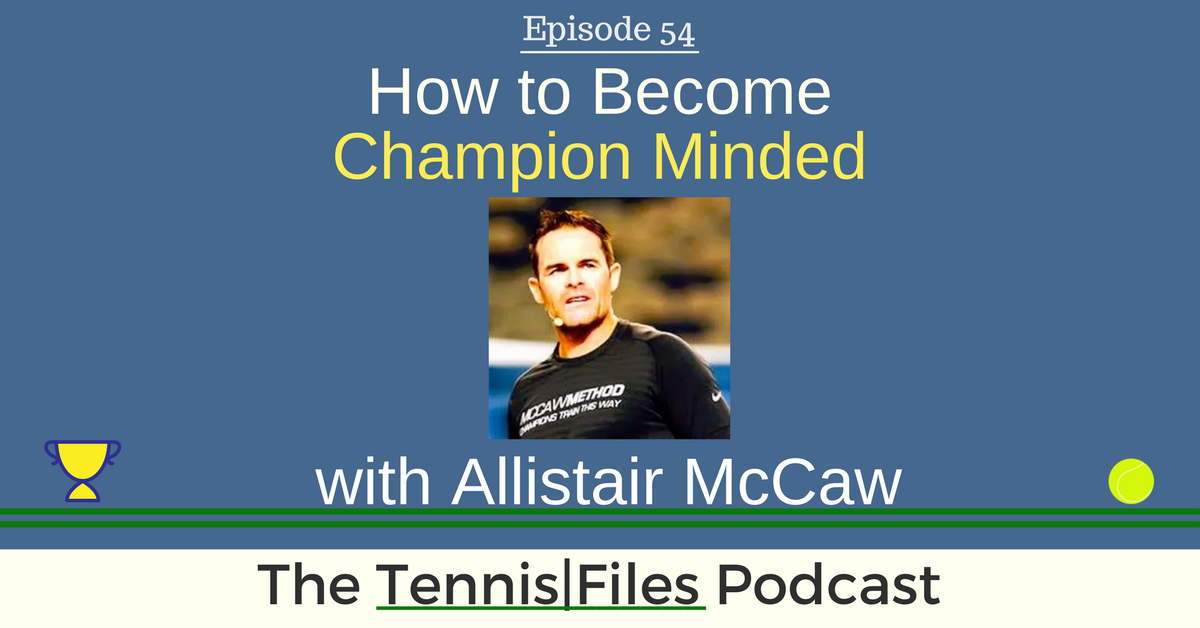 On today's show, I spoke with sports performance specialist Allistair McCaw about how we can become Champion Minded.  Allistair was a guest on the podcast on Episode 11 of TFP, when we chatted about developing world class athletes. Allistair recently published his newest book, Champion Minded: An Athlete's Guide to Achieving Excellence in Sports and Life with Jenny W. Robb.
Allistair is also the owner of The McCaw Method, a former professional athlete, and trains many world class athletes, including US Open Finalist Kevin Anderson (ranked as high as #10 in the world).  Allistair walks the walk, with multiple top 5 finishes in the World Duathlon Championships, completing 12 marathons in 12 months, and winning South Africa's fittest man competition among his many accomplishments.
We speak about the importance of vision, why your morning routine can set up the rest of your day for success, how Kevin Anderson exhibits the traits of being Champion Minded, why you need resilience and grit to achieve your goals, and much more on Episode 54 of The Tennis Files Podcast.
I hope you enjoy my interview with Allistair, and let us know what you think in the comments below!
Time-Stamped Show Notes
[2:25] Did it get any easier for Allistair to write his second book, Champion Minded, after his first book (7 Keys to Being a Great Coach)?
[4:16] Allistair's inspiration for writing Champion Minded
[6:06] The importance of vision, and how Allistair guides his athletes to developing the right vision that will help them achieve their goals
[8:04] Why Allistair stuck a sign above his bed as a young kid that said "Allistair McCaw – World Champion" and other encouraging signs
[9:54] How to overcome laziness and the feeling of wanting to be comfortable so you can make the right decision
[12:14] Allistair's morning routine
[15:24] Why Allistair has kept a training journal since he was 11, and the type of information to record in it
[18:14] Why Athletes digest information best in short doses and how that influenced the structure of Champion Minded
[20:55] Why competing is what athletes have trouble with the most
[22:35] How Kevin Anderson exhibits the traits of being Champion Minded?
[24:16] Allistair's most memorable moments with Kevin and the team during the US Open finals against Rafael Nadal
[26:43] The importance of grit and resilience and how to develop it to help you achieve your goals
[29:14] Why reading Champion Minded will help you perform better on the court and in life
Subscribe to automatically download new episodes!

Click this icon, click the blue "View in iTunes" button, then hit "Subscribe."

Or hit the subscribe button in your favorite podcast app!
Right Click Here to Download the MP3
Links Mentioned in the Show
Champion Minded: An Athlete's Guide to Achieving Excellence in Sports and Life – Allistair's new book
McCaw Method Performance Products
TFP 011: How Allistair McCaw Develops World Class Athletes
Tennis Files Youtube Channel – Subscribe!  You know you want to 😉
Note: Some of the links above are affiliate links, so if you make a purchase after clicking them, I make one-hundred-billion dollars a small commission that helps support the podcast. Thanks either way! 🙂
If you enjoyed my interview with Allistair, subscribe to The Tennis Files Podcast in iTunes or your favorite podcast app!
For more tips on how to improve your game, download a free copy of my eBook, The Building Blocks of Tennis Success below! Thanks for listening!