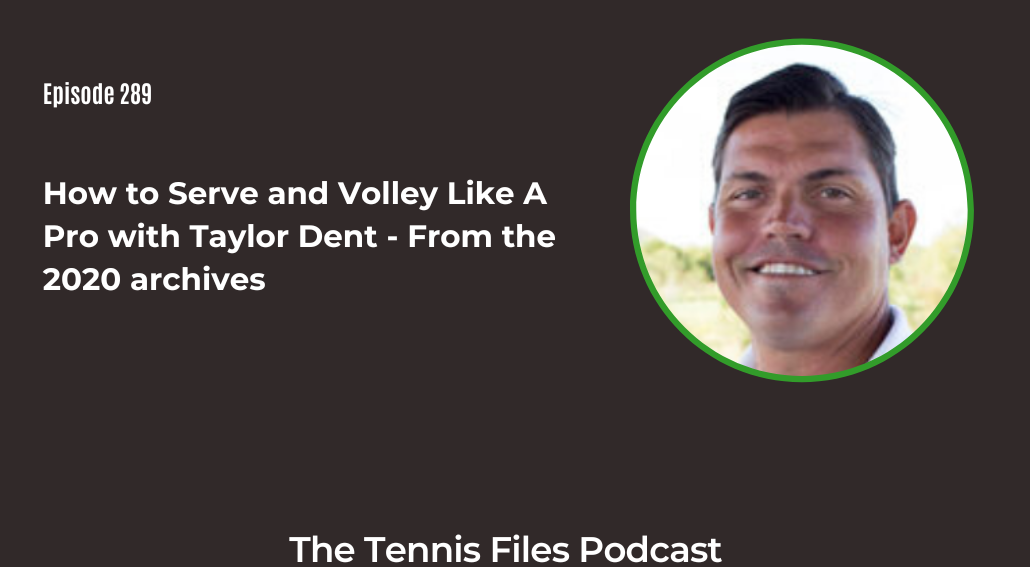 [From the archive: This episode was originally recorded and published in 2020]
On today's episode, I spoke with former ATP pro Taylor Dent about how you can develop a solid serve and volley game that will put your opponents on the defensive.
Taylor achieved a career high ranking of #21 in the world on the ATP Tour and won four singles titles. He reached the 4th round of Wimbledon and the US Open. He also placed 4th in the 2004 Olympics. Taylor has defeated numerous tennis legends such as Andy Roddick, Novak Djokovic, James Blake, Lleyton Hewitt, Marat Safin, and many other unbelievable players with his huge serve and volley game. His parents, half-brother, godfather, and wife also played tennis professionally. Taylor is a coach and co-founder of the Dent Tennis Academy at The Birch Racquet and Lawn Club in Keller, Texas.
On the show, you'll learn how to think like a professional serve and volleyer, the right tactics to use when you are at net, drills you can perform to become a better serve and volleyer, Taylor's toughest battles in his tennis career, the secret to hitting a 149mph serve, the big change Taylor made to his game early on to succeed on the pro tour, and much more!
I hope you enjoy my interview with Taylor! Let us know what you think about the episode in the comments below!
And be sure to subscribe to Tennis Files to receive the latest tennis content to improve your game straight to your inbox!
Subscribe to automatically download new episodes!

Click the icon above, click the blue "View in iTunes" button, then hit "Subscribe."

Or hit the subscribe button in your favorite podcast app!
Right Click Here to Download the MP3
Links Mentioned in the Show
The Birch Racquet and Lawn Club
Social Media Sites
Podcasts:
Check Out All My Podcasts Here!
Check Out All My Podcasts on Apple Podcasts!
My Youtube Channel!
Tennis Files Youtube Channel - Subscribe! You know you want to 😉
Note: Some of the links above are affiliate links, so if you make a purchase after clicking, I'll make a small commission that will help support the podcast. Thanks either way!
If you enjoyed this episode, subscribe to The Tennis Files Podcast in iTunes or your favorite podcast app!
For more tips on how to improve your tennis fitness, subscribe to my newsletter and download a free copy of my free eBook, The Building Blocks of Tennis Success below! Thanks for listening!