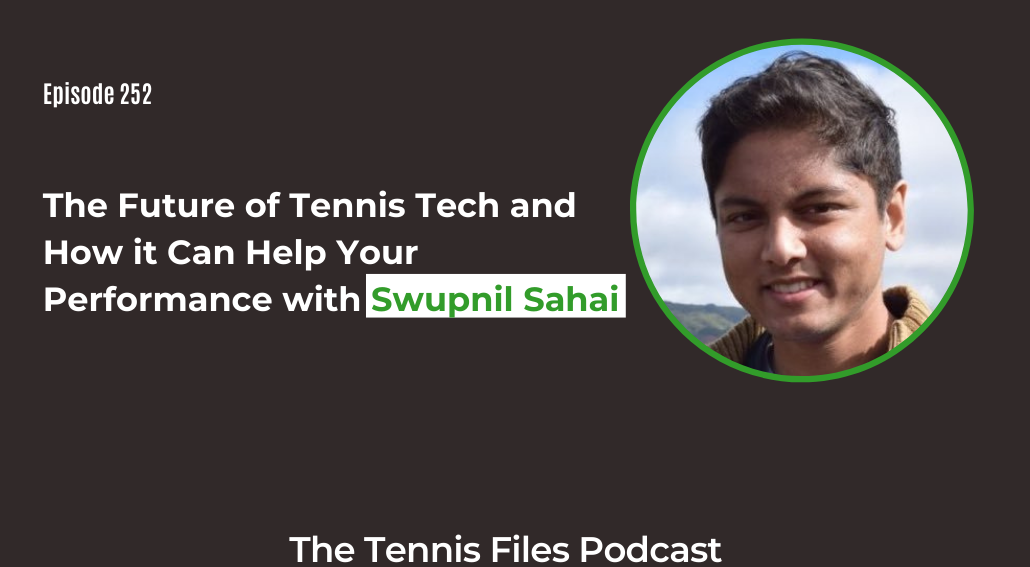 On Episode 252 of The Tennis Files Podcast, Mehrban spoke with Swupnil Sahai of SwingVision about the future of tennis tech and how it can help your performance.
Swupnil Sahai is the Co-Founder and CEO of SwingVision, a mobile A.I. platform for shot tracking, video analysis and officiating. He is also a Co-Instructor for Data 8: Foundations of Data Science, the largest class at UC Berkeley, with 1,600+ students from across 40+ majors. He built patented A.I. for 3D object tracking at Tesla Autopilot.
On the show, you'll learn how tennis tech has evolved over time, the most and least successful technological advancements for tennis players, how using SwingVision can help you improve your tennis game quickly and easily, the most important features of SwingVision and how you can review your matches and most important statistics in less time, how Swupnil Co-founded SwingVision, SwingVision's appearance in the latest Apple event, how you can keep score and challenge line calls with an Apple Watch and SwingVision in real time, and much more!
I hope you enjoy my interview with Swupnil! Let us know what you think about this episode in the comments below!
And be sure to subscribe to Tennis Files to receive the latest tennis content to improve your game straight to your inbox!
Subscribe to automatically download new episodes!

Click the icon above, click the blue "View in iTunes" button, then hit "Subscribe."

Or hit the subscribe button in your favorite podcast app!
Right Click Here to Download the MP3
Links Mentioned in the Show
tennisfiles.com/swingvision - Exclusive Free 30-Day Trial for Tennis Files Listeners and Tennis Files Bundle Discount ($100 off a Phone Mount + Annual SwingVision Membership = only $159.98!)
Podcasts:
Check Out All My Podcasts Here!
Check Out All My Podcasts on Apple Podcasts!
My Youtube Channel!
Tennis Files Youtube Channel - Subscribe! You know you want to 😉
Note: Some of the links above are affiliate links, so if you make a purchase after clicking, I'll make a small commission that will help support the podcast. Thanks either way!
If you enjoyed this episode, subscribe to The Tennis Files Podcast in iTunes or your favorite podcast app!
For more tips on how to improve your tennis fitness, subscribe to my newsletter and download a free copy of my free eBook, The Building Blocks of Tennis Success below! Thanks for listening!