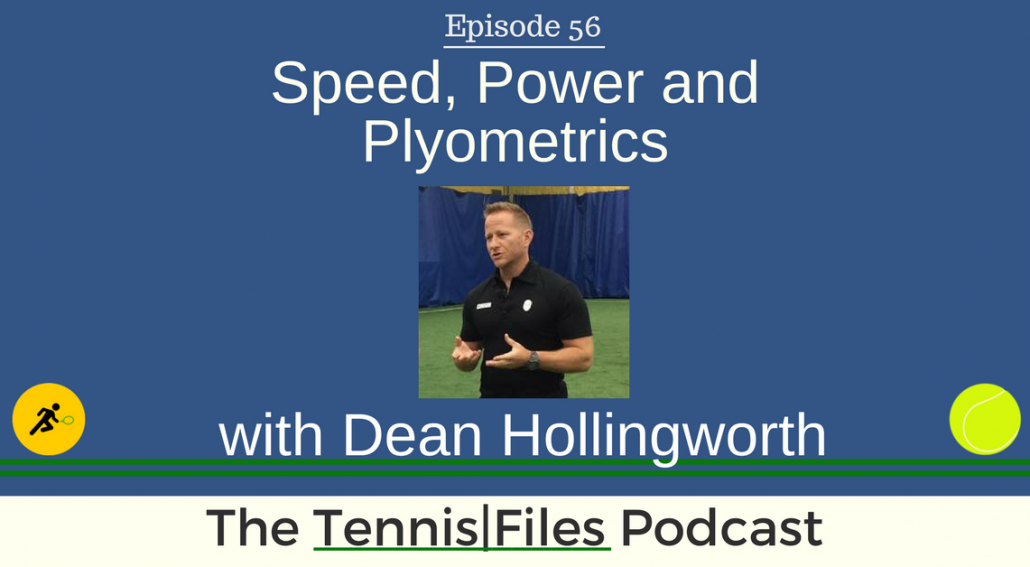 On today's show, I spoke with sports performance coach Dean Hollingworth about how we can train to become stronger, fitter, and faster tennis players and athletes.  I first met Dean while eating breakfast before the World Tennis and Fitness Conference, hosted by the International Tennis Performance Association.  Dean gave a fantastic presentation about plyometrics, and I knew that he would be the perfect guest for the podcast.
Dean is the Director of Fitness and Sports Performance at Club Sportif Cote-de-Liesse (CDL) in Montreal, Canada. He has over 25 years of experience in the health and fitness industry, and is a highly regarded author, speaker, and fitness and performance consultant.  Dean is the only strength and conditioning coach in Canada to be certified as a Master Tennis Performance Specialist by the iTPA.  He is also a certified Strength and Conditioning Specialist and Speed and Agility Coach, and worked as the S&C coach for Canada's Fed Cup team win against Serbia in 2014.  Dean coaches a wide gamut of athletes, including professional tennis players such as Elena Vesnina and Francoise Abanda.
We spoke about why strength and power training is essential for your tennis career, exercises to increase your strength, power and movement, why plyometrics is a great way to improve your speed and power on the court, Dean's experience as part of Elena Vesnina's team, and much more.
I hope you enjoy my interview with Dean, and let us know what you think in the comments below!
Time-Stamped Show Notes
[3:59] Why focusing on our fitness training is so important in helping us become better tennis players
[5:05] The 

specific benefits we get from fitness training for tennis

[6:34]

How Dean became a world-class fitness and sports performance coach

[8:31]

Associations and conferences that helped Dean expand his tennis fitness knowledge

[9:45] Dean's

 first exposure to tennis.

[11:19] Why tennis is the hardest sport to train athletes for
[14:47]

Should we use undulating periodization in our training?

[16:29]

Why we must decide when we want to peak, or else we won't improve

[17:54] The biggest mistakes that tennis players make in the gym
[19:45]

Dean's favorite thing about being a fitness coach

[20:53]

Examples of tennis players Dean trained that focused seriously on their fitness and had a huge improvement on their game

[22:21] Dispelling the myth that weight training is bad for your tennis game
[24:53] Part of the body tennis players need to improve the most
[26:31]

 The importance of "heavy lifts" i.e. deadlifts, squats, and bench press, and why single leg training is so critical

[29:32] How many days per week to perform fitness training, and considerations when creating a program
[31:34]

Tips for training on the road and in faraway places with little equipment

[33:30] Exercises for speed training
[34:57]

How long does each set last for speed training?

[36:18] What is plyometrics and how can it help our speed on the court?
[39:15]

How to integrate plyometrics with speed training

[41:03] Plyometrics technique tips
[42:00] Plyometrics exercises you can perform to improve your speed
[44:47]

How many reps per set should we perform for plyometrics?

[46:07]

Key principles to help us do plyometrics the right way?

[48:10]

If an athlete is deficient in a certain area, and you focus on that more so in their training, once they are proficient in it, do you then reduce focus on that area and train everything equally again?

[49:36] Static stretching routine and optimal number of exercises
[51:05] Dean's advice for improving our endurance on court
[53:02]

Should we do heavier lifts in certain parts of the season, such as squats, deadlifts, and bench press, or all-year round?

[54:09] Dean's experience as part of Elena Vesnina's team at the US Open a few months ago and Elena's professionalism 
[55:06] How Dean became a part of Elena's team
[56:08]

What type of fitness training Elena do before and during the US Open?

[57:17]

How do we choose which exercise to use in our training when there are many different types and variations?

[58:16]

Dean's favorite memory of the US Open as part of Elena Vesnina's team

[1:00:22] Dean's experience at Tennis Congress in Arizona last month
[1:03:09] Dean's plans to continue working with Elena
[1:03:46] Dean's new tennis fitness video course he's working on
[1:05:44]

Where we can follow Dean live and online

[1:06:39] One key piece of advice to help you improve your tennis game
Subscribe to automatically download new episodes!

Click this icon, click the blue "View in iTunes" button, then hit "Subscribe."

Or hit the subscribe button in your favorite podcast app!
Right Click Here to Download the MP3
Links Mentioned in the Show
Tennis Files Youtube Channel – Subscribe!  You know you want to 😉
If you enjoyed my interview with Dean, subscribe to The Tennis Files Podcast in iTunes or your favorite podcast app!
To improve your tennis fitness, download a free sample workout plan here! Thanks for listening!