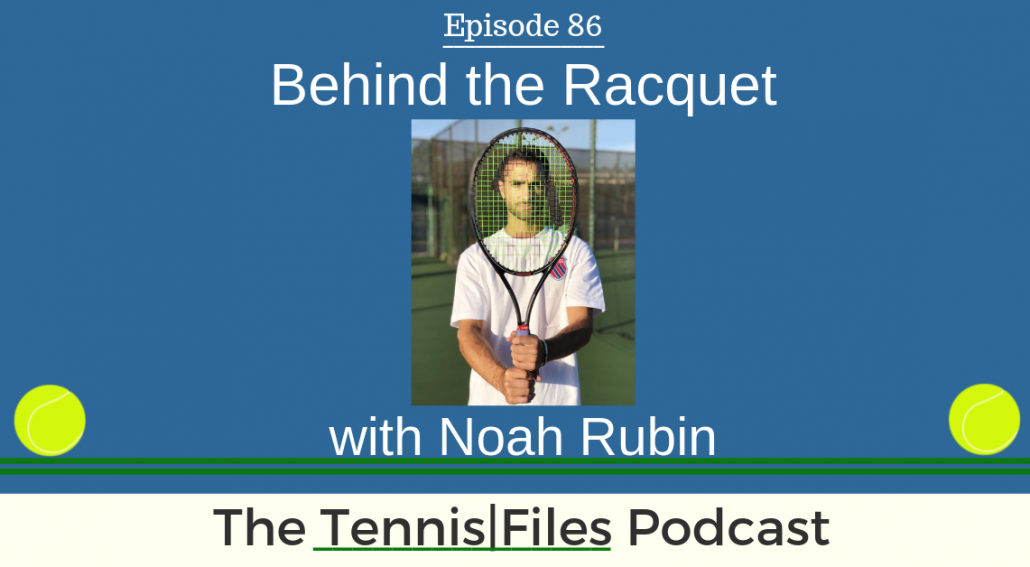 On Episode 86 of The Tennis Files Podcast, I spoke with ATP Pro Noah Rubin about his career and his newest project, Behind the Racquet. It is always a great pleasure to speak to the best tennis players in the world on the podcast, especially the players as insightful and creative as Noah.
Noah is currently 23 years old, and hails from Long Island, New York. He is ranked 152 in singles and 290 in doubles, with 4 Challenger titles and a junior Wimbledon Championship under his belt, among many other incredible accomplishments. He won both the singles and doubles titles at the 2014 USTA 18s National Championships, which earned Noah a Wild Card into the US Open at the age of 18. I remember the first time I saw Noah playing on TV at the US Open later that year, and was really impressed by his speed and fighting spirit.
Noah also played a year for Wake Forest and made the finals of the 2015 NCAA Singles Championship. He was the first ACC player in history to be named both ACC Player and Freshman of the Year in his Freshmen season. Noah also previously trained at the John McEnroe Tennis Academy, alongside WTA pro Jamie Loeb, who I interviewed on Episode 66 of the podcast.
Noah recently created Behind the Racquet, a really cool initiative that provides tennis players with an opportunity to discuss their thoughts, insecurities and struggles. Noah's project provides something that is crucially needed in the tennis industry — an insight into the real personalities and lives of the players beyond just their tennis careers.
On this episode, we discuss Noah's rise to the pro tour, his struggles and how he has overcome obstacles in his career, why he created Behind the Racquet, key tips to improve your tennis game, and many other interesting topics that you won't want to miss!
I really hope you enjoy my interview with Noah. Let us know what you think about this episode in the comments below!
Show Notes
Noah's passion for photography and the arts, and the camera/lens he currently uses
3 things most of the world doesn't know about Noah Rubin
Noah's very first memory of hitting a tennis ball
The mentors that helped Noah reach the elite levels of tennis
The most important changes Noah made to his game that helped him reach the next level in his career
The most difficult period in Noah's career and how he bounced back to achieve great success
Noah's advice on dealing with long-term injuries
The reason why Noah created Behind the Racquet
A message Noah would write on a huge billboard for everyone to see
A key tip from Noah to help you improve your tennis game....and much more!
Subscribe to automatically download new episodes!

Click the icon above, click the blue "View in iTunes" button, then hit "Subscribe."

Or hit the subscribe button in your favorite podcast app!
Note: Some of the links above are affiliate links, so if you make a purchase after clicking, I'll make a small commission that will help support the podcast. Thanks either way!
​If you enjoyed this episode, subscribe to The Tennis Files Podcast in iTunes or your favorite podcast app!
For more tips on how to improve your tennis fitness, subscribe to my newsletter and download a free copy of my free eBook, The Building Blocks of Tennis Success below! Thanks for listening!
The Building Blocks of Tennis Success eBook
Subscribe to get my free eBook and learn about goal setting, training smart, proper technique, mental fortitude, the importance of competition, health and fitness, and more!
Thanks for being a valued Tennis Files subscriber! I am proud to serve you 🙂