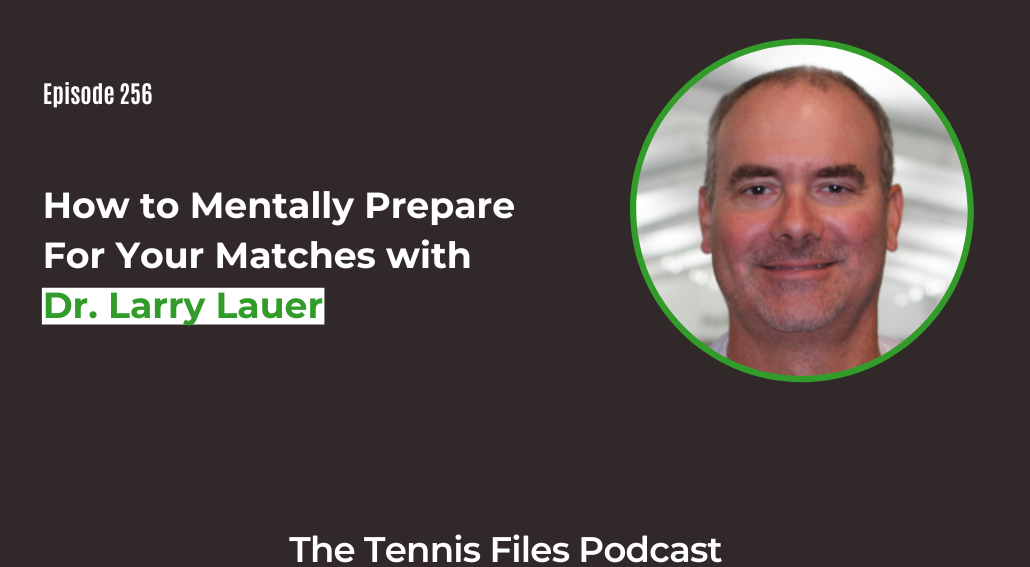 On Episode 256 of The Tennis Files Podcast, I spoke with Dr. Larry Lauer, a mental skills specialist for USTA Player Development, about how to mentally prepare for your matches.
Dr. Lauer earned a PhD in science, exercise, and sports psychology from the University of North Carolina at Greensboro. He was previously the Director of Coaching Education and Development at the Institute for the Study of Youth Sports (ISYS) at Michigan State University. Dr. Lauer also was an assistant coach and mental coach for Michigan State Men's Tennis, helping the team reach the 2013 NCAA tournament. Dr. Lauer was a sports psychologist consultant for USA Hockey's National Team Development Program. He currently co-hosts the Compete Like a Champion Podcast with Johnny Parkes.
On the show, you'll learn a step by step process for how to prepare mentally for your matches, how to achieve the optimal performance state, how to figure out your ideal match temperature, the power of visualization and journaling, how to create a pre-match plan, and much more!
I hope you enjoy my interview with Larry! Let us know what you think about the episode in the comments below!
And be sure to subscribe to Tennis Files to receive the latest tennis content to improve your game straight to your inbox!
Subscribe to automatically download new episodes!

Click the icon above, click the blue "View in iTunes" button, then hit "Subscribe."

Or hit the subscribe button in your favorite podcast app!
Right Click Here to Download the MP3
Links Mentioned in the Show
Compete Like a Champion Podcast
Podcasts:
Check Out All My Podcasts Here!
Check Out All My Podcasts on Apple Podcasts!
My Youtube Channel!
Tennis Files Youtube Channel - Subscribe! You know you want to 😉
Note: Some of the links above are affiliate links, so if you make a purchase after clicking, I'll make a small commission that will help support the podcast. Thanks either way!
If you enjoyed this episode, subscribe to The Tennis Files Podcast in iTunes or your favorite podcast app!
For more tips on how to improve your tennis fitness, subscribe to my newsletter and download a free copy of my free eBook, The Building Blocks of Tennis Success below! Thanks for listening!