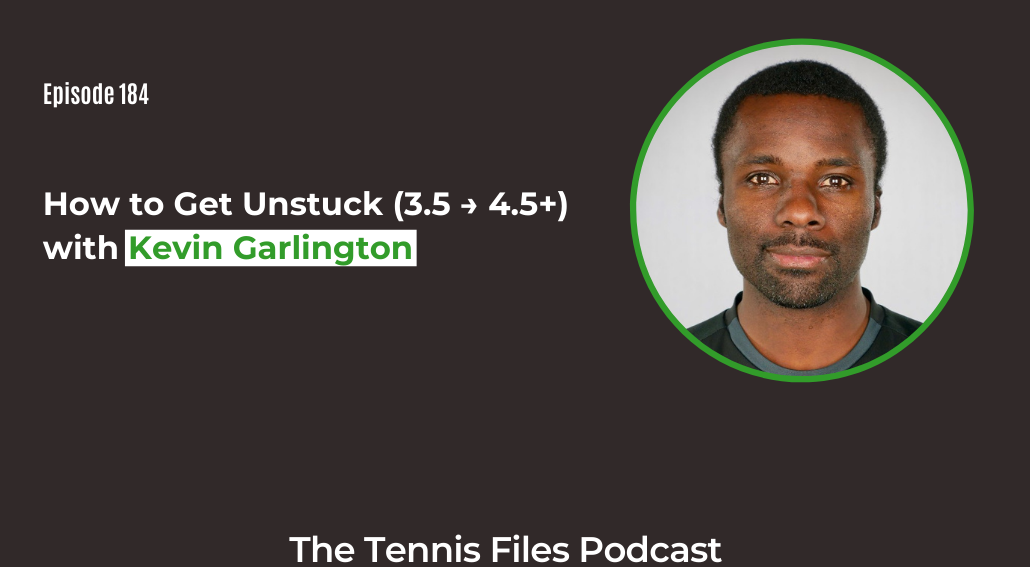 On Episode 184 of The Tennis Files Podcast, I interviewed Kevin Garlington, the founder of Total Tennis Domination, on how we can go from being stuck and frustrated to rapidly improving our games.
Kevin is the Head Tennis Pro at Cedar Ridge Country Club in Oklahoma and also churns out online tennis instruction content at Total Tennis Domination. He previously worked with my friend Ian Westermann at Essential Tennis, one of the biggest and most well-known online tennis businesses in the world. Kevin is a 5.0+ player and competed at the Division I level at Oral Roberts University, as well as on the Pro Circuit in the US and Spain. Both Kevin and his wife Megan have been teaching tennis together for many years and have helped improve thousands of players with their top quality instruction. Kevin has also been a featured coach on my online Tennis Summits.
On the show, you'll learn why players get stuck for years at the same level, what to focus on in your game to make big improvements, Kevin's systematic approach to developing adult tennis players, what part of the serve players struggle with most and how to fix it, winning singles strategies, Kevin's tennis journey from a late start in his teens to Division I college tennis baller and eventual world-class coach, and much more!
I hope you enjoy my interview with Kevin! Let us know what you think about this episode in the comments below!
And be sure to subscribe to Tennis Files to receive the latest tennis content to improve your game straight into your inbox!
Subscribe to automatically download new episodes!

Click the icon above, click the blue "View in iTunes" button, then hit "Subscribe."

Or hit the subscribe button in your favorite podcast app!
Right Click Here to Download the MP3
Links Mentioned in the Show
Books:
Podcasts:
Check Out All My Podcasts Here!
Check Out All My Podcasts on Apple Podcasts!
My Youtube Channel!
Tennis Files Youtube Channel - Subscribe! You know you want to 😉
Note: Some of the links above are affiliate links, so if you make a purchase after clicking, I'll make a small commission that will help support the podcast. Thanks either way!
If you enjoyed this episode, subscribe to The Tennis Files Podcast in iTunes or your favorite podcast app!
For more tips on how to improve your tennis fitness, subscribe to my newsletter and download a free copy of my free eBook, The Building Blocks of Tennis Success below! Thanks for listening!