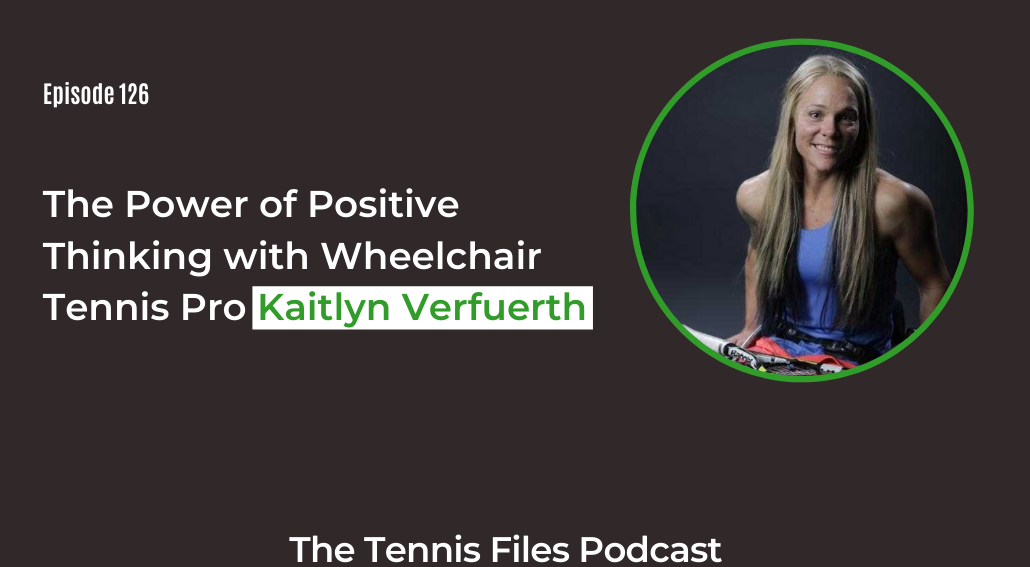 On Episode 126 of The Tennis Files Podcast, I spoke with professional wheelchair tennis player, Kaitlyn Verfuerth, about how she overcame a devastating accident to become an elite athlete through the power of positivity and determination.
Kaitlyn is a three-time Paralympian for Team USA. She participated in Rio 2016, Beijing 2008, and Athens 2004 Paralympic Games. She won a bronze medal in the 2014 Copa Americas Cup, gold medals in both singles and doubles at the Rio 2007 Parapan American games, and was awarded the 2002 USTA Most Improved Female Player of the Year. To help adults and children with disabilities to participate in sports, Kaitlyn founded a non-profit organization called Parasport Flagstaff. She is also the head coach of the girl's tennis team at Flagstaff High School.
On the show, you'll learn how Kaitlyn recovered from a life-changing incident as a child, how she rose up the ranks of the wheelchair tennis circuit, the differences between wheelchair tennis and the ATP/WTA tour, the ins and outs of using a wheelchair for sport, Kaitlyn's training regimen, her pre-match routine, and much more!
I hope you enjoy my interview with Kaitlyn! Let us know what you think about the episode in the comments below!
And be sure to subscribe to Tennis Files to receive the latest tennis content to improve your game straight to your inbox!
Subscribe to automatically download new episodes!

Click the icon above, click the blue "View in iTunes" button, then hit "Subscribe."

Or hit the subscribe button in your favorite podcast app!
Right Click Here to Download the MP3
Links Mentioned in the Show
Resources
Social Media Links
Books
Winning Ugly - Brad Gilbert
Tennis Summit Links
Tennis Summit 2019 - Register for FREE today!
Related Podcasts
Check Out All My Podcasts Here! ​
Check Out All My Podcasts on Apple Podcasts!
My Youtube Channel!
Tennis Files Youtube Channel - Subscribe! You know you want to 😉
Note: Some of the links above are affiliate links, so if you make a purchase after clicking, I'll make a small commission that will help support the podcast. Thanks either way!
If you enjoyed this episode, subscribe to The Tennis Files Podcast in iTunes or your favorite podcast app!
For more tips on how to improve your tennis fitness, subscribe to my newsletter and download a free copy of my free eBook, The Building Blocks of Tennis Success below! Thanks for listening!
The Building Blocks of Tennis Success eBook
Subscribe to get my free eBook and learn about goal setting, training smart, proper technique, mental fortitude, the importance of competition, health and fitness, and more!
Thanks for being a valued Tennis Files subscriber! I am proud to serve you 🙂