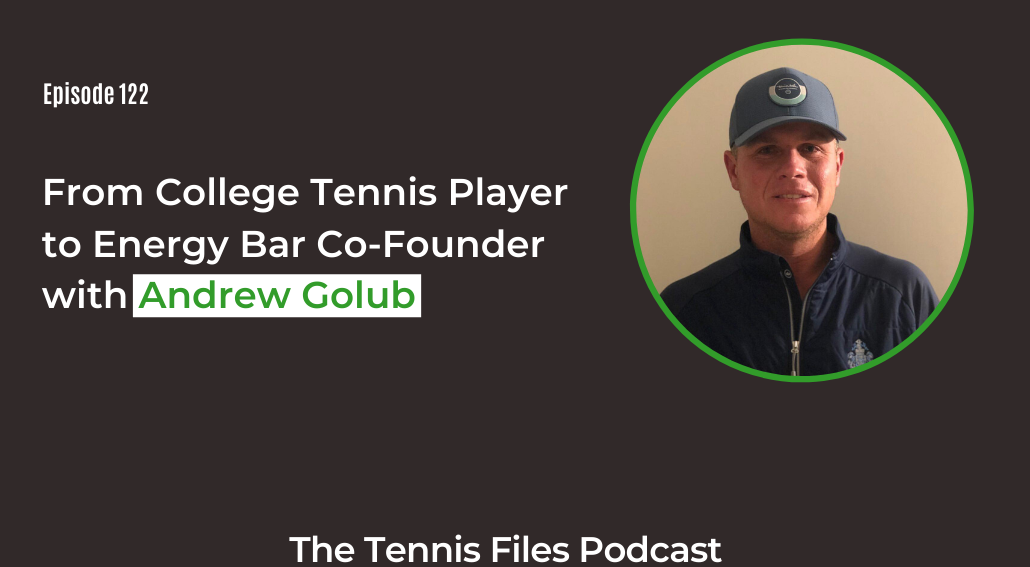 On Episode 122 of The Tennis Files Podcast, I spoke with a former Division 1 college tennis player, academy owner, and founding and managing member of Arrowbar, Andrew Golub.
Andrew earned his Bachelor of Science Degree with a focus on Business Management from the University of Miami. He played tennis for 4 years at Miami after a stellar junior career ranked in the top 20 in the nation. After graduating, he started Golub Tennis, and more than 120 students in his program have received scholarships to different universities across the country.
Andrew co-founded Arrowbar which is a gluten-free and all-natural, high-performance energy bar. Tennis pros such as John Isner, Steve Johnson, and former podcast guests James Blake and Michael Russell are just a few big names that are ambassadors of Arrowbar. I have also tried and really enjoy eating it before exercising!
On the show, you'll learn how Andrew started his tennis career, how he became one of the best junior players in the country, how he managed to balance tennis and his studies in school, what inspired him to create his own training center, the ins and outs of creating Arrowbar, and much more!
I hope you enjoy my interview with Andrew! Let us know what you think about this episode in the comments below!
Subscribe to automatically download new episodes!

Click the icon above, click the blue "View in iTunes" button, then hit "Subscribe."

Or hit the subscribe button in your favorite podcast app!
Right Click Here to Download the MP3
Links Mentioned in the Show
Resources
Arrowbar.com - Use code TENNISFILES30 for 30% off your order!
Social Media Links
Tennis Summit Links
Tennis Summit 2019 - Register for FREE today!
Related Podcasts
TFP 111: How to Survive and Thrive on the WTA Tour with Alexandra Mueller
TFP 015: Tennis Prodigy Sophie Chang on Turning Pro and Rising From the Valley
TFP 108: How to Make a Successful Comeback From Injuries with Treat Huey
TFP 107: Thai-Son Kwiatkowski - Pursuing Your Passion on Tour
TFP 082: Dr. Sean Drake — RacquetFit and the Body-Tennis Connection
Check Out All My Podcasts Here!
Check Out All My Podcasts on Apple Podcasts!
My Youtube Channel!
Tennis Files Youtube Channel - Subscribe! You know you want to 😉
Note: Some of the links above are affiliate links, so if you make a purchase after clicking, I'll make a small commission that will help support the podcast. Thanks either way!
If you enjoyed this episode, subscribe to The Tennis Files Podcast in iTunes or your favorite podcast app!
For more tips on how to improve your tennis fitness, subscribe to my newsletter and download a free copy of my free eBook, The Building Blocks of Tennis Success below! Thanks for listening!
The Building Blocks of Tennis Success eBook
Subscribe to get my free eBook and learn about goal setting, training smart, proper technique, mental fortitude, the importance of competition, health and fitness, and more!
Thanks for being a valued Tennis Files subscriber! I am proud to serve you 🙂