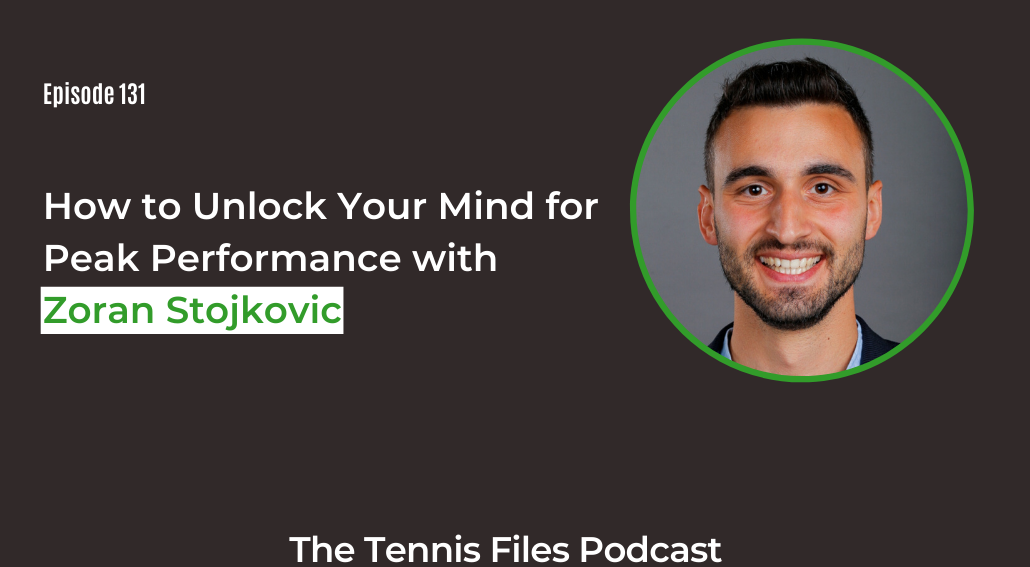 On Episode 131 of The Tennis Files Podcast, I spoke with certified mental performance consultant, Zoran Stojkovic, about how to unlock your mind for peak performance.
Zoran is a high-performance tennis coach and has two MSc degrees in Sport and Exercise Psychology. He is also the founder of Kizo Performance. His love for coaching and human performance development led him to study how elite performers prepare for competition. Zoran's mission is to empower people to unlock peak performance and personal satisfaction by training their mind with evidence-based mental tools and techniques.
On the show you'll learn effective techniques to achieve peak performance, how to eliminate distractions and increase your focus, how visualization can help unlock your mind, common misconceptions about the mental game, and much more!
I hope you enjoy my interview with Zoran! Let us know what you think about the episode in the comments below!
And be sure to subscribe to Tennis Files to receive the latest tennis content to improve your game straight to your inbox!
Subscribe to automatically download new episodes!

Click the icon above, click the blue "View in iTunes" button, then hit "Subscribe."

Or hit the subscribe button in your favorite podcast app!
Right Click Here to Download the MP3
Links Mentioned in the Show
Books
Social Media Sites
Tennis Summit Links
Tennis Summit 2019 - Register for FREE today!
Podcasts
Check Out All My Podcasts Here!
Check Out All My Podcasts on Apple Podcasts!
My Youtube Channel!
Tennis Files Youtube Channel - Subscribe! You know you want to 😉
Note: Some of the links above are affiliate links, so if you make a purchase after clicking, I'll make a small commission that will help support the podcast. Thanks either way!
If you enjoyed this episode, subscribe to The Tennis Files Podcast in iTunes or your favorite podcast app!
For more tips on how to improve your tennis fitness, subscribe to my newsletter and download a free copy of my free eBook, The Building Blocks of Tennis Success below! Thanks for listening!
The Building Blocks of Tennis Success eBook
Subscribe to get my free eBook and learn about goal setting, training smart, proper technique, mental fortitude, the importance of competition, health and fitness, and more!
Thanks for being a valued Tennis Files subscriber! I am proud to serve you 🙂