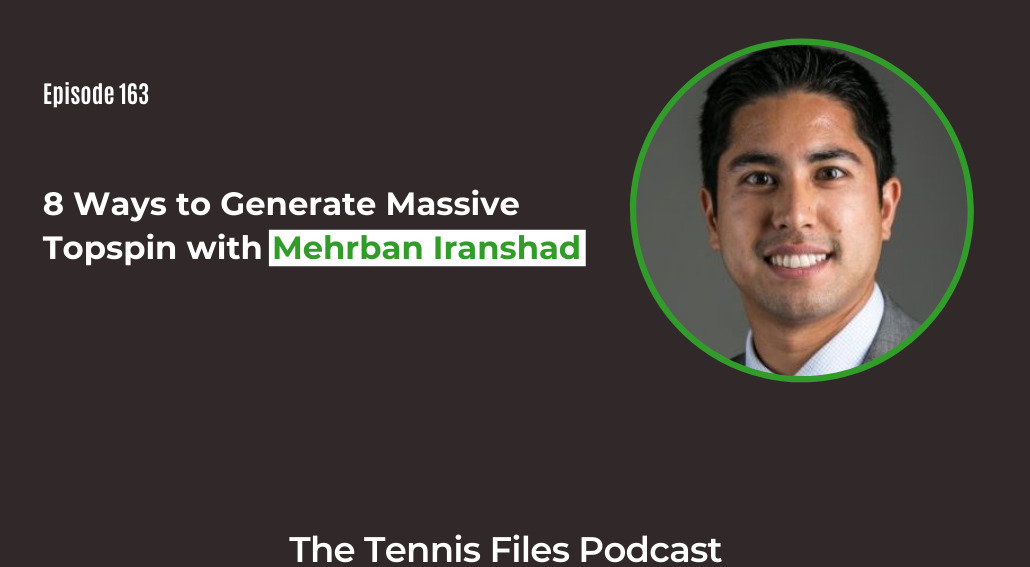 On Episode 163 of The Tennis Files Podcast, you're going to learn 8 ways to generate massive topspin.
Topspin is an extremely important part of tennis, and I've heard from many players that they want to hit with more topspin on their strokes. Topspin helps you avoid errors, hit higher over the net, and makes life tougher for your opponents. My topspin groundstrokes are a huge weapon for me, so I figured I would share my knowledge with you about how you can generate more topspin by making 8 technical and equipment adjustments. You may be surprised with some of the suggestions!
I hope you enjoy this episode! Let me know what you think about it in the comments below!
And be sure to subscribe to Tennis Files to receive the latest tennis content to improve your game straight into your inbox!
Subscribe to automatically download new episodes!

Click the icon above, click the blue "View in iTunes" button, then hit "Subscribe."

Or hit the subscribe button in your favorite podcast app!
Right Click Here to Download the MP3
Links Mentioned in the Show
Racquets
Strings
Resources
Most Spin-Friendly Racquets Video (Tennis Warehouse)
Podcasts:
Check Out All My Podcasts Here!
Check Out All My Podcasts on Apple Podcasts!
My Youtube Channel!
Tennis Files Youtube Channel - Subscribe! You know you want to 😉
Note: Some of the links above are affiliate links, so if you make a purchase after clicking, I'll make a small commission that will help support the podcast. Thanks either way!
If you enjoyed this episode, subscribe to The Tennis Files Podcast in iTunes or your favorite podcast app!
For more tips on how to improve your tennis fitness, subscribe to my newsletter and download a free copy of my free eBook, The Building Blocks of Tennis Success below! Thanks for listening!
The Building Blocks of Tennis Success eBook
Subscribe to get my free eBook and learn about goal setting, training smart, proper technique, mental fortitude, the importance of competition, health and fitness, and more!
Thanks for being a valued Tennis Files subscriber! I am proud to serve you 🙂