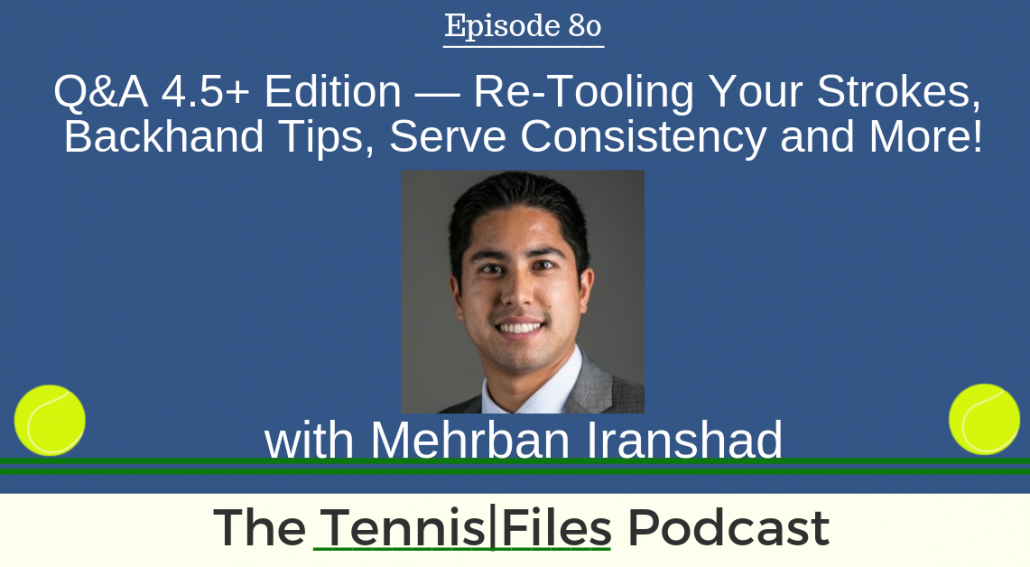 On Episode 80 of The Tennis Files Podcast, I am back to answering questions that I've received from tennis players like you about how to re-tool your strokes, topspin and slice backhand tips, serving more consistently, advanced drills, staying mentally tough and more! I routinely receive emails asking questions about all things tennis, and I picked out seven more of them to answer on the podcast today. This time, the questions all come from players at the 4.5 level or higher. But no matter what level you are at, you'll learn some helpful tips on this episode to improve your game
I really enjoy receiving emails from my subscribers and do my best to answer them all (even if it takes a little while!). Thanks to you, your questions and the answers today will help your fellow tennis playing community become better players. Once again, I really appreciate every single one of you who has contacted me with your fantastic questions.
I really hope you enjoy this episode! If you like the format, let me know in the comments below so that I can do more Q&A episodes in the future!
And be sure to subscribe to Tennis Files below to receive the latest tennis content to improve your game straight to your inbox!
Show Notes
Q1: What is the best way to re-tool a stroke where multiple parts of it need to be changed? Do you work on one piece at a time or all at the same time? What is the most effective method to change your technique? (Michael - 4.5)
Q2: How do you hit a strong and deep topspin and slice backhand? How do you prevent your backhand from floating and being attacked? (Mark - 4.5)
Q3: How should you handle high topspin serves to the one-handed backhand? (Ciro - 5.0+)
Q4: How can you prevent guiding (slowing down) the racquet head through contact, and instead release the head through contact? (Tabarrow - 4.5)
Q5: How can you become confident and focused during a match? How do you close out matches effectively, and make a comeback when you are down in a match? (Raluca - 4.5)
Q6: What drills do you recommend for tournament players? (Mitch - 5.0+)
Q7: How can you develop a consistent and reliable second serve? (Ray - 4.5)
Subscribe to automatically download new episodes!

Click the icon above, click the blue "View in iTunes" button, then hit "Subscribe."

Or hit the subscribe button in your favorite podcast app!
​If you enjoyed this episode, subscribe to The Tennis Files Podcast in iTunes or your favorite podcast app!
For more tips on how to improve your game, subscribe to my newsletter and download a free copy of my eBook, The Building Blocks of Tennis Success below! Thanks for listening!