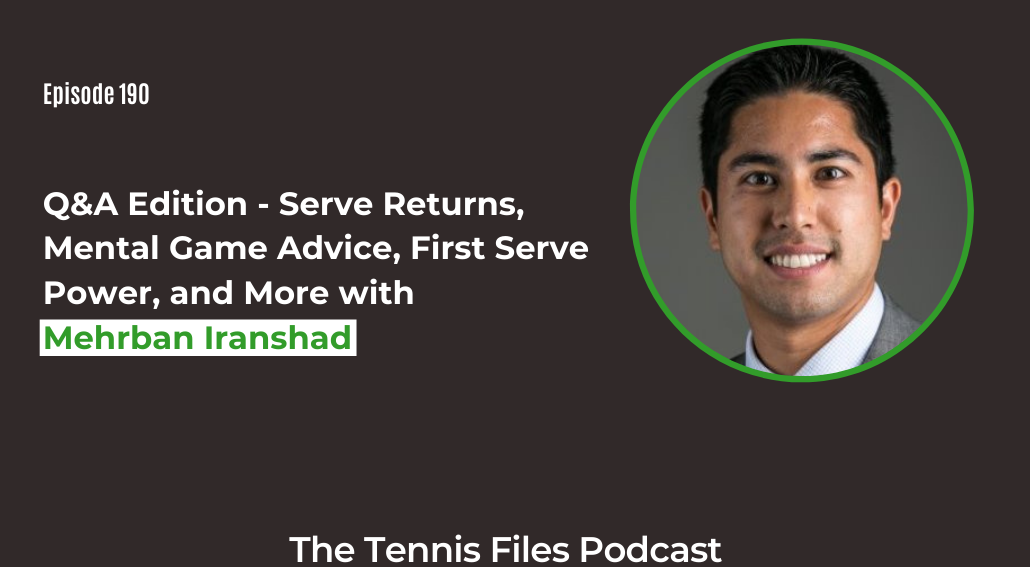 On Episode 190 of The Tennis Files Podcast, you'll learn how to level up your serve returns, increase your first serve power, develop a stronger mindset, and more on this Q&A edition of the show!
I went back into the Q&A mailbag and selected seven excellent questions from the Tennis Files community for today's episode. I'll explain how to level up your NTRP rating, critical checkpoints to develop first serve power and second serve consistency, how to return a lefty's slice serve to the ad court in doubles matches, eye-opening statistics from the pro tour, and much more that I've learned from decades playing the game and from the world's top tennis pros and coaches who I've interviewed on the podcast and for my online summits.
I really hope you enjoy the show! If there is a particularly useful piece of advice that you discovered from it, let me know by leaving a comment.
And subscribe to Tennis Files using the link below to receive updates about the free online tennis summit starting on April 19th!
Subscribe to automatically download new episodes!

Click the icon above, click the blue "View in iTunes" button, then hit "Subscribe."

Or hit the subscribe button in your favorite podcast app!
Right Click Here to Download the MP3
Links Mentioned in the Show
Speed Workout Routine - YouTube Video
Leg Strength Workout - YouTube Video
Leg Strength Workout - Free Worksheet!
TFP 187: Q&A Edition - Forehand Power, Second Serve Consistency, Concentration Tips, and More!
Podcasts:
Check Out All My Podcasts Here!
Check Out All My Podcasts on Apple Podcasts!
My Youtube Channel!
Tennis Files Youtube Channel - Subscribe! You know you want to 😉
Note: Some of the links above are affiliate links, so if you make a purchase after clicking, I'll make a small commission that will help support the podcast. Thanks either way!
If you enjoyed this episode, subscribe to The Tennis Files Podcast in iTunes or your favorite podcast app!
For more tips on how to improve your tennis fitness, subscribe to my newsletter and download a free copy of my free eBook, The Building Blocks of Tennis Success below! Thanks for listening!