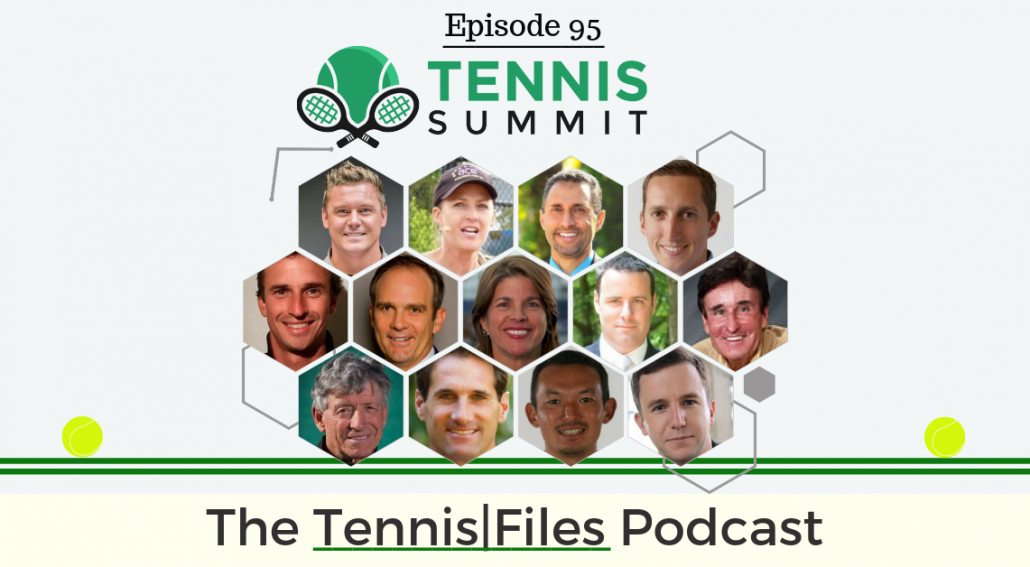 On today's episode of The Tennis Files Podcast, I put together a preview of three more sessions from the summit on pro tactics, the critical principles that you need to level up your game, and how to crush short forehands from world class coaches Paul Annacone, Edgar Giffenig, and Brady Hiete.
The biggest online (and free!) tennis conference of the year is now open for registration and is starting in less than a week! After four months of hard work, I'm proud to announce the third edition of this annual event: Tennis Summit 2019!
The objective of Tennis Summit 2019 is to help you win more tennis matches. From May 14-19, you'll be able to watch presentations and interviews from 30+ world-class coaches on your computer and smartphone. And you can get a free ticket to watch all the sessions!
Paul Annacone (coach of Roger Federer, Pete Sampras, and Tim Henman), 17-time grand slam champion Gigi Fernandez, Rick Macci (legendary coach of the Williams sisters, Jennifer Capriati, and Andy Roddick, among many others), sports performance expert and iTPA/Kovacs Institute founder Dr. Mark Kovacs, performance consultant and founder of the McCaw Method, Allistair McCaw, and many more will be presenting this year.
I hope you enjoy this preview of the Tennis Summit 2019 sessions, and be sure to get your free ticket to the summit here (you'll also get a free kick serve course with your free ticket)!
Subscribe to automatically download new episodes!

Click the icon above, click the blue "View in iTunes" button, then hit "Subscribe."

Or hit the subscribe button in your favorite podcast app!
Right Click Here to Download the MP3
Links Mentioned in the Show
Books
Complete Conditioning for Tennis (2nd edition) - Dr. Mark Kovacs
Tennis Summit Links
Tennis Summit 2019 - Register for FREE today!
Related Podcasts
TFP 090: 5 of My Favorite Doubles Plays to Take Control of Matches
TFP 080: Q&A 4.5+ Edition — Re-tooling Your Strokes, Backhand Tips, Serve Consistency, Returning, Advanced Drills and More!
TFP 075: Q&A Edition — Anticipation, Fitness, Consistency, Technique and More!
Check Out All My Podcasts Here! - Podcasts Homepage
Check Out All My Podcasts on iTunes! - iTunes Tennis Files Podcast Page
My Youtube Channel!
Tennis Files Youtube Channel - Subscribe! You know you want to 😉
Note: Some of the links above are affiliate links, so if you make a purchase after clicking, I'll make a small commission that will help support the podcast. Thanks either way!
If you enjoyed this episode, subscribe to The Tennis Files Podcast in iTunes or your favorite podcast app!
For more tips on how to improve your tennis fitness, subscribe to my newsletter and download a free copy of my free eBook, The Building Blocks of Tennis Success below! Thanks for listening!
The Building Blocks of Tennis Success eBook
Subscribe to get my free eBook and learn about goal setting, training smart, proper technique, mental fortitude, the importance of competition, health and fitness, and more!
Thanks for being a valued Tennis Files subscriber! I am proud to serve you 🙂