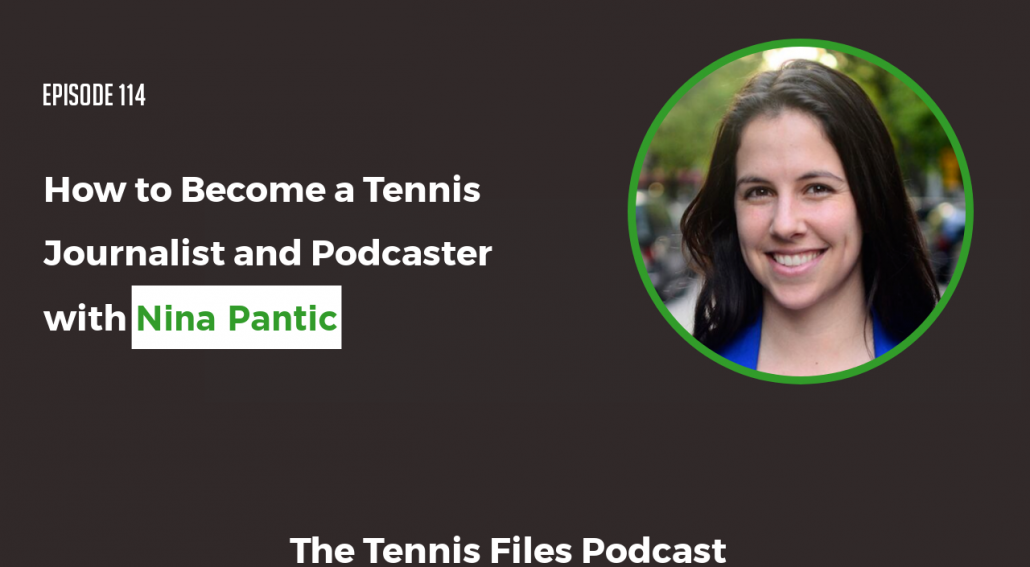 On Episode 114 of The Tennis Files Podcast, I spoke with journalist and podcast host Nina Pantic about how she transitioned from an elite tennis player to a career in the world of tennis media.
Nina is the associate editor for Tennis Magazine and Tennis.com, and the managing editor of Baseline, which provides daily tennis news with a spin. She also co-hosts the Tennis.com Podcast Inside the Tour alongside Irina Falconi on the Tennis Channel Podcast Network. Nina played college tennis for UCLA and achieved career high WTA rankings of 530 in singles and 488 in doubles.
After playing an elite level of competitive tennis, Nina decided to pursue her passion for journalism and managed to combine it with the sport she's played all her life: tennis. In other words, Nina has found a way to live the dream! It was great to meet her at the US Open last month and I'm really glad we were able to make this interview happen.
On the show, you'll learn how Nina developed into a top ranked junior, what she thinks of home schooling when pursuing a professional career, the difficulties of making a living on the tour, how she became a journalist, what it's like to work for Tennis Magazine, the highs and lows of working in tennis media, key tips to improve your tennis game, and more!
I hope you enjoy my interview with Nina! Let us know what you think about it in the comments below.
Subscribe to automatically download new episodes!

Click the icon above, click the blue "View in iTunes" button, then hit "Subscribe."

Or hit the subscribe button in your favorite podcast app!
Right Click Here to Download the MP3
Links Mentioned in the Show
Resources
The Tennis Channel Podcast Network
Social Media Links
​Books
The Fighter's Mind: Inside the Mental Game
Tennis Summit Links
Tennis Summit 2019 - Register for FREE today!
Related Podcasts
TFP 111: How to Survive and Thrive on the WTA Tour with Alexandra Mueller
TFP 015: Tennis Prodigy Sophie Chang on Turning Pro and Rising From the Valley
TFP 108: How to Make a Successful Comeback From Injuries with Treat Huey​
TFP 107: Thai-Son Kwiatkowski - Pursuing Your Passion on Tour
TFP 082: Dr. Sean Drake — RacquetFit and the Body-Tennis Connection
Check Out All My Podcasts Here! ​
Check Out All My Podcasts on Apple Podcasts!
My Youtube Channel!
Tennis Files Youtube Channel - Subscribe! You know you want to 😉
Note: Some of the links above are affiliate links, so if you make a purchase after clicking, I'll make a small commission that will help support the podcast. Thanks either way!
If you enjoyed this episode, subscribe to The Tennis Files Podcast in iTunes or your favorite podcast app!
For more tips on how to improve your tennis fitness, subscribe to my newsletter and download a free copy of my free eBook, The Building Blocks of Tennis Success below! Thanks for listening!
The Building Blocks of Tennis Success eBook
Subscribe to get my free eBook and learn about goal setting, training smart, proper technique, mental fortitude, the importance of competition, health and fitness, and more!
Thanks for being a valued Tennis Files subscriber! I am proud to serve you 🙂