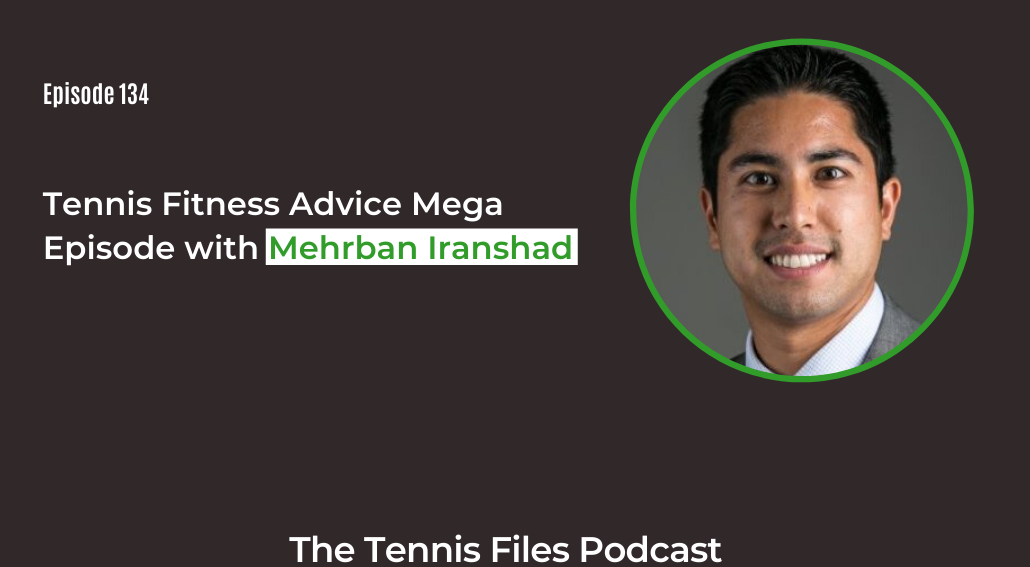 On Episode 134 of The Tennis Files Podcast, I put together a special mega compilation of the best fitness advice ever given on the show. I went through all of my previous episodes and hand-selected clips from 10 previous interviews with many of the top tennis fitness experts in the world.
On the show you'll learn about strength and conditioning, explosive power, plyometrics, the most common injuries and how to prevent them, working out on the road, why your range of motion makes a huge impact on your technique, the best exercises for tennis players in the gym, how to protect your rotator cuff, important recovery tips, the biggest mistakes when training, and much more!
I really hope you enjoy this episode! If you found it helpful, let me know in the comments below!
And be sure to subscribe to Tennis Files to receive the latest tennis content to improve your game straight to your inbox!
Subscribe to automatically download new episodes!

Click the icon above, click the blue "View in iTunes" button, then hit "Subscribe."

Or hit the subscribe button in your favorite podcast app!
Right Click Here to Download the MP3
Links Mentioned in the Show
Link to Full Interviews
TFP 033: Strength and Conditioning for Tennis Players with Dr. Mark Kovacs
TFP 039: Injury Prevention and Recovery with Dr. Todd Ellenbecker
TFP 048: Optimizing Your Strength and Conditioning Workouts with Dominic King
TFP 056: Speed, Power, and Plyometrics with Dean Hollingworth
TFP 069: Strength and Conditioning on the Road with Johnny Fraser
TFP 078: Strength and Conditioning for Junior Athletes with Aaron Patterson
TFP 079: Injury Prevention and Movement Mechanics with David Grant
TFP 082: RacquetFit and the Body-Tennis Connection with Dr. Sean Drake
TFP 101: How to Reach Peak Athletic Performance with Dr. Greg Rose
TFP 119: Tennis Fitness Fundamentals with Nathan Martin
Books
Complete Conditioning for Tennis Players (2nd Edition)
International Tennis Performance Association
Resources
Eric Cressey - Why the Bench Press isn't a Great Exercise for Overhead Athletes
Social Media Sites
Podcasts
Check Out All My Podcasts Here!
Check Out All My Podcasts on Apple Podcasts!
My Youtube Channel!
Tennis Files Youtube Channel - Subscribe! You know you want to 😉
Note: Some of the links above are affiliate links, so if you make a purchase after clicking, I'll make a small commission that will help support the podcast. Thanks either way!
If you enjoyed this episode, subscribe to The Tennis Files Podcast in iTunes or your favorite podcast app!
For more tips on how to improve your tennis fitness, subscribe to my newsletter and download a free copy of my free eBook, The Building Blocks of Tennis Success below! Thanks for listening!
The Building Blocks of Tennis Success eBook
Subscribe to get my free eBook and learn about goal setting, training smart, proper technique, mental fortitude, the importance of competition, health and fitness, and more!
Thanks for being a valued Tennis Files subscriber! I am proud to serve you 🙂