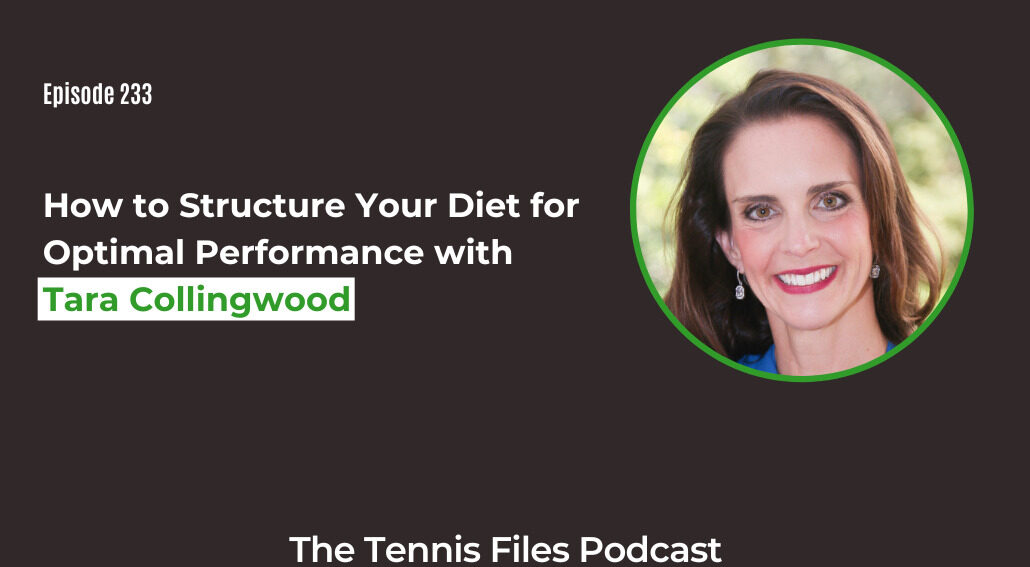 On Episode 233 of The Tennis Files Podcast, Sports Dietitian Tara Collingwood reveals how to make small changes in your diet to boost your energy and performance on the tennis court.
Tara is a nutrition consultant to the United States Tennis Association's (USTA) National Campus in Orlando, Florida. She is also currently the Team Dietitian for the Orlando Magic NBA team and Nutrition Consultant to The University of Central Florida's (UCF) Athletic Department. Tara has worked with numerous high-profile companies including Walt Disney World, Rodale Publications, Tupperware, Canyon Ranch Spa, Rosen Hotels, United Behavioral Healthcare, and many others. She owns Tara Gidus Nutrition Consulting in Orlando and was also a health blogger for five years.
On the show, you'll learn the top 5 best and worst foods for tennis players, how to structure your meals the day before and day of a match, Tara's simple rules for determining what ratio of carbs, proteins, and fats you should consume, sample healthy meals you can start eating today to increase your energy, why traditional sports drinks are the best way to hydrate yourself during intense exercise and what to add to them if you sweat a lot, the best snacks to eat while playing and in-between matches (hint: they are not the same!), how to prevent cramping and improve your on-court performance, how to stay consistent with your diet and nutrition, slow vs. fast digesting carbohydrates and the optimal time to eat them, how soon you should eat after a match to maximize your recovery, and much more!
I hope you enjoy my interview with Tara! Let us know what you think about this episode in the comments below!
And be sure to subscribe to Tennis Files to receive the latest tennis content to improve your game straight to your inbox!
Subscribe to automatically download new episodes!

Click the icon above, click the blue "View in iTunes" button, then hit "Subscribe."

Or hit the subscribe button in your favorite podcast app!
Right Click Here to Download the MP3
Links Mentioned in the Show
Podcasts:
Check Out All My Podcasts Here!
Check Out All My Podcasts on Apple Podcasts!
My Youtube Channel!
Tennis Files Youtube Channel - Subscribe! You know you want to 😉
Note: Some of the links above are affiliate links, so if you make a purchase after clicking, I'll make a small commission that will help support the podcast. Thanks either way!
If you enjoyed this episode, subscribe to The Tennis Files Podcast in iTunes or your favorite podcast app!
For more tips on how to improve your tennis fitness, subscribe to my newsletter and download a free copy of my free eBook, The Building Blocks of Tennis Success below! Thanks for listening!