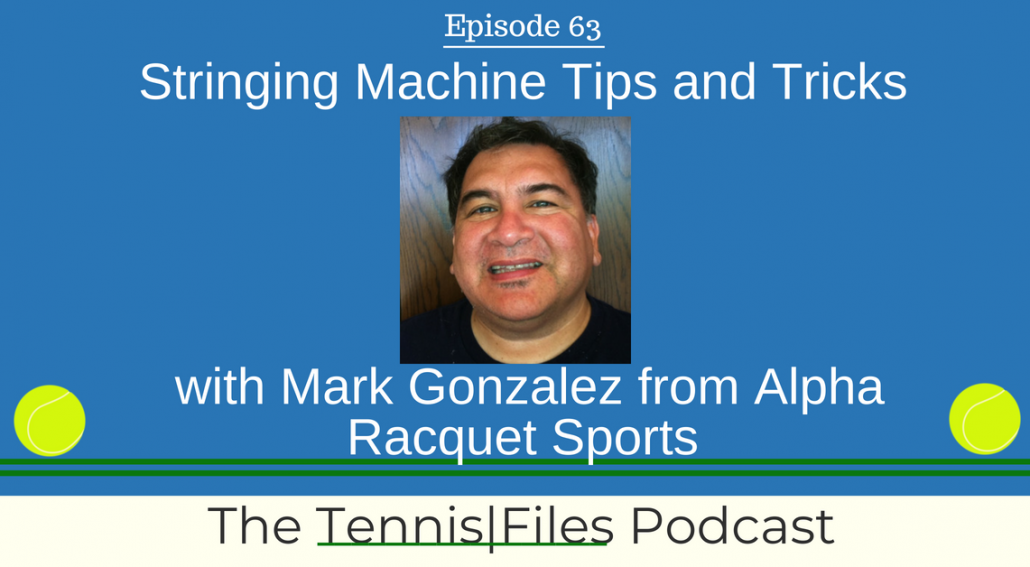 On today's episode of The Tennis Files Podcast, I spoke with Mark Gonzalez from Alpha Racquet Sports about stringing machines. I asked Mark about the different types of stringing machines, how to choose the right one for you, and tips and tricks to become a great stringer.  The International Alliance of Racquet Stringers (IART) has said that Mark's knowledge of stringing machines ranks among the very best in the industry.
Mark wears many hats in the tennis world; he is a Sales Manager for Alpha Racquet Sports, an industry consultant for IART, and a Yonex rep.  Mark has a reputation for being super responsive and has helped me figure out my stringing machine needs. When I did research on best value stringing machines, Alpha was the brand that popped up more often than all the others in the forums and everywhere else, which is why I decided to bring Mark on the podcast.
It was a pleasure having Mark on The Tennis Files Podcast, and I know this episode will help you choose the right stringing machine for your game and become a better stringer.  You'll also save a lot of cash if you get a tennis machine which you can use to play more tennis, upgrade your racquets, and enjoy happy hour after your league matches (if you are of-age, anyway! 🙂 )
I hope you enjoy this episode of TFP with Mark, and let us know what you think in the comments below!
Time-Stamped Show Notes
Intro
[4:02]

The biggest advantage of owning a stringing machine

[5:32]

The biggest hesitation that players have when deciding whether to buy a stringing machine

[7:20]

What sparked Mark's interest into the world of stringing machines

[9:46]

The stringing machines Mark has used throughout his tennis and stringing career?
Researching Stringing Machines
[11:47]

The optimal approach to buying a machine

[14:30]

When buying a stringing machine, do we plan for the short term or long term? i.e. space in apartment, stringing skill level, potential to string for others, etc.

[15:47]

What are the biggest mistakes people make when buying a stringing machine?
Different Types of Stringing Machines
[17:31]

What are the different types of stringing machines?

[20:42]

The kind of machine Mark recommends for a player's first machine, that plays 2-3 times a week and breaks strings once every 2-3 weeks?

[21:55]

The drop weight machine is the cheapest kind generally – why is that?

[23:53]

Who would you suggest a drop weight machine for?

[25:06]

Why drop weights can be one of the most accurate types of stringing machines despite the price

[25:47]

Is an electric machine worth it, and if so, what type of players would you suggest get one?

[27:58]

2 point vs 6 point machines – what does this mean, and does it matter?
Stringing Accessories
[29:38]

The most helpful stringing tools for stringing racquets

[32:29]

What part of the stringing machine tends to break the fastest and what to do about it

[34:55]

What is the WISE electronic tensioner head and what type of benefit would we gain from getting one? Is it worth it?
Stringing Racquets at this year's Australian Open
[37:33]

Mark's experience stringing at the Australian Open and the ATP/WTA players he strung racquets for
Stringing Technique
[40:19]

The biggest mistakes novice and intermediate stringers make

[41:40]

The best way to measure how much string you need to string your racquet and the "4-Wingspan Rule"
Alpha Stringing Machines
[42:57]

The awesome stringing machines Alpha has in its lineup and a cool story about customer service

[49:46]

Are there any new machines planned for Alpha in the near future, and how we can get an Alpha stringing machine if we are interested in one?
Final Thoughts
[51:46] Mark's

 key tip to help you choose the right stringing machine
Subscribe to automatically download new episodes!

Click this icon, click the blue "View in iTunes" button, then hit "Subscribe."

Or hit the subscribe button in your favorite podcast app!
Right Click Here to Download the MP3
Links Mentioned in the Show
Alpha Axis Pro – Awesome Crank Machine with Stand and My Top Pick
Alpha Revo 4000 – Excellent Portable Tabletop Crank Machine
Tennis Files Youtube Channel – Subscribe!  You know you want to 😉
If you enjoyed my interview with Mark, subscribe to The Tennis Files Podcast in iTunes or your favorite podcast app!
For more tips on how to improve your game, subscribe to my newsletter and download a free copy of my eBook, The Building Blocks of Tennis Success below! Thanks for listening!