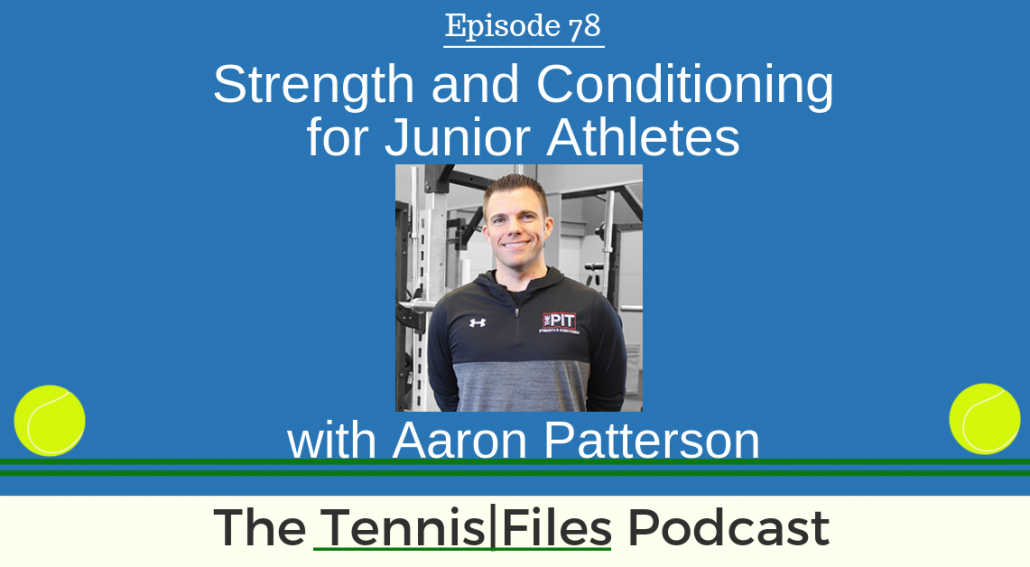 On Episode 78 of The Tennis Files Podcast, I spoke with sports performance coach and personal trainer Aaron Patterson about how to train our junior tennis players to become better athletes. Aaron works with junior athletes every day at the PIT Strength and Conditioning Center in Bloomington, Illinois, and I have been really impressed by both the effort and positive attitudes from his clients. I first met Aaron at last year's World Tennis Fitness Conference and really enjoyed speaking with him about how we can develop our junior tennis players to reach the next level in their tennis games by improving their strength and fitness.
Aaron has a very strong background in the world of tennis fitness. He is a National Strength and Conditioning Association (NSCA) Certified Personal Trainer, International Tennis Performance Association (iTPA) Certified Tennis Performance Specialist, and a Certified Speed and Agility Coach. Aaron trains a multitude of top level junior athletes in sports such as tennis, golf, and volleyball. He is currently a Sports Performance Coach at the PIT Strength and Conditioning Center and a personal trainer at Four Seasons Health Club in Bloomington, Illinois.
On this episode, we talk about the best exercises for junior tennis players, the importance of having fun while training, books and resources for learning more about sports performance training, recovery and nutrition tips, and much more!
I really hope you enjoy my interview with Aaron! Let us know what you think about this episode in the comments below!
Show Notes
The importance of making sure your athletes enjoy the process
3 things most of the world doesn't know about Aaron Patterson
How Aaron became a sports performance expert and personal trainer
The ups and downs Aaron has faced during his career
The most critical skills for fitness and sports performance coaches
Common mistakes from personal trainers that tennis players should look out for
Aaron's favorite books and resources that helped him develop his knowledge of personal training and sports performance
The difficulties of being a personal trainer and fitness coach
When younger players should start training their fitness
The best exercises for junior tennis players
An example of a comprehensive exercise routine
Aaron's favorite pieces of equipment for training athletes
Recovery advice for tennis players
The most effective stretches after playing tennis
Nutrition tips and what kinds of foods to ingest for maximal performance
A key tip to help you improve your tennis game
Subscribe to automatically download new episodes!

Click the icon above, click the blue "View in iTunes" button, then hit "Subscribe."

Or hit the subscribe button in your favorite podcast app!
​If you enjoyed this episode, subscribe to The Tennis Files Podcast in iTunes or your favorite podcast app!
For more tips on how to improve your tennis fitness, subscribe to my newsletter and download a free copy of my Tennis Fitness Workout Guide below! Thanks for listening!
Get Your Free Tennis Fitness Workout Guide!
Sample workouts to improve your strength, power, endurance, and performance on the court. Enter your first name and email to download your free tennis fitness workout guide now!