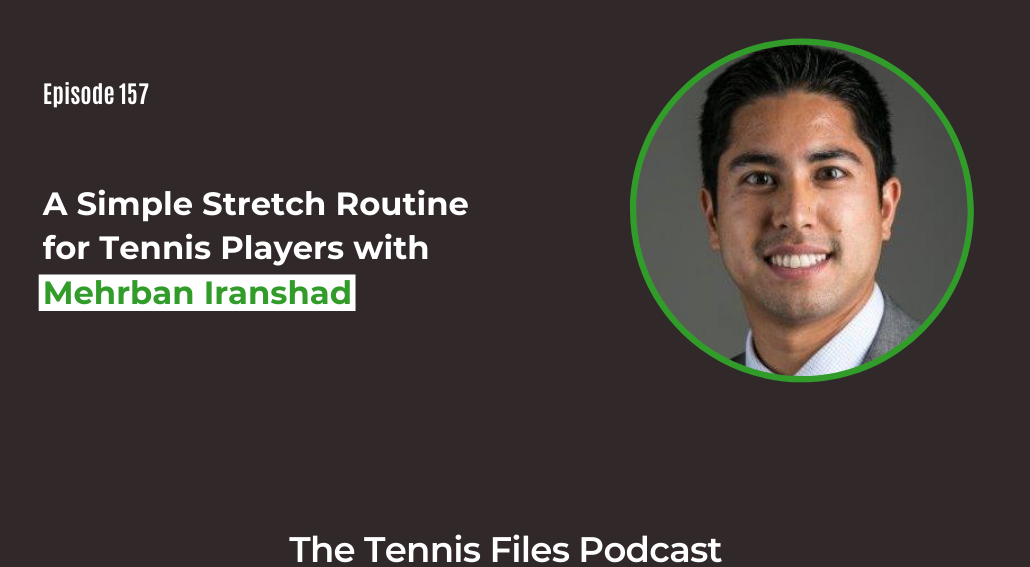 On Episode 157 of The Tennis Files Podcast, I am going to walk you through a simple stretch routine that will increase your flexibility and help you recover faster from your tennis matches and training.
Playing tennis and training increases muscle tightness and actually reduces your flexibility, so we need to put in the time to rectify this situation. You will gain huge life changing benefits for just a few minutes of stretching each day. Stretching increases your range of movement of your joints, increases stretch tolerance of the muscles, reduces your risk of injury, and reduces muscle soreness!
On this episode, I'll cover the negative effects that I've experienced from not devoting time to stretching, nine of the best stretches you can do anywhere, the proper technique and benefits of these stretches, which areas of the body they affect, critical tips to help you stretch properly, and much more!
To get a free PDF of this exact stretch routine, go to tennisfiles.com/stretch!
And if you want to watch this full stretch routine on video (it'll be up within a few days of this podcast episode), go to the Tennis Files Youtube channel at tennisfiles.com/youtube and click the subscribe button and notification bell so that you'll get an email when the video is up!
I hope you enjoy this episode! Let me know what you think about this episode in the comments below.
And be sure to subscribe to Tennis Files to receive the latest tennis content to improve your game straight to your inbox!
Subscribe to automatically download new episodes!

Click the icon above, click the blue "View in iTunes" button, then hit "Subscribe."

Or hit the subscribe button in your favorite podcast app!
Right Click Here to Download the MP3
Links Mentioned in the Show
Stretch Routine PDF - Download for Free!
Complete Conditioning for Tennis
Podcasts:
Check Out All My Podcasts Here!
Check Out All My Podcasts on Apple Podcasts!
My Youtube Channel!
Tennis Files Youtube Channel - Subscribe! You know you want to 😉
Note: Some of the links above are affiliate links, so if you make a purchase after clicking, I'll make a small commission that will help support the podcast. Thanks either way!
If you enjoyed this episode, subscribe to The Tennis Files Podcast in iTunes or your favorite podcast app!
For more tips on how to improve your tennis fitness, subscribe to my newsletter and download a free copy of my free eBook, The Building Blocks of Tennis Success below! Thanks for listening!
The Building Blocks of Tennis Success eBook
Subscribe to get my free eBook and learn about goal setting, training smart, proper technique, mental fortitude, the importance of competition, health and fitness, and more!
Thanks for being a valued Tennis Files subscriber! I am proud to serve you 🙂