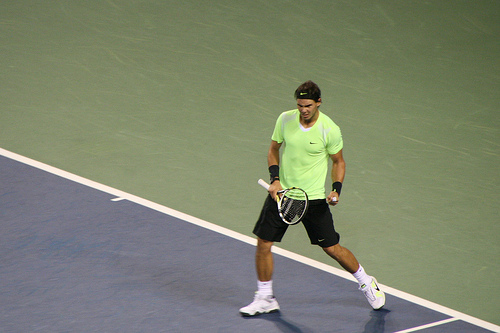 Rafael Nadal is my role model.  Sure, he has won 9 French Opens, 14 Grand Slams overall, and over 71 million dollars in prize money.  But Rafael Nadal also exhibits some of the top characteristics that I would like my child and those around me to emulate.  Below are 7 reasons why Rafael Nadal is my role model:
Reason #1: Humility
Every time you hear Rafa speak in an interview, what do you usually hear? "I'm sorry that he lost today" and "my opponent played very well" have become standard phrases from the King of Clay.
Contrary to the overconfident attitudes that dominate the airwaves, Nadal talks about how he has to play to his limit to defeat tough opponents and voices doubt about whether he can keep winning.  While Nadal may be full of confidence on the inside, even if he is crushing his opponents left and right, he is always a class act about it.
Reason #2: Tenacity
Watch Rafael Nadal play a match.  He will run down every ball, retrieve shots that people think are unretrievable, and make his opponent hit 5 shots that would be winners against 99% of the tour before whipping a running backhand cross court passing shot.
The Mallorcan has amazing wheels and you can tell by the squeaking of his shoes and his grunting that he is giving it everything he has.  Nadal does not have a huge serve but what he does have is the tenacity to grind out points and take the initiative when necessary.  Reason #2 why Rafael Nadal is my role model.
Reason #3: Family Values
Rafael Nadal is extremely close with his family.  His coach since he was 3 years old, Toni Nadal, is his uncle.  Nadal lives at home with his parents (he bought the house for them).  When his parents separated in 2009, he wrote that he was devastated, and that he had "lost all love for life."
Nadal is also still dating the same girl that he had been seeing since he was a teenager.
In a world where about half of all marriages end in divorce, it is nice to see Nadal display love and affection for his family.  His family has helped him immensely in his career, and Nadal has stayed true to them.
Reason #4: He is a Winner
1 Australian Open title. 9 French Open titles.  2 Wimbledon titles.  2 U.S. Open titles.  1 Olympic Gold Medal.  4 Davis Cup titles.  Sound like a pretty decent resume, no?  Rafael Nadal is my role model, yes, in large part because he is a winner.
Most people pick role models who are very successful in their field of expertise, whether it be a mother who is great at cooking, a successful lawyer, or Michael Jordan.  Rafael Nadal has done amazing things throughout his career, and he has 66 titles to prove it. (Thanks Wikipedia!).
Reason #5: No Excuses
Do you ever hear Nadal whining about an injury?  Has he ever said that he lost because his knees hurt, or made an excuse when he lost to a much lower ranked opponent (which doesn't happen very often anyway)?  Nope.
Go ahead and youtube any of his interviews and listen to him talk on television.  If Nadal loses, he talks about how well his opponent played, or about deficiencies in his own game. Nadal is a very admirable player in this regard.  There is a lot to learn from this.  Often times someone who fails will make an excuse.
What's the big deal with this approach?  Someone who makes excuses does not analyze why they failed.  So instead of finding the real reason why you failed and taking steps to fix it, you ignore the problem and blame the outcome on something else.  Not very good. If you lose, you own up to it.  No excuses.
Reason #6: Perseverance Over Injury
Nadal is an inspiration because he has come back from injuries several times.  No one would have thought that after 7 months away from the tour with an inflamed knee he would have one of the best seasons of his career in 2013 and win both the French Open and U.S. Open.
Nadal was also sidelined with a wrist injury for 3 months in the later half of 2014, and had his appendix removed at the end of 2014.  Despite all the troubles, Nadal continues to train hard and battle for every point.
He had some setback in the early part of 2015 (loss to Fognini in semis of Rio and to Raonic in quarterfinals of Indian Wells), but I know he is going to battle back and go deep at the French Open.  Besides, the man has won the French Open 9 out of the last 10 years.  Who wants to bet against him?
Reason #7: He has the Best Fist Pump In Tennis
Well heck, who doesn't like a strong fist pump?  I've seen Tsonga twirl around with his arms flexed in the air like he just won a doll at the county fair.  I've seen Agassi and Guga Kuerten draw hearts in the clay like they were sending a message to their significant others on Valentine's Day.  And I've seen other players give fist pumps, but they pale in comparison to the vicious uppercut-vamos yell combo that would knock out Mayweather if he stuck his chin above Nadal's fist (it would have made things easier for Pacquiao).
There's nothing better than watching Nadal scramble all over the court, hit a ridiculous winner, and then give his signature fist pump for the crowd to enjoy.  This Nadal video will get you pumped up! (well, at least until the music changes to Nickelback at 2:41).
There you have it.  7 reasons why Rafael Nadal is my role model.
Do you think there is a better role model on the pro tour?  Disagree with my assessment of Rafael Nadal?  Comment below!