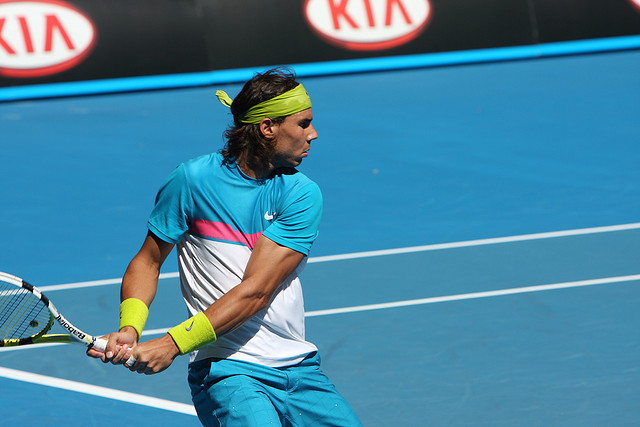 I had the pleasure of meeting distinguished author Scoop Malinowski at the 2015 Citi Open. I was getting a bottle of water in the media tent when Scoop greeted me and mentioned his latest book: Facing Nadal: Symposium of a Champion. Scoop was 
kind enough to give me a copy to read.
Facing Nadal: Symposium of a Champion is composed of interviews from over 50 ATP players – including Novak Djokovic, Roger Federer, Pete Sampras, John Isner, Juan Martin Del Potro, Lleyton Hewitt, Jimmy Connors, Carlos Moya, Pat Cash, Stefan Kozlov, Feliciano Lopez, Thanasi Kokkinakis, Francis Tiafoe, Radek Stepanek, Ivan Ljubicic, James Blake, Marat Safin, and of course, Rafael Nadal.
All of the interviewees describe their matches and unique experiences with Nadal. The book also includes in-depth interviews with ATP coaches, media, celebrity, fan, and other tennis personalities about the difficulties and different approaches taken when preparing to play against The King of Clay.
Facing Nadal: Symposium of a Champion makes it seem like you are sitting in a press conference listening to the thoughts of some of the best players in the game. I particularly enjoyed hearing the mindset of the pros before having to face Rafa. Learning how the top players in the world mentally prepare for matches and handle victory and defeat is fascinating and can help you improve your mental approach to competitive tennis.
Chapters 1 and 2 contain interviews from media, insiders, and ATP players about Rafa Nadal. In Chapter 3, Nadal talks about specific match experiences and his thought processes throughout his career. Chapters 4-6 contain more interviews from ATP pros and coaches about Rafa. Chapter 7 closes with Nadal's 2005 match record as a teenager and an interview, which is an unexpected way to end the book. Facing Nadal also has some cool pictures of Rafa at the end (and in the beginning of each chapter), although I would have preferred them in color instead of black and white.  The book is 220 pages long.
Scoop's fourth book helps us learn more about the greatest clay court player and one of the legends in the game from top notch tennis personalities who interact and compete against him. It is definitely an interesting read for both Rafa fanatics and everyday tennis fans alike.
If you don't mind the interview format, I recommend you check out this book. While some thoughts about Rafa are repeated among the interviewees, it is interesting to hear about Rafa from so many of the top players, media, and coaches, especially from Rafa himself. If you didn't think Rafa was that humble or ferocious of a competitor, I think you will after reading this book.
Below is an excerpt from the book.
Book Excerpt
Novak Djokovic:  "I think challenges, big challenges that I had in my career changed me in a positive way as a player. Because of Rafa and because of Roger I am what I am today, you know, in a way, because when I reached the No. 3 in the world and won the first Grand Slam title in 2008, the years after that I struggled a lot mentally to overcome the doubts that I had. And all the big matches I lost to these guys was consistent but not winning the big matches, and then they made me understand what I need to do on the court. I worked hard, and, you know, it's paying dividends, I guess, in the last couple of years. You know, obviously it's not easy when you're playing a top rival at the finals of any tournament, but if you want to be the best, you have to beat the best, you know. You have to win against the best players in the world. That's the biggest challenge you can have."
Pat Cash: "I played Nadal when he was a few weeks from being fifteen. In Mallorca. Boris Becker pulled out of the senior match and so they asked me last minute to come in and play, and play the world junior champion. And I said, 'Yeah sure. I don't mind playing. The show must go on.' A bit of entertainment. I got a great photo of him, actually of us together. He played the same way.
Obviously, he didn't hit the ball as hard then. But he played the same intensity, top spin. I was kind of shocked by it all [smiles]."
"As a young kid his age, it wasn't as if it was something I couldn't handle but, I mean, the crowd was quite amused when he won the first set against me. And I was sort of being nice to him, Okay, no more Mister Nice Guy. Because this kid is really good. He'll beat me if he can. It's not sort of like a fun game. He won the first set and the crowd thought it was hilarious. They were roaring for us. So we were on the court together, so I started chip-charging, serve and volley, that sort of stuff, won the second set pretty comfortably – 6-2 I think. The ten-point tiebreaker. As I said before, 99% of the kids would have choked. And fallen apart. And he was just tearing everywhere. All over the court. And hit some unbelievable winners. And you now, then I was 38, I was still hitting the ball pretty well."
"And so I lost that match. I don't remember what the score was. It was close. He didn't get nervous or anything. Obviously, he didn't have anything to lose. But I came in the locker room after, the guys sort of looked at me, just to look at my reaction. And my reaction was losing to a fourteen year old. And I just sort of looked at them, Wow, this kid is something else…"
Dominic Thiem:  "I faced him in Paris where obviously he lost one match in his career. It was maybe…it's one of the biggest challenges in, not only tennis, but in all sport…to face Rafa in Paris. But it was a good experience for me and I think it helped me a lot."
Question:  Did anything surprise you about being on the court with him live, instead of seeing him on TV or from the side?
Dominic Thiem:  "It was completely new. It was my first year last year on the Tour and I knew everything, everybody only from the TV. And then all of a sudden I was matched in Paris against the nine-time champion. So it was a very good experience and also helpful."
Question:  What did you learn that day?
Dominic Thiem:  "That I still (have) a long way to go [smiles]."
2014 Roland Garros   Clay  R64  Nadal  6-2, 6-2, 6-3
Thanasi Kokkinakis:  "I played him at the Aussie Open, second round. I was impressed by all the intensity and effort that he put into every ball that he hit. And I actually found his serve really awkward, it moved a lot. Had a lot of slice on his serve. Those were the big things. Tough to win a point against him."
Question:  Before the match, how did you feel going out to the court to face the ATP World Tour number one player?
Thanasi Kokkinakis:  "I wasn't nervous, I was more excited. I had already got the win in the first round. I had no pressure. So I went out there to try to swim freely. I knew obviously it was going to be a tough out but I did think I could trouble him a bit with my game style, the way I play. So I had a good chance in the second set to maybe break his serve or be close but I didn't take my break points. And, you know, it was suddenly one break at the end of that set. So it was pretty tight."
Question: Did anything surprise you about him?
Thanasi Kokkinakis:  "Probably how well he handled my first serve. My first serve return, those were the main things. But apart from that I kind of expected most of it."
Question:  Before the match how would you describe his preparations in the locker room?
Thanasi Kokkinakis:  "Fine. I think I talked with him a bit about golf. I think there was golf on TV. So my coach and I talked a little bit of golf with him [smiles]. And that was probably about an hour before the match. But then obviously when we got closer he started getting prepared, like every other player."
Question:  Lasting memory of Nadal on or off court?
Thanasi Kokkinakis:  "He's been a nice guy to me. I enjoyed playing him, sharing the court with him. Hopefully next time it will be more fun and I'll come out on the other end."
Question:  What will you try to do different next time?
Thanasi Kokkinakis:  "Probably keep my first serve percentage up, he likes playing against second serves. And just keep giving it to him and being more aggressive and I'll be a lot more tougher physically next time around if I play him again."
Nadal leads series  1-0
2014  Australian Open   Hard  R64   Nadal  6-2, 6-4, 6-2
Carlos Moya
Question:  What is your first memory of Nadal?
Carlos Moya:  "Well, meeting him in Stuttgart when he was twelve. He was playing an under-12 tournament and I was playing the Masters 1000 event in Stuttgart ('98). So that was the first time we met."
Question:  What was your initial reaction of seeing him play?
Carlos Moya:  "We played. We actually played that day and he was twelve and I was twenty-two. I think he was a very great player under twelve, he was very shy off court. But then we saw something different on court. But he was very hungry to play and compete and that's something you could see right away."
2003  Hamburg Masters  Clay R32   Nadal  7-5, 6-4
2003  Umag   Clay  SF  Moya 6-4, 6-4
2005  Montreal Masters  Hard   R64  Nadal  6-3, 6-7, 6-3
2006  Miami Masters  Hard  R64  Moya   2-6, 6-1, 6-1
2007  Roland Garros  Clay  QF  Nadal 6-4, 6-3, 6-0
2008  Chennai  Hard SF   Nadal  6-7, 7-6 (8), 7-6 (1)
2008  Hamburg Masters Clay  SF  Nadal  6-1, 6-3
Hugo Armando: "I played him in Stuttgart. He's the toughest competitor I ever faced. It's just something I've never seen before. It's just everything about him. His energy, just everything. Before walking on the court, the guy's doing ten-foot sprints side to side, just non-stop. It was just unimaginable [smiles]."
Fernando Verdasco
Question: Memories of your big win vs. Nadal in Madrid?
Fernando Verdasco: "The memories are great. My first victory as a professional against Rafa. It took my best play as possible to beat him. Against a player like him, losing so many times and winning in Madrid, my hometown, with all my family and friends in front of me…it was like impossible to be better than that."
Question: You came close many times…
Fernando Verdasco: "Yeah many times [smiles]."
Question: Did you do anything different in Madrid? What was it that finally got you over the hump?
Fernando Verdasco: "I don't even know [smiles]. I think I was even laughing because it was one of the times that I wasn't even close to winning. I was 5-2 down in the third. He was serving, then all of a sudden, everything changed so quick. It went from 5-2 on his serve and I won 7-5. So it was like unbelievable change in that match. And many times I had like a break up in the third or like match point and I finally lost. So I don't even know why [smiles]…"
Stefan Kozlov hit with Nadal at the 2014 Sony Open in Key Biscayne:
"It was one of the craziest feelings I ever had, to be honest. The first couple of minutes I was trying to move my feet as fast as I could and swing as hard as I could. And the balls were just slicing off my string because of the spin. I don't know if everyone felt that before or it's just me. The first five minutes there with Rafa were one of a kind. Then after that, the second day I hit with him, I actually had one of the best practices of my life. So I got used to his ball after one day."
Question: Rafa asked you back for the second day?
Stefan Kozlov: "Yeah, we hit for like four days."
Question: Lasting memory of this experience?
Stefan Kozlov: "It took me like two hours to get into the stadium. I was waiting at the stadium entrance for two hours because they (security) didn't know I was hitting with Rafa. I told them I was hitting with Rafa and they didn't let me in. It was pretty crazy. Toni (Nadal) came down and helped me. Two hours we waited."
Radek Stepanek:  "It's always a standout moment to play Nadal. We played seven, eight or nine times, maybe more. Always challenging, very much so. He's the biggest fighter on the Tour I have ever seen. Playing him, for me, is always good because he plays from the back of the court. I will try to create the play, not giving him much. I few matches I got really close, but never beat him. Yet. So I hope I will have the chance to play him still a few times."
Question:  Your first memory of Rafael Nadal?
Radek Stepanek:  "My first memory was we played in Davis Cup, deciding match in Czech Republic at two-all. For me, that moment was very disappointing loss because of, you know, playing as a team competition, which means a lot to me. So this was for me a tough 
defeat."
Question:  Do you enjoy to play Rafa, or is it too difficult to be enjoyable?
Radek Stepanek:  "Since I never beat him, it's difficult to play him. For everybody I think. I'm not the exception, we are all trying to beat him."
Question:  Lasting memory of Rafa on or off court, that maybe captures his essence?
Radek Stepanek:  "For me, a great fighter on the court. Biggest fighter ever. Great person also, off the court. He's very respectful to other guys, to all the players. He's a really true champion."
__________
About

The Author of Facing Nadal: Symposium of a Champion
Mark

Scoop

Malinowski has written about tennis for ATPWORLDTOUR.COM, TENNIS Magazine, Tennis Week, Tennisweek.com, Ace Magazine of U.K. Australian Tennis Magazine, ATPWorldTour.com, Tennis View, Australian Open Official Program, Tennis-prose.com, CBSsportsline.com, ESPNSportszone.com, New York Tennis, Totally Tennis Magazine, The Daily Record of Morris County, N.J., TheBiofile.com, Florida Tennis, South Asia Life & Times Magazine. His previous tennis books were "Marcelo Rios: The Man We Barely Knew", "Facing Hewitt",  and "Facing Federer: Symposium of a Champion."