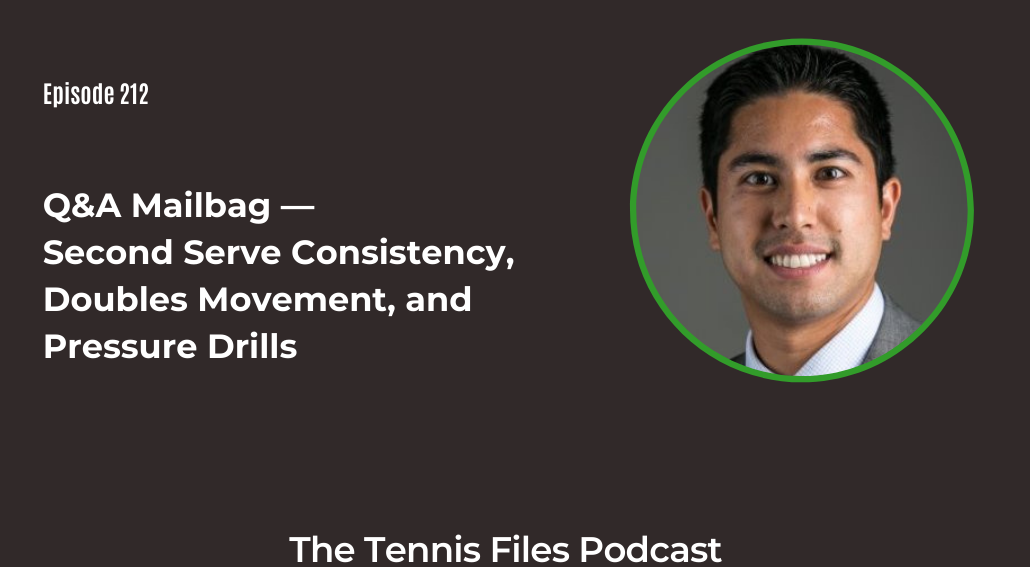 On Episode 212 of The Tennis Files Podcast, you'll learn how to develop a consistent second serve, how to anticipate where your opponent's shot is going, my favorite pressure drills, and more on this Q&A edition of the show!
I receive tons of questions from the Tennis Files audience on technique, strategy, fitness, and the mental game. On today's episode, I'll answer nine of them based on what I've learned from decades of playing and from the top pros and experts I've interviewed on my podcast and summits. Big thanks to the Tennis Files community and to everyone who has sent me questions!
I really hope you enjoy the show! If there is a particularly useful piece of advice that you discovered from it, let me know in the comments below.
And be sure to subscribe to Tennis Files to receive the latest tennis content to improve your game straight to your inbox.
Subscribe to automatically download new episodes!

Click the icon above, click the blue "View in iTunes" button, then hit "Subscribe."

Or hit the subscribe button in your favorite podcast app!
Right Click Here to Download the MP3
Links Mentioned in the Show
TFP 210: Serve Technique Masterclass with James Ludlow
Podcasts:
Check Out All My Podcasts Here!
Check Out All My Podcasts on Apple Podcasts!
My Youtube Channel!
Tennis Files Youtube Channel - Subscribe! You know you want to 😉
Note: Some of the links above are affiliate links, so if you make a purchase after clicking, I'll make a small commission that will help support the podcast. Thanks either way!
If you enjoyed this episode, subscribe to The Tennis Files Podcast in iTunes or your favorite podcast app!
For more tips on how to improve your tennis fitness, subscribe to my newsletter and download a free copy of my free eBook, The Building Blocks of Tennis Success below! Thanks for listening!