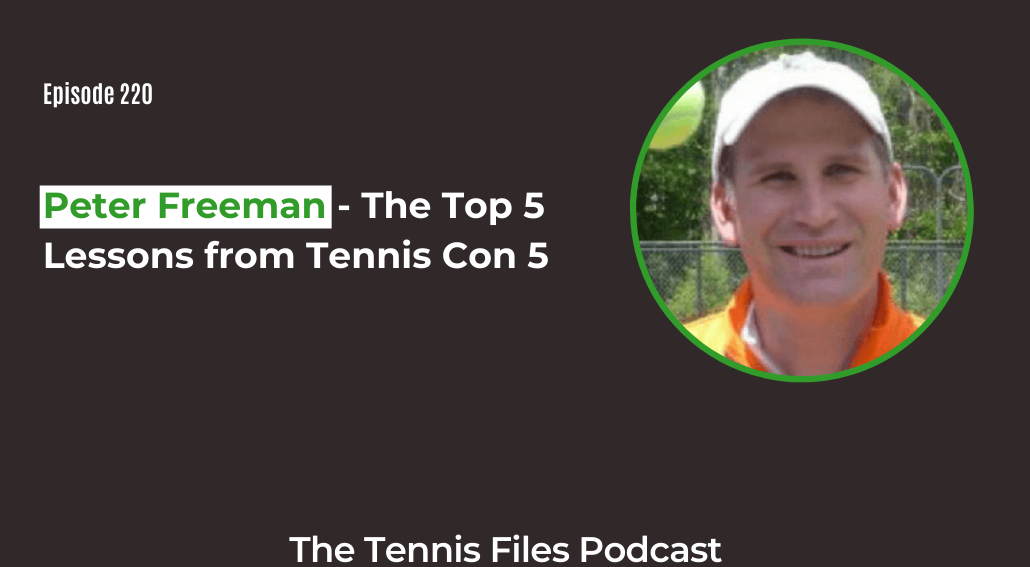 On Episode 220 of The Tennis Files Podcast, Peter Freeman from Crunch Time Coaching reveals the top 5 lessons from Tennis Con 5, a free online tennis conference featuring 40+ top experts starting on October 18, 2021!
On the show, Pete will walk us through his favorite pieces of advice on how to defeat pushers, poaching tactics, training more efficiently, tennis specific fitness, Novak's zone court, and much more that he has learned from the awesome lessons coming up at Tennis Con 5 from top coaches and experts including Gigi Fernandez, Dr. Mark Kovacs, Jorge Capestany, Jeff Salzenstein, Will Hamilton, Ian Westermann, Brett Habden, myself, and many more!
Tennis Con 5 starts on October 18, 2021! You should definitely get your free ticket at tennisfiles.com/tenniscon5 asap to learn how to play bigger and better tennis!
I hope you enjoy my interview with Pete! Let us know what you think about this episode in the comments below!
Subscribe to automatically download new episodes!

Click the icon above, click the blue "View in iTunes" button, then hit "Subscribe."

Or hit the subscribe button in your favorite podcast app!
Right Click Here to Download the MP3
Links Mentioned in the Show
Tennis Con 5 - Get Your Free Ticket Here!
Crunch Time Coaching on YouTube
Podcasts:
Check Out All My Podcasts Here!
Check Out All My Podcasts on Apple Podcasts!
My Youtube Channel!
Tennis Files Youtube Channel - Subscribe! You know you want to 😉
Note: Some of the links above are affiliate links, so if you make a purchase after clicking, I'll make a small commission that will help support the podcast. Thanks either way!
If you enjoyed this episode, subscribe to The Tennis Files Podcast in iTunes or your favorite podcast app!
For more tips on how to improve your tennis fitness, subscribe to my newsletter and download a free copy of my free eBook, The Building Blocks of Tennis Success below! Thanks for listening!