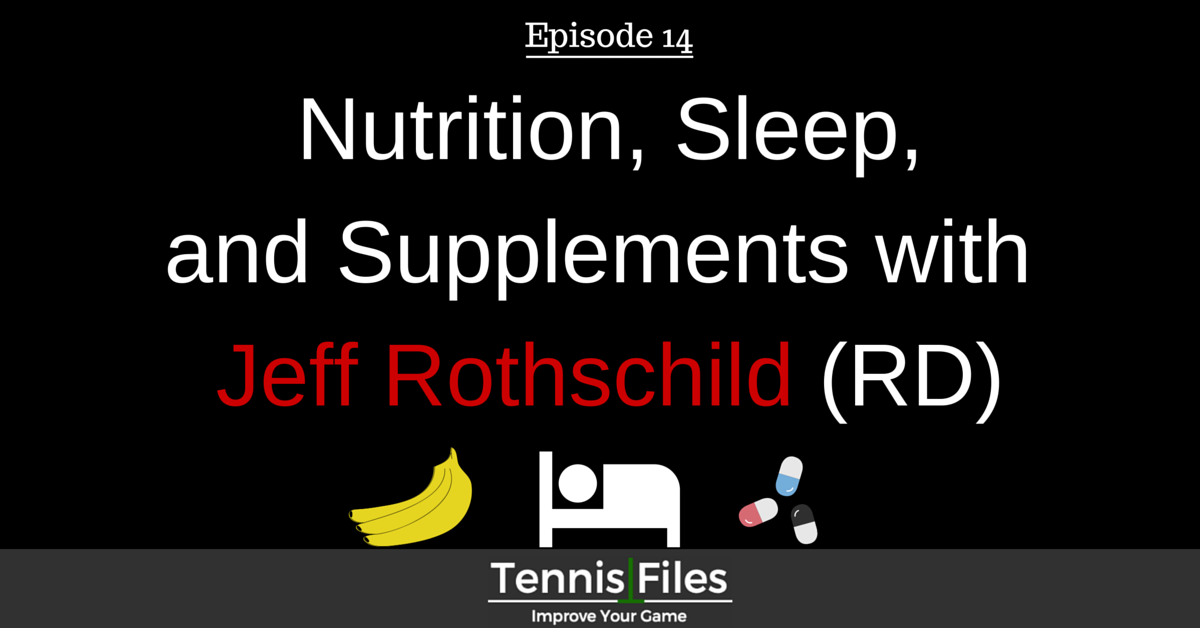 My guest today is Jeff Rothschild, a Registered Dietitian (RD) and NSCA Certified Strength and Conditioning Specialist (CSCS) with a Master's degree in Nutritional Science. Jeff's clients include Mike Bryan, Stefan Kozlov, and James Valentine from Maroon 5. He has also worked with other elite ATP and NCAA tennis players, endurance athletes, boxers, swimmers, and a number of touring musicians at TriFit in Santa Monica, CA.
On this episode, Jeff gives our audience a ton of amazing advice about nutrition, sleep, meal timing, protein bars, supplements, and hydration. You will take your game to the next level if you follow Jeff's tips about preparing your body to perform at its best.
Jeff also has a fantastic website at http://www.eatsleep.fit and has authored several scientific papers that have been published in peer-reviewed nutrition and food science journals. He has presented his research at national nutrition conferences. Jeff spent five years as the assistant tennis coach at CSU Los Angeles and helped the Golden Eagles earn national Top-25 rankings each of those years. Jeff is also a two-time winner of Assistant Coach of the Year for the West Region by the Intercollegiate Tennis Association. Jeff has competed as a cyclist and continues to play competitive tennis.
On this episode, you will learn:
Why getting enough sleep is crucial for optimal athletic performance

Why carbs are the main source of energy for tennis

How you can get the right amount of high-quality sleep

Why protein bars aren't always good for your tennis game

How we should structure our diet to play at our best

The best supplements for tennis players and how to verify they are safe

How the monthly cycle affects female tennis players and what coaches and players can do about it

What meldonium is for and how Sharapova could have avoided getting banned

How to time your meals before matches

How to enhance performance during the female cycle

How much protein you should be having per day
and more!
Jeff also has a nutrition ebook and video course which I highly recommend you check out. 
Jeff is offering our audience an exclusive 50% discount off his course if you purchase it through this link. 
Mike Bryan calls Jeff an encyclopedia of knowledge, and he proved it during our interview! Thanks to Jeff for speaking with me on The Tennis Files Podcast!
Note: The medical and/or nutritional information in this episode is not intended to be a substitute for professional medical advice, diagnosis, or treatment. Always seek the advice of your physician or other qualified health provider with any questions you may have regarding this information.
Subscribe to automatically download new episodes

Click this icon, click the blue "View in iTunes" button, then hit "Subscribe."
Or hit the subscribe button in your favorite podcast app!
Links Mentioned in This Episode
Jeff's Nutrition course – Jeff is kindly offering our audience an exclusive 50% off discount if you purchase his course through this link (Note: this is an affiliate link, so I do get a small commission if you click this link and purchase Jeff's course.)
Thanks for listening, and if you enjoyed this podcast episode, I'd really appreciate it if you'd share this post!