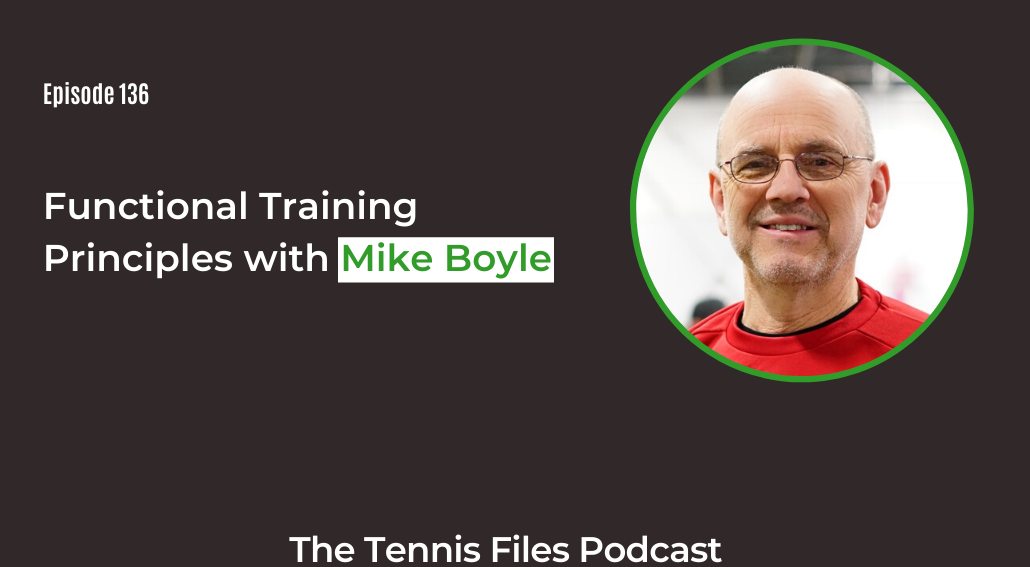 On Episode 136 of The Tennis Files Podcast, I spoke with legendary strength and conditioning and functional training coach, Mike Boyle, about the critical principles you need to know to get better results with your tennis fitness training.
Mike co-founded Mike Boyle Strength and Conditioning in 1996, where he provides performance enhancement training for athletes of all levels. He has served as the Head Strength and Conditioning Coach at Boston University for 15 years and became the Boston Red Sox strength and conditioning coach in 2013 that won the World Series. From 1991-1999, Boyle served for the Boston Bruins of the National Hockey League. He also was the Strength and Conditioning coach for the 1998 US Women's Olympic Ice Hockey Team, Gold Medalists in Nagano and 2014 Silver medalists in Sochi.
On the show, you'll learn how the average competitive tennis player should structure their weekly fitness training sessions, what areas of the body tennis players need to concentrate on training the most (the answer might surprise you!), how to increase your mobility, why not warming up is the biggest mistake you can make as a competitive athlete, how tennis players can prevent injuries, and much more!
I hope you enjoy my interview with Mike! Let us know what you think about the episode in the comments below!
And be sure to subscribe to Tennis Files to receive the latest tennis content to improve your game straight to your inbox!
Subscribe to automatically download new episodes!

Click the icon above, click the blue "View in iTunes" button, then hit "Subscribe."

Or hit the subscribe button in your favorite podcast app!
Right Click Here to Download the MP3
Links Mentioned in the Show
Books
New Functional Training for Sports
Social Media Sites
Podcasts
Check Out All My Podcasts Here!
Check Out All My Podcasts on Apple Podcasts!
My Youtube Channel!
Tennis Files Youtube Channel - Subscribe! You know you want to 😉
Note: Some of the links above are affiliate links, so if you make a purchase after clicking, I'll make a small commission that will help support the podcast. Thanks either way!
If you enjoyed this episode, subscribe to The Tennis Files Podcast in iTunes or your favorite podcast app!
For more tips on how to improve your tennis fitness, subscribe to my newsletter and download a free copy of my free eBook, The Building Blocks of Tennis Success below! Thanks for listening!
The Building Blocks of Tennis Success eBook
Subscribe to get my free eBook and learn about goal setting, training smart, proper technique, mental fortitude, the importance of competition, health and fitness, and more!
Thanks for being a valued Tennis Files subscriber! I am proud to serve you 🙂