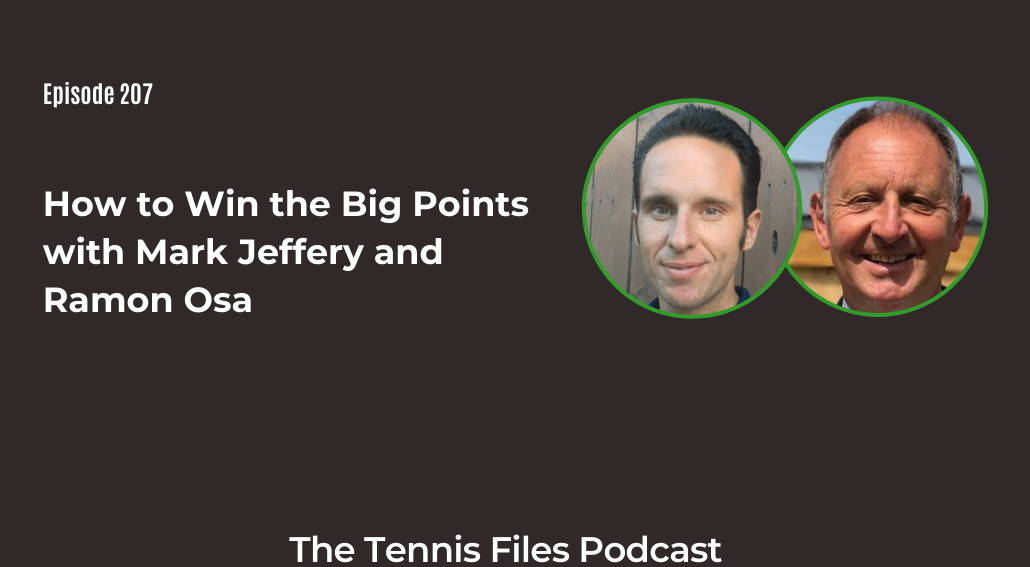 On Episode 207 of The Tennis Files Podcast, high performance coaches Mark Jeffery and Ramon Osa will reveal how to play your best tennis when it matters most.
Mark Jeffery is the founder of Big Point Player Training. He is a 12 years British HM Forces veteran, former Army champion, and mentors players and coaches on how to perform their best under high pressure. Ramon Osa is a world-class tennis coach, Tennis Summit instructor, and the founder of OsaTennis360.
On the show, you'll learn the four key elements that will elevate your tennis performance, examples of mental toughness in the Wimbledon finals matches, a 20 second routine in between points to help you reset and refocus, and much more!
I hope you enjoy my interview with Mark and Ramon! Let us know what you think about this episode in the comments below!
And be sure to subscribe to Tennis Files to receive the latest tennis content to improve your game straight to your inbox!
Subscribe to automatically download new episodes!

Click the icon above, click the blue "View in iTunes" button, then hit "Subscribe."

Or hit the subscribe button in your favorite podcast app!
Right Click Here to Download the MP3
Links Mentioned in the Show
Podcasts:
Check Out All My Podcasts Here!
Check Out All My Podcasts on Apple Podcasts!
My Youtube Channel!
Tennis Files Youtube Channel - Subscribe! You know you want to 😉
Note: Some of the links above are affiliate links, so if you make a purchase after clicking, I'll make a small commission that will help support the podcast. Thanks either way!
If you enjoyed this episode, subscribe to The Tennis Files Podcast in iTunes or your favorite podcast app!
For more tips on how to improve your tennis fitness, subscribe to my newsletter and download a free copy of my free eBook, The Building Blocks of Tennis Success below! Thanks for listening!