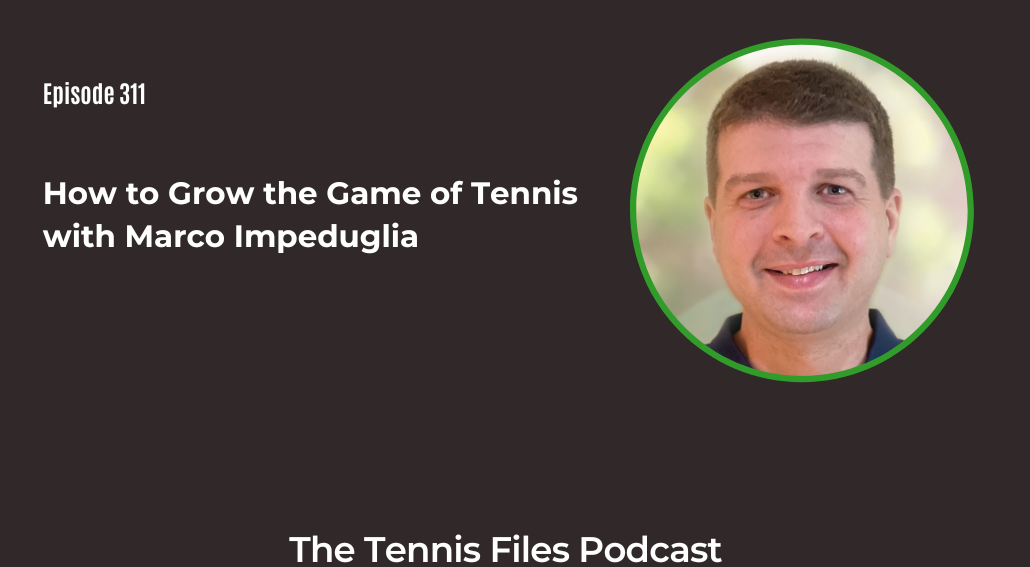 On Episode 311 of The Tennis Files Podcast, tennis coach and entrepreneur Marco Impeduglia shares his strategies on how to grow the game of tennis.
Marco is a USPTA certified Tennis instructor who takes great pride in sharing his passion for the sport with players of all ages in the Washington DC community through ProsToYou Tennis, a company which he runs and operates. He is also the General Manager of Montgomery TennisPlex & Owner of Tennis Topia.
An extensive employment history allowed Marco to gain precious insights on the managerial and business areas of the industry. Previous experiences include working as the Program Manager at Junior Tennis Champions Center in College Park, Maryland and the Director of Business Development & Special Events for the Citi Open Tennis Tournament in Washington DC.
As a coach, Marco is passionate about interacting directly with tennis students and players: He has been a tennis coach at Connelly School of the Holy Child (Potomac, MD), Flint Hill School (Oakton, VA) and Chevy Chase Club (Chevy Chase, MD).
I hope you enjoy my interview with Marco! Let us know what you think about the episode in the comments below!
And be sure to subscribe to Tennis Files to receive the latest tennis content to improve your game straight to your inbox!
Subscribe to automatically download new episodes!

Click the icon above, click the blue "View in iTunes" button, then hit "Subscribe."

Or hit the subscribe button in your favorite podcast app!
Right Click Here to Download the MP3
Links Mentioned in the Show
Podcasts:
Check Out All My Podcasts Here!
Check Out All My Podcasts on Apple Podcasts!
My Youtube Channel!
Tennis Files Youtube Channel - Subscribe! You know you want to 😉
Note: Some of the links above are affiliate links, so if you make a purchase after clicking, I'll make a small commission that will help support the podcast. Thanks either way!
If you enjoyed this episode, subscribe to The Tennis Files Podcast in iTunes or your favorite podcast app!
For more tips on how to improve your tennis fitness, subscribe to my newsletter and download a free copy of my free eBook, The Building Blocks of Tennis Success below! Thanks for listening!