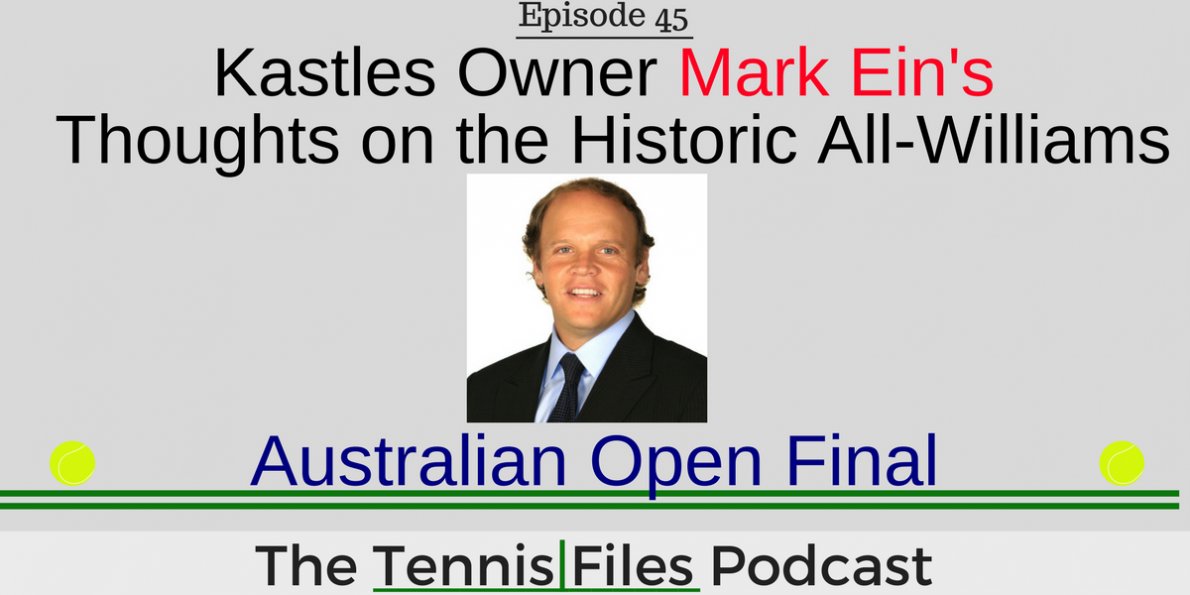 Mark Ein, founder and owner of the six-time World Team Tennis Champion Washington Kastles, was thrilled to hear that two members of the Kastles family sealed their places in the 2017 Australian Open final.
Mark, who is also an investor, entrepreneur, and philanthropist, is the man responsible for bringing Venus and Serena to Washington, and has maintained a close friendship with both players.
Like many hardcore tennis fans, Mark has not been getting much sleep for the past two weeks. Perhaps nothing new for the Kastles owner and successful businessman, the sleep deprivation has been well worth seeing the Williams sisters make the championship match.
"I was so thrilled for both of them, in particular Venus who has overcome so much. To see the joy she experienced after beating Coco….I was so happy for her."
"They're not just people who've played for us, they're also my friends and I am just thrilled."
While many were not surprised at Serena's success in Australia, Mark knew Venus was capable of great results if she could stay in good physical condition.
"With Serena over recent years you assume she has a better chance than anyone.  When it comes to the Grand Slams Serena is always a favorite to make it and she is playing really well."
"When V is playing well she is as good as anyone in the world. It's just a matter of if she can keep her level over two weeks given her Sjogren's syndrome."
Venus has maintained her level throughout the fortnight, defeating fellow American Coco Vandeweghe, who had a fantastic tournament and has faced off against Venus in tight matches during World Team Tennis.
Both Williams sisters have played for the Kastles, with Serena joining the franchise from the very beginning.
"Serena played for the Kastles ever since the team was formed. Back then in 2008 Venus was higher ranked then Serena. I thought if I could get either of them on the team it would be great."
"Venus joined the team after playing for another team for two years. She loves playing World Team Tennis and loves playing for something more than herself, her city."
While Venus and Serena are two legends of the game, Mark has seen firsthand how much both enjoy giving back to others.
"We try not to just bring the best players but the best role models into our community and its hard to imagine any better role models than Venus and Serena from their humble beginnings."
"They both are exceptional human beings, are very well-rounded, have their own businesses, and share a conviction about giving back. They are wonderful with everyone around the team and the franchise."
"We have been not just blessed to have them on the team but also in our community."
The Kastles are gearing up for their 10th anniversary season and are gearing up for another star-studded lineup.
"It's going to be a huge year for us. We're going to really celebrate this milestone year. Everyone wants to come back and play for us again. The Bryan brothers are anxious to come back. I think there's a very good chance either Venus and Serena will come back, if not both."
If the past seasons are any indication, the Kastles will have the lineup to add to their championship trophies from 2009, 2011, 2012, 2013, 2014, and 2015. Nick Kyrgios was another big addition to the team in the latter part of the season, and Mark also expects Leander Paes and Martina Hingis to return.
Naturally, Mark was torn when asked who he thought would take home the title. Indicative of his admiration and friendship with both Williams sisters, he cited a similar situation where their father evaded the question.
"I once saw a documentary where Richard Williams was asked who was going to be better, and he sort of dodged the question."
Like the rest of us, Mark is intent on watching the match in the wee hours of the morning. Whatever the outcome, Mark is extremely proud that he will get to see two of his own players face off on the biggest stage in the tennis world once again.
"It's a hard one. If you just look at it on paper you'd think its Serena. But Venus is playing great and she beat Serena two years ago in Canada. If she's playing her game and she is in good health, she has a shot. I'm going to be a fan like anyone else, set my alarm, wake up, and enjoy the match."
Subscribe to automatically download new podcast episodes!

Click this icon, click the blue "View in iTunes" button, then hit "Subscribe."

Or hit the subscribe button in your favorite podcast app!