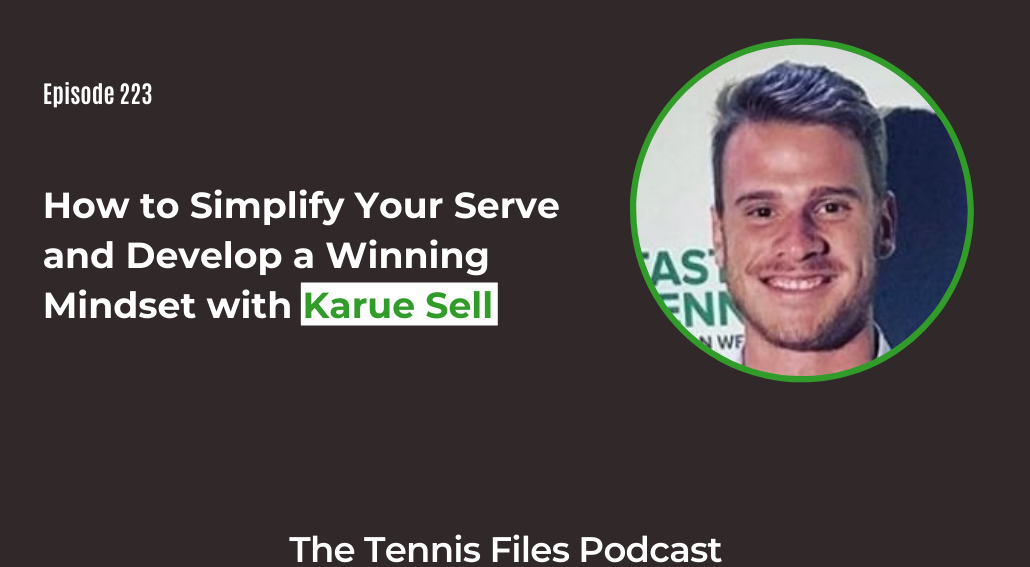 On Episode 223 of The Tennis Files Podcast, I spoke with elite tennis pro Karue Sell about how you can simplify your serve and develop a winning mindset.
Karue achieved a career high #371 ATP Tour ranking, 15.01 UTR rating, and is Naomi Osaka's practice partner. He won over 100 matches at UCLA and reached the NCAA team final. Karue has won several Futures tournaments and he has defeated many ATP Pros including Dominic Thiem, Kyle Edmund, and Hugo Dellien. Karue co-founded MyTennisHQ and spends much of his time creating excellent online content to help you play better tennis.
On the show, you'll learn a simple drill to generate more serve power that Karue picked up from Naomi Osaka, the difference between the pinpoint and platform stance and which one you should use, the keys to succeeding in college tennis and on the pro tour, the mental attitude you need to win more matches, every single racquet that Karue has used from his first day playing tennis, and much more!
I hope you enjoy my interview with Karue! Let us know what you think about this episode in the comments below!
And be sure to subscribe to Tennis Files to receive the latest tennis content to improve your game straight to your inbox!
Subscribe to automatically download new episodes!

Click the icon above, click the blue "View in iTunes" button, then hit "Subscribe."

Or hit the subscribe button in your favorite podcast app!
Right Click Here to Download the MP3
Links Mentioned in the Show
The Subtle Art of Not Giving a F*** - Mark Manson
Breath: The New Science of a Lost Art - James Nestor
Winning Ugly - Brad Gilbert
Everything is F****d - A Book About Hope - Mark Manson
Podcasts:
Check Out All My Podcasts Here!
Check Out All My Podcasts on Apple Podcasts!
My Youtube Channel!
Tennis Files Youtube Channel - Subscribe! You know you want to 😉
Note: Some of the links above are affiliate links, so if you make a purchase after clicking, I'll make a small commission that will help support the podcast. Thanks either way!
If you enjoyed this episode, subscribe to The Tennis Files Podcast in iTunes or your favorite podcast app!
For more tips on how to improve your tennis fitness, subscribe to my newsletter and download a free copy of my free eBook, The Building Blocks of Tennis Success below! Thanks for listening!