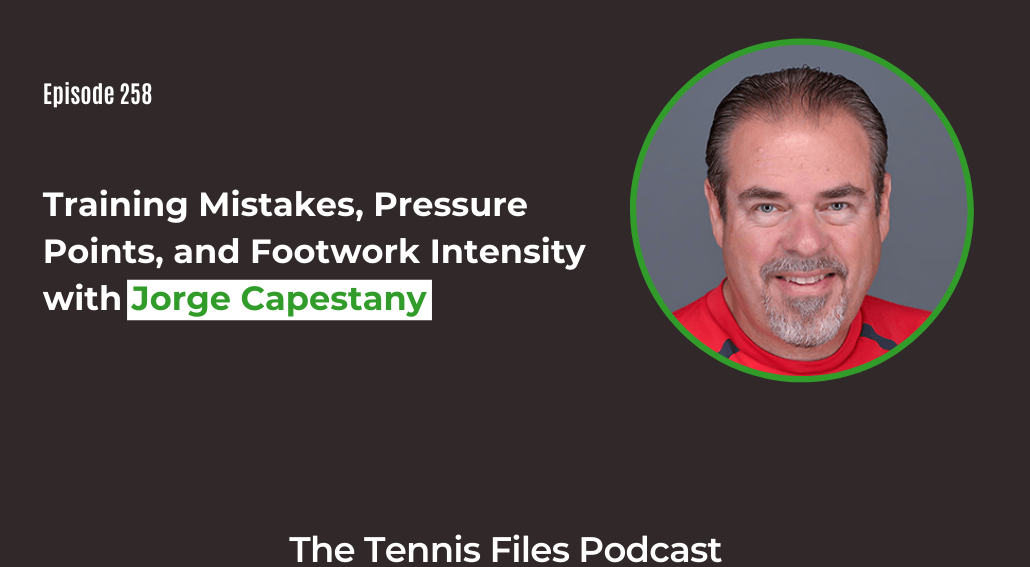 On Episode 258 of The Tennis Files Podcast, I interviewed elite tennis coach Jorge Capestany about training mistakes, pressure points, and footwork intensity.
Jorge is one of only twelve people worldwide that has earned the distinction of Master Professional with the USPTA and International Master Professional with the PTR. Jorge is a certified Mental Toughness Specialist through the Human Performance Institute and holds a USTA Sports Science certification. He is a 6-time Michigan Pro of the Year and 2-time Midwest Pro of the Year and a member of the USPTA Midwest Hall of Fame. Jorge was also named National Pro of the Year by both USPTA and PTR!
On the show, you'll learn the biggest mistake club level players make when trying to develop their game, the proper balance between match play and practice, why closing out a tennis match is much more difficult than winning in other sports, how to have intense footwork and a relaxed upper body during matches, and much more!
I hope you enjoy my interview with Jorge! Let us know what you think about the episode in the comments below!
And be sure to subscribe to Tennis Files to receive the latest tennis content to improve your game straight to your inbox!
Subscribe to automatically download new episodes!

Click the icon above, click the blue "View in iTunes" button, then hit "Subscribe."

Or hit the subscribe button in your favorite podcast app!
Right Click Here to Download the MP3
Links Mentioned in the Show
Podcasts:
Check Out All My Podcasts Here!
Check Out All My Podcasts on Apple Podcasts!
My Youtube Channel!
Tennis Files Youtube Channel - Subscribe! You know you want to 😉
Note: Some of the links above are affiliate links, so if you make a purchase after clicking, I'll make a small commission that will help support the podcast. Thanks either way!
If you enjoyed this episode, subscribe to The Tennis Files Podcast in iTunes or your favorite podcast app!
For more tips on how to improve your tennis fitness, subscribe to my newsletter and download a free copy of my free eBook, The Building Blocks of Tennis Success below! Thanks for listening!