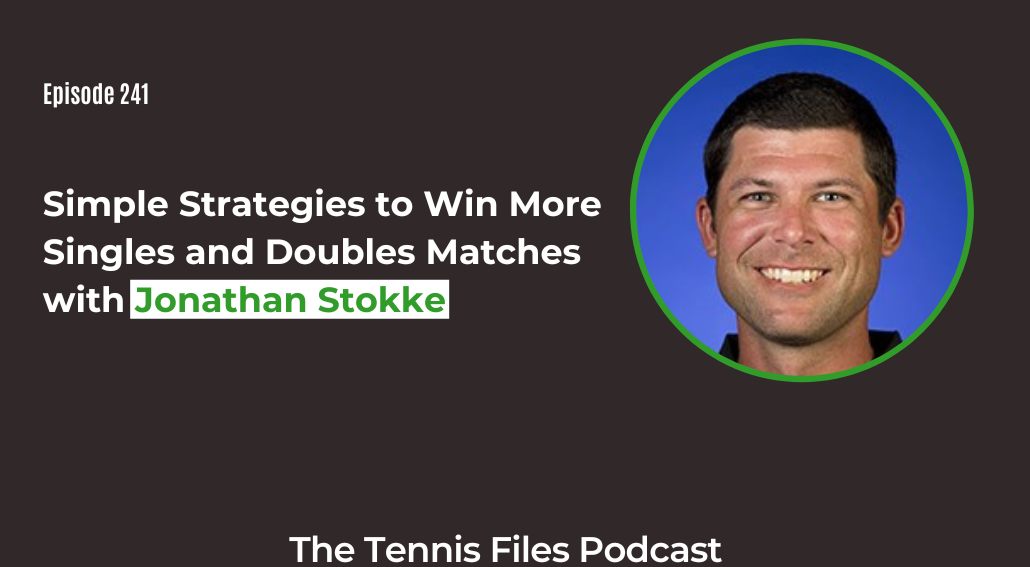 On Episode 241 of The Tennis Files Podcast, I spoke with tennis coach and fellow podcaster Jonathan Stokke about simple strategies to win more singles and doubles matches.
Jonathan hosts the Baseline Intelligence Podcast and is a tennis coach in Charleston, South Carolina. He spent 14 years as both a student-athlete and coach with the Duke men's tennis program. Jonathan helped Duke to two ACC Championship titles (2003, 2006) and was named the ACC Tournament MVP in 2006. He is a former All-American and two-time All-ACC pick and was also named the ITA Carolina Region Assistant Coach of the Year. Jonathan became the first student-athlete in program history to win the ITA National Arthur Ashe Sportsmanship and Leadership Award in 2006 while also earning the USTA Sportsmanship Award.
On the show, you'll learn Jonathan's coaching philosophy for developing elite players and how it has changed over time, how to record and analyze your tennis matches and practices, the keys to developing a winning mindset, the most effective strategies for singles and doubles matches, and much more!
I hope you enjoy part two of my interview with Jonathan! Let us know what you think about this episode in the comments below!
And be sure to subscribe to Tennis Files to receive the latest tennis content to improve your game straight to your inbox!
Subscribe to automatically download new episodes!

Click the icon above, click the blue "View in iTunes" button, then hit "Subscribe."

Or hit the subscribe button in your favorite podcast app!
Right Click Here to Download the MP3
Links Mentioned in the Show
30 College Tennis Coaches Reveal Top Character Traits of Successful Student-Athletes
Peak: Secrets from the New Science of Expertise
Podcasts:
Check Out All My Podcasts Here!
Check Out All My Podcasts on Apple Podcasts!
My Youtube Channel!
Tennis Files Youtube Channel - Subscribe! You know you want to 😉
Note: Some of the links above are affiliate links, so if you make a purchase after clicking, I'll make a small commission that will help support the podcast. Thanks either way!
If you enjoyed this episode, subscribe to The Tennis Files Podcast in iTunes or your favorite podcast app!
For more tips on how to improve your tennis fitness, subscribe to my newsletter and download a free copy of my free eBook, The Building Blocks of Tennis Success below! Thanks for listening!