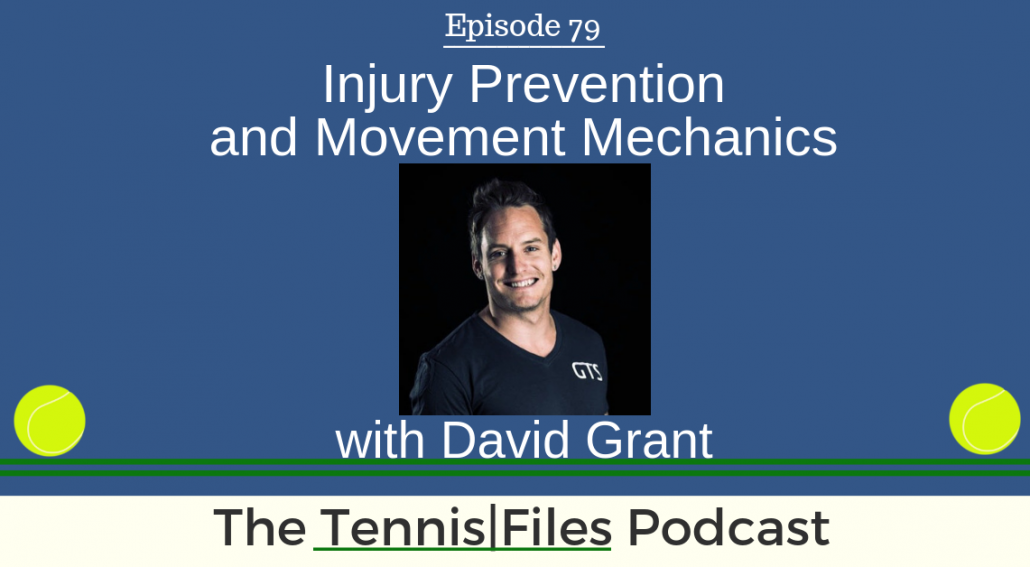 On Episode 79 of The Tennis Files Podcast, I spoke with licensed athletic trainer and performance coach David Grant about how you can prevent injuries and improve your movement mechanics. David is the founder of Grant Training Systems Lifestyle & Sports Rehabilitation, a sports performance based company focusing on the education and training in the field of movement and mobility. One of my podcast listeners, Charlie, connected me with David, and I'm really glad he did! I had a blast speaking with David about how what steps we can do to recognize and minimize injuries, which is so crucial if you want to stay in the game for a while.
David has worked alongside Pat Etcheverry at the Harry Hopman Tennis Academy in Tampa and has trained some of the best players in the world, including Victoria Azarenka, Justine Henin, Martina Hingis, James Blake, and Mardy Fish. David is also an adjunct instructor in Germany at the University of Tubingen, where he teaches students about the training, rehabilitation, nutrition, and political nature of working with pro athletes and professional teams. David previously was the Director of Athletic Performance for the Egyptian Tennis Federation and the Director of Athletic Performance for the Smash Tennis Academy.
On this episode, we talk about David's philosophies on injury prevention, his super interesting career in the tennis fitness world and at top academies, how to recognize if you are at risk for injury, the best exercises for increasing your flexibility and mobility, recovery advice, and much more!
I really hope you enjoy my interview with David! Let us know what you think about this episode in the comments below!
Show Notes
David's experiences training some of the best tennis players in the world
Common signs that we are at risk for being injured
Muscle imbalances and how to help fix them
The best exercises we can perform for injury prevention
The problems with certain academies when it comes to hiring tennis fitness experts
What part of the body we should strengthen to have a stronger serve (this may surprise you!)
How David shocked a top player by showing him why he was at a high risk of getting injured
Recovery tips to help you play better tennis ASAP
What Grant Training Systems is all about and how it can help your game
David's favorite books to help you learn more about become a fitter athlete
One key tip to help you improve your tennis game
Subscribe to automatically download new episodes!

Click the icon above, click the blue "View in iTunes" button, then hit "Subscribe."

Or hit the subscribe button in your favorite podcast app!
​If you enjoyed this episode, subscribe to The Tennis Files Podcast in iTunes or your favorite podcast app!
For more tips on how to improve your tennis fitness, subscribe to my newsletter and download a free copy of my Tennis Fitness Workout Guide below! Thanks for listening!
Get Your Free Tennis Fitness Workout Guide!
Sample workouts to improve your strength, power, endurance, and performance on the court. Enter your first name and email to download your free tennis fitness workout guide now!