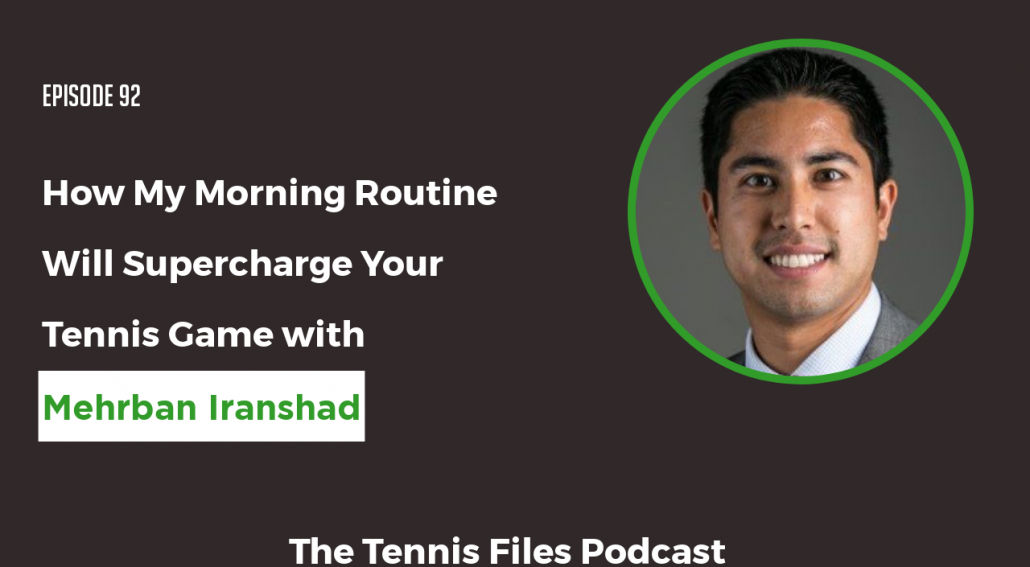 On Episode 92 of The Tennis Files Podcast, I walk step by step through my morning routine, why you should have one, and how it can supercharge your tennis game.
I used to feel like I was walking through a fog the entire day like a zombie, until I learned about morning routines three years ago. After some trial and error, I finally found the right routine that maximizes my productivity and well-being, and I figured it was time to share it with you on the podcast.
By waking up as little as 30 minutes earlier in the morning and having a consistent routine, you can work on your priorities, be more calm throughout the day, have more physical and mental energy, and much more!
I really hope you enjoy this solo podcast episode about my morning routine and how it can supercharge your tennis game (and your life).
If you have any questions about my morning routine, leave a comment below and/or email me at mehrban@tennisfiles.com.
And let me know what you think about this episode too, I'd really appreciate it!
Tennis Summit 2019 is right around the corner (May 14, 2019) so look out for more information on that soon! Subscribe to my newsletter below to receive automatic updates and tips to improve your tennis game!
Cheers to many fantastic future mornings ahead! 🙂
Subscribe to automatically download new episodes!

Click the icon above, click the blue "View in iTunes" button, then hit "Subscribe."

Or hit the subscribe button in your favorite podcast app!
Right Click Here to Download the MP3
Links Mentioned in the Show
Books
Complete Conditioning for Tennis (2nd edition) - Dr. Mark Kovacs
Tennis Summit Links
Related Podcasts
TFP 090: 5 of My Favorite Doubles Plays to Take Control of Matches
TFP 080: Q&A 4.5+ Edition — Re-tooling Your Strokes, Backhand Tips, Serve Consistency, Returning, Advanced Drills and More!
TFP 075: Q&A Edition — Anticipation, Fitness, Consistency, Technique and More!
Check Out All My Podcasts Here! - Podcasts Homepage
Check Out All My Podcasts on iTunes! - iTunes Tennis Files Podcast Page
My Youtube Channel!
Tennis Files Youtube Channel - Subscribe! You know you want to 😉
Note: Some of the links above are affiliate links, so if you make a purchase after clicking, I'll make a small commission that will help support the podcast. Thanks either way!
If you enjoyed this episode, subscribe to The Tennis Files Podcast in iTunes or your favorite podcast app!
For more tips on how to improve your tennis fitness, subscribe to my newsletter and download a free copy of my free eBook, The Building Blocks of Tennis Success below! Thanks for listening!
The Building Blocks of Tennis Success eBook
Subscribe to get my free eBook and learn about goal setting, training smart, proper technique, mental fortitude, the importance of competition, health and fitness, and more!
Thanks for being a valued Tennis Files subscriber! I am proud to serve you 🙂