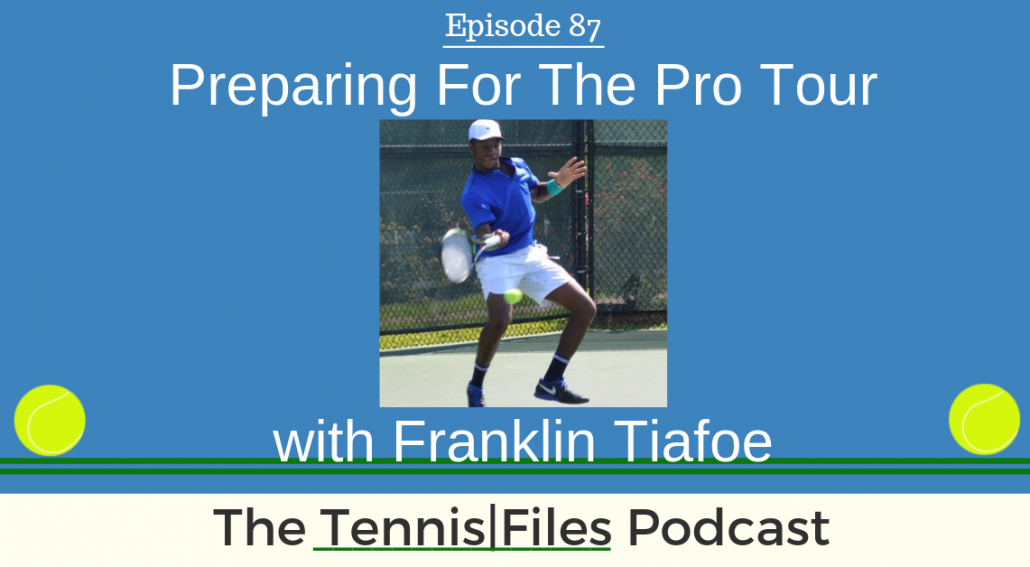 On Episode 87 of The Tennis Files Podcast, I spoke with Franklin Tiafoe about his tennis career and close relationship with his brother and top 35 ranked pro Frances Tiafoe. I first met Franklin at the Citi Open player party last summer and am really glad he made time to speak with me on the podcast!
Franklin played #1 singles and doubles at DeMatha High School in Maryland, my homestate! He is currently training with a private coach at the USTA National Tennis Center in Orlando, Florida to prepare for Men's Opens and eventually pro tournaments.
The younger of the two brothers, Franklin has an extremely close relationship with Frances, and when they are not on the road together (which is the norm these days), the Tiafoe brothers Facetime, live stream, or whatever the cool kids call it these days, to keep their relationship strong and pick each other up during tougher moments in their careers.
On this episode, we discuss Franklin's journey from a young junior player at the Junior Tennis Champions Center in College Park, to his training sessions at the USTA National Tennis Center, his plans for making a run on the pro tour, how his brother Frances was able to reach the Quarterfinals of the Australian Open, their biggest influences growing up, key tips to improve your tennis game, and many other interesting topics that you won't want to miss!
I really hope you enjoy my interview with Franklin! Let us know what you think about this episode in the comments below!
Show Notes
Franklin's 1st memory of hitting a tennis ball
Three things most of the world doesn't know about Franklin Tiafoe
Hardships Franklin and his brother Frances faced as junior tennis players
His strong relationships growing up with Frances
The coaches that had the greatest impact on Franklin and Frances (one was my college tennis teammate!)
The financial burdens of playing tennis
The best piece of advice that Franklin has received from his coaches
A typical day of training at the USTA National Tennis Center in Orlando
How Frances broke through to reach the Quarterfinals of the Australian Open, and why Franklin was not surprised with the result
What Franklin has learned from Frances that he applies to his own game
A key tip to improve your tennis game.....and much more!
Subscribe to automatically download new episodes!

Click the icon above, click the blue "View in iTunes" button, then hit "Subscribe."

Or hit the subscribe button in your favorite podcast app!
Note: Some of the links above are affiliate links, so if you make a purchase after clicking, I'll make a small commission that will help support the podcast. Thanks either way!
​If you enjoyed this episode, subscribe to The Tennis Files Podcast in iTunes or your favorite podcast app!
For more tips on how to improve your tennis fitness, subscribe to my newsletter and download a free copy of my free eBook, The Building Blocks of Tennis Success below! Thanks for listening!
The Building Blocks of Tennis Success eBook
Subscribe to get my free eBook and learn about goal setting, training smart, proper technique, mental fortitude, the importance of competition, health and fitness, and more!
Thanks for being a valued Tennis Files subscriber! I am proud to serve you 🙂