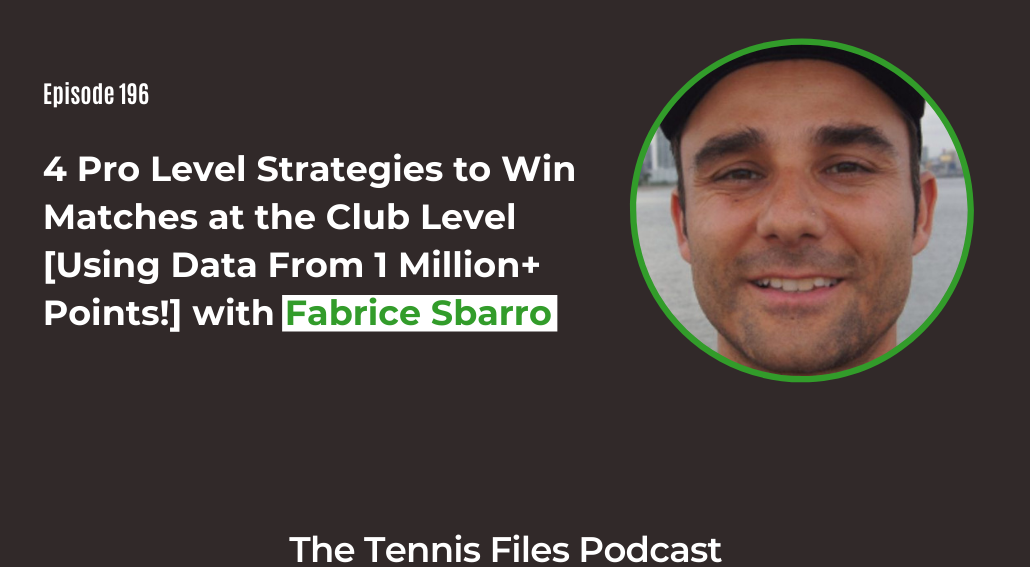 On this episode of the podcast, Fabrice will reveal the four top strategies to instantly boost the amount of points and matches you are going to win. Fabrice has analyzed well over 1 million points at the ATP/WTA level and will show you four of the most effective strategies he's uncovered that you can use to play more strategically-sound tennis.
Fabrice is an expert statistician and strategist, and the founder of Tennis Profiler. His stats program has been used by tennis federations, international academies, and the pro tours. Fabrice is currently the chief strategist for Gilles Cervara, who coaches Daniil Medvedev, and also works with Felix Auger-Aliassime's and Nicolas Mahut's coaching teams.
This episode is going to level up your tennis strategy with four simple and highly effective tactics. Enjoy!
Subscribe to automatically download new episodes!

Click the icon above, click the blue "View in iTunes" button, then hit "Subscribe."

Or hit the subscribe button in your favorite podcast app!
Right Click Here to Download the MP3
Links Mentioned in the Show
Podcasts:
Check Out All My Podcasts Here!
Check Out All My Podcasts on Apple Podcasts!
My Youtube Channel!
Tennis Files Youtube Channel - Subscribe! You know you want to 😉
Note: Some of the links above are affiliate links, so if you make a purchase after clicking, I'll make a small commission that will help support the podcast. Thanks either way!
If you enjoyed this episode, subscribe to The Tennis Files Podcast in iTunes or your favorite podcast app!
For more tips on how to improve your tennis fitness, subscribe to my newsletter and download a free copy of my free eBook, The Building Blocks of Tennis Success below! Thanks for listening!