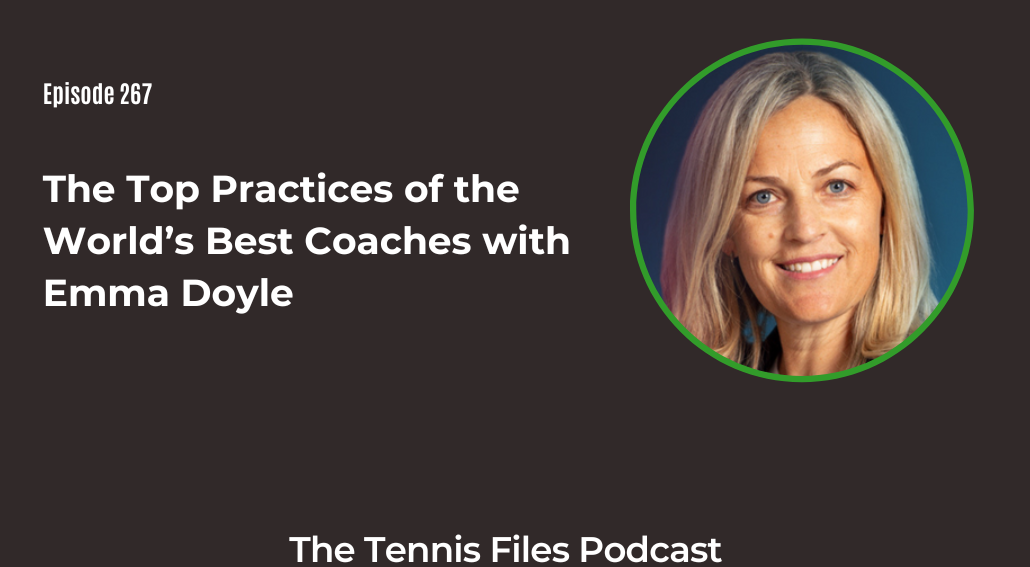 On Episode 267 of The Tennis Files Podcast, I interviewed coach Emma Doyle about the top practices of the world's best coaches.
Emma is an international high-performance tennis coach turned corporate/team coach specializing in helping leaders and teams harness their energy, discover their purpose, and achieve high performance under pressure. She does this by inviting her clients to adopt a curious champion mindset and utilizing proven coaching tools to unleash human potential. She is a former D1 US college tennis player and has represented her native country of Australia as a world team coach on 20 occasions. Emma utilizes the lessons that she has learned from being an international high-performance tennis coach and transfers these skills into her corporate coaching. She is a qualified Professional Certified Coach (PCC) with the International Coach Federation (ICF) and a Neuro-Linguistic Programming and Emotional Intelligence certified practitioner.
On the show, you'll learn how to empower your decision making, how to be in the present moment, how energy is a rhythm, how to manage your energy during matches, how to build your resilience, and much more!
I hope you enjoy my interview with Emma! Let us know what you think about the episode in the comments below!
And be sure to subscribe to Tennis Files to receive the latest tennis content to improve your game straight to your inbox!
Subscribe to automatically download new episodes!

Click the icon above, click the blue "View in iTunes" button, then hit "Subscribe."

Or hit the subscribe button in your favorite podcast app!
Right Click Here to Download the MP3
Links Mentioned in the Show
What Do I Wear on my Feet to Play Tennis? (2 - 6 year olds)
What Makes a Great Coach Website
The Coaching Podcast - Emma's Podcast
Podcasts:
Check Out All My Podcasts Here!
Check Out All My Podcasts on Apple Podcasts!
My Youtube Channel!
Tennis Files Youtube Channel - Subscribe! You know you want to 😉
Note: Some of the links above are affiliate links, so if you make a purchase after clicking, I'll make a small commission that will help support the podcast. Thanks either way!
If you enjoyed this episode, subscribe to The Tennis Files Podcast in iTunes or your favorite podcast app!
For more tips on how to improve your tennis fitness, subscribe to my newsletter and download a free copy of my free eBook, The Building Blocks of Tennis Success below! Thanks for listening!