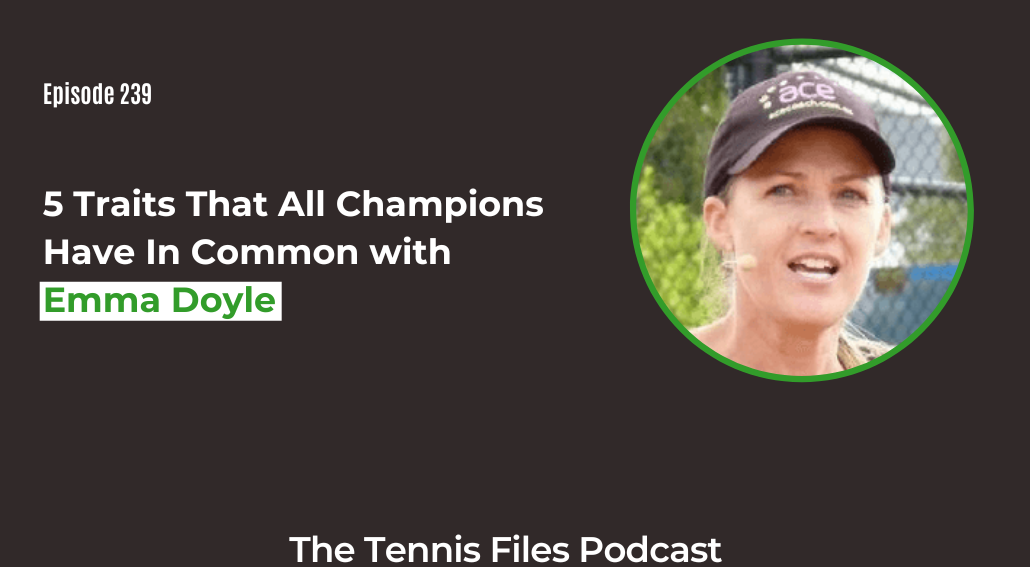 On Episode 239 of The Tennis Files Podcast, I interviewed high-performance tennis and corporate coach Emma Doyle about the traits that all champions have in common.
Emma is an expert instructor, communicator, and mentor, and has helped several professional tennis players reach their potential on the WTA Tour. She currently runs coaching qualifications for a High-Performance Workplace and Coaching Certification. Emma has also been a Tennis Australia High Performance Coach, and she travels the world as a professional speaker specializing in helping people to maximize and live their potential in the corporate world using lessons learned from her tennis career. Emma is experienced in Exercise Science, Emotional Intelligence, Neuro-linguistic programming and energy coaching. Emma has been featured on several of my Tennis Summits as well.
On the show, you'll learn how to develop a champion mindset, the five traits that all champions have in common, how to be more resilient, how finding your purpose can help you level up your tennis game, how success in tennis and the corporate world are similar, how to become a better coach, coaching culture and the future of coaching, how to become a better listener, and much more!
I hope you enjoy my interview with Emma! Let us know what you think about the episode in the comments below!
And be sure to subscribe to Tennis Files to receive the latest tennis content to improve your game straight to your inbox!
Subscribe to automatically download new episodes!

Click the icon above, click the blue "View in iTunes" button, then hit "Subscribe."

Or hit the subscribe button in your favorite podcast app!
Right Click Here to Download the MP3
Links Mentioned in the Show
Podcasts:
Check Out All My Podcasts Here!
Check Out All My Podcasts on Apple Podcasts!
My Youtube Channel!
Tennis Files Youtube Channel - Subscribe! You know you want to 😉
Note: Some of the links above are affiliate links, so if you make a purchase after clicking, I'll make a small commission that will help support the podcast. Thanks either way!
If you enjoyed this episode, subscribe to The Tennis Files Podcast in iTunes or your favorite podcast app!
For more tips on how to improve your tennis fitness, subscribe to my newsletter and download a free copy of my free eBook, The Building Blocks of Tennis Success below! Thanks for listening!